Building a standard B2B website listing your services and 'about us' page is easy. Building an award-winning B2B website that not only looks great but also acts as your best salesperson is a real challenge, especially for the Asian market. Great websites in Asia not only need to attract, educate and convert leads (who have shorter attention spans), they also need to be available in multiple languages and in many cases link to different social media platforms and CRM systems in order be fully effective. Adding in the challenge of cultural differences, political sensitivities, and team language barriers it's no wonder that many large businesses in Asia are still reluctant to invest heavily in their digital footprint.
As COO at Oxygen, I've been behind six of Oxygen's latest international website and marketing awards in 2019. While it would be impossible to cover everything in one blog post...the purpose of this blog is to impart as much knowledge as possible on the process of deciding what to create and how to find the right people to create it. Your new website should be something that will not just please management as the fresh digital 'face' of the business – but also end up making a serious difference in how your business attracts and does business (not to mention a positive return on ROI)!
Research, research & research
Buyer Persona Research
Great website experiences are great because they are intuitive and have everything your visitor is looking for plus more. The key to creating this is understanding exactly what are the problems to solve for your visitors or potential visitors. If you don't already have buyer personas, this is the perfect time to start working on them. If you do, make sure that they have been recently updated (within a year or two), well-researched and aren't based on superfluous psychographic data like gender, hobbies, education etc. If you plan on marketing to the Chinese market, which is completely different from all other markets, detailed buyer persona information specific to that market is imperative to success.
Technology Stack
Most businesses have an existing technology stack either created or chosen by an IT department. In most cases, these systems are ancient, don't integrate well and require significant ongoing investment to keep alive and running. With the presence of more mature enterprise SaaS services on the market, medium to large-sized business now able to take advantage of powerful platforms with amazing existing integrations at a much lower cost.

Ask yourself the following questions:
Do we use a CRM system, and if we do is it any good?
Do we properly utilise marketing automation?
Do we properly utilise sales automation?
Are our reports automatically generated and covering all of the most important KPIs?
If you have them – are your marketing and sales systems properly integrated with your website?
Do you use a chatbot feature to pre-qualify leads and requests?
Do you currently have a customer service system (ex. ZenDesk, HubSpot)?
If you answered "no" to any of these questions, there's a good chance you either need to upgrade your CRM/automation system or considering moving to one. I would recommend going for an all-in-one system with a higher price point over multiple smaller 'entry-level' systems like MailChimp as the complexity of managing and integrating multiple systems is a massive pain point for many marketing managers.
Decide on your KPI's and goals
Create your goals first and work back from them using as much data as possible in order to create realistic KPI's. These do not need to be granular, as in most cases the agency should be able to do the leg-work and reverse engineer what needs to be done based on the goals.
For example: We would like to triple our online customer acquisitions within a year.
From here, by doing keyword research and investigating current performance, you (or your agency) should be able to deduce how much inbound marketing, advertising and other actions will be needed to achieve your goal.
Remember that often some metrics might not be as important as they seem. Often I am told by marketing managers or CEO's that a business would like to increase the average time spent on the website by users. Why? If your website has great UX and people are finding what they need to and converting faster, your average time will go down and this would be a positive effect for your business. Consider the 'why' for each metric and make sure that it's a good KPI for your particular situation.
Invest in content over advertising
Recent studies have shown inbound marketing to be 5.66x more effective than advertising when it comes to ROI. When you pay for advertising, you pay per-click, and when you stop paying, it completely dies off. It's common for a business to have huge advertising budgets and very little for content creation. The most successful online B2B businesses are almost always content creation leaders and use their content to attract, educate and nurture visitors into leads. Blogs, ebooks, videos, pillar pages, SEO are all fundamental in building the blocks of quality content. These days Google is smart enough to tell the difference between a quality blog and a fluff piece that is rehashing the points of a few other blogs – invest in quality over quantity and don't get penalised for creating low quality or spammy content.
Note: this is mostly applicable to niche or semi-niche markets. If you're in an extremely competitive market there's a good chance inbound will be too difficult and advertising might be the only option. Do your keyword research to find out if this applies to you.
Content & design tips
"76% of people answered that the most important factor in a website's design is the ease of use." HubSpot
This could easily be a few blogs of its own, but to focus on some of the key points:
Ensure that your value proposition is clear, especially on the main pages.
Make sure that your navigation is clear, easy to use and makes sense to someone that doesn't know your business. It should also be 100% functional on all devices.
Include trust signals on your main landing pages and the home page (client logos, testimonial snippets and certifications).
Case studies are super valuable and are the most useful piece of content any B2B website could invest time in developing.
Keep forms simple and the barrier to contacting you as low as possible.
Include as much FAQ information as possible (doesn't necessarily have to be in a Q&A format). This will help to better qualify leads by ensuring that they are better educated on your products or services.
If you have a big website and need to focus on one area at a time, focus first on the area most likely to reap rewards from SEO opportunities.
"69% of customers say that 'excessive form field requirements' would deter them from completing a form." HubSpot
Below: Example of a high-performance medical website created by Oxygen and the Q4 2019 HubSpot Website Design Award winner.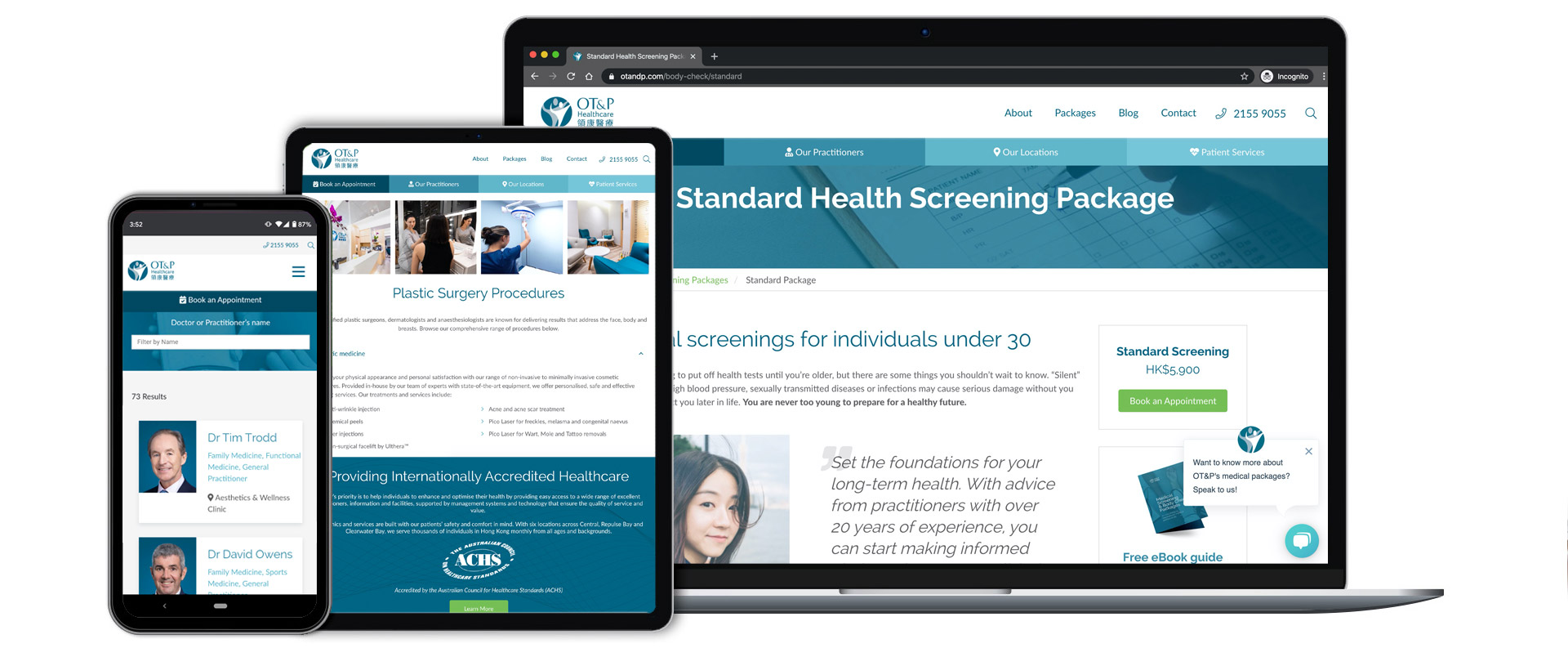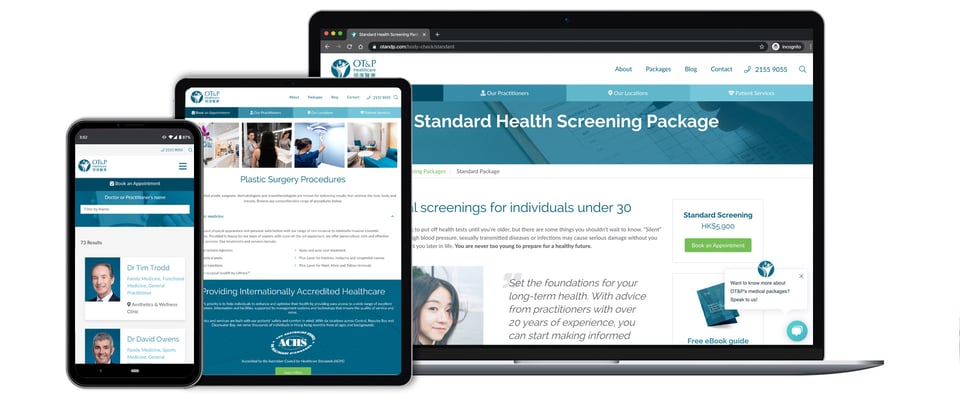 Finding an agency and planning your launch
Very few businesses have the internal team capable of handling the design, copy, SEO and automation system integration requirements. In most cases, it's best to outsource to a team (or teams) that are experienced in these fields. Review the capacity and skill set of your internal team and plan out exactly which parts of the project can be handled internally and who will be in charge of managing other agencies, freelancers and the review process.
Choose your agencies wisely, in almost all cases you really do get what you pay for. Taking a smaller agency from a lesser-developed country for 20% of the cost of an established agency from a developed country might seem like a good idea at first until the project ends up being several months overdue and revisions are endless. There isn't much point in hiring an agency to do the work for you if you need to explain how every detail is done and constantly monitor and correct them.

On average, medium-sized B2B websites will usually take around 2-3 months to complete. CRM integrations and other tasks can take additional time depending on the requirements of your project. Always consult with an expert first before deciding on a timeline, as an agency owner far too often do we get businesses asking for a 3-4 week turn around on a website that would need at least 2-3 months to be completed properly.
A typical website development project and launch will look something like this:
Planning and research (1-2 weeks)
Copy & SEO (2 weeks)
Design (2 weeks – can be done partially during the Copy & SEO stage)
Development (2-3 weeks)
Testing & launch (3 days)
Integrations and automation setup (1-2 months)
Becoming a 'digital leader' online with your website in the 2020's is going to be a challenge, but with the right approach and the right team, it's achievable. Need more information on the best practises for creating a website? Speak to one of our experts today.
Does your company need assistance with advertising in China? Speak with one of marketing experts to find out how we can help.