Images are generated via Midjourney v5.2.
Creating Stunning Visuals For Your Brand With Our AI Design Services
Our new Digital AI Design services leverage the latest AI design tools with design tools like Photoshop to generate unique and cutting-edge design concepts. By harnessing the power of AI, we can explore a wider range of design possibilities and adapt to emerging trends more efficiently than traditional methods.
Click anywhere to zoom in
Click anywhere to zoom out
High-Resolution Imagery for Print and Digital Applications
Our proficiency in harnessing AI tools enables us to meticulously craft high-quality images tailored to elevate the impact of your digital and print campaigns. Please refer to the details provided on the right to gain deeper insights into the specifications of our image offerings.
We are able to provide resolutions of up to 4,096 x 4,096 pixels at a density of 72 pixels per inch (ppi).
Optimal Full-Resolution Print: 13 inches by 20 inches at a remarkable 300 pixels per inch (ppi), ensuring unparalleled print quality.

For the grandest print sizes achievable, our capabilities extend to an impressive 40 inches by 60 inches at a resolution of 100 ppi.
We can generate images featuring bespoke aspect ratios meticulously tailored to meet your specific requirements. Below, you will find a selection of the most common ratios:
1:1, 5:4, 3:2, 7:2, 16:9
Use Cases for AI Images
AI Digital Design efficiently aids agencies in creating visually distinctive designs by integrating AI technology.
1
Create Visually Unique Images
Instead of using generic stock photos, create stunning images specific to your niche.



2
Improve Productivity
Improve productivity and accelerate projet timelines by skipping the photoshoot or expensive and time consuming graphics.



3
Lower Costs
Costs for traditional unique imagary is high, whether it be hiring models, photographers and designers or even needing to pay high fees for images with a commercial license.
4
Consistency
Strengthen brand presence and ensure marketing visuals are instantly identifiable to consumers through seed generation and other AI imagery features.


5
Scalability
No longer limit your campaigns by the amount of relevant stock photos you can find. AI can deliver hundreds of variations on a single concept in the same time it take to shoot one image.
Generating Concepts in Midjourney
We begin the process by inputting prompts into the AI-image generation tools such as Midjourney and Dall-E. This action generated four distinct image options, allowing us to either upscale or create variations.
Adding the Human Touch
Utilising the AI-generated image, our designers transition into the post-production phase, enlivening the campaign visual with essential adjustments. It's in this stage that our design expertise and intuition shine, guaranteeing a final visual that's not only striking but possesses a distinctive flair setting it apart. Here can take the visuals to the next level by even animating the images to make it more dynamic.
The design displayed is intended for inspirational purposes and must not be viewed as indicative of any specific work we have performed for our clients.
Want to learn how to leverage AI tools and generate stunning images?
Learn more about our AI Training programme designed to empower you to become a confident user in AI tools.
Image and Visual Concepts for Our Agency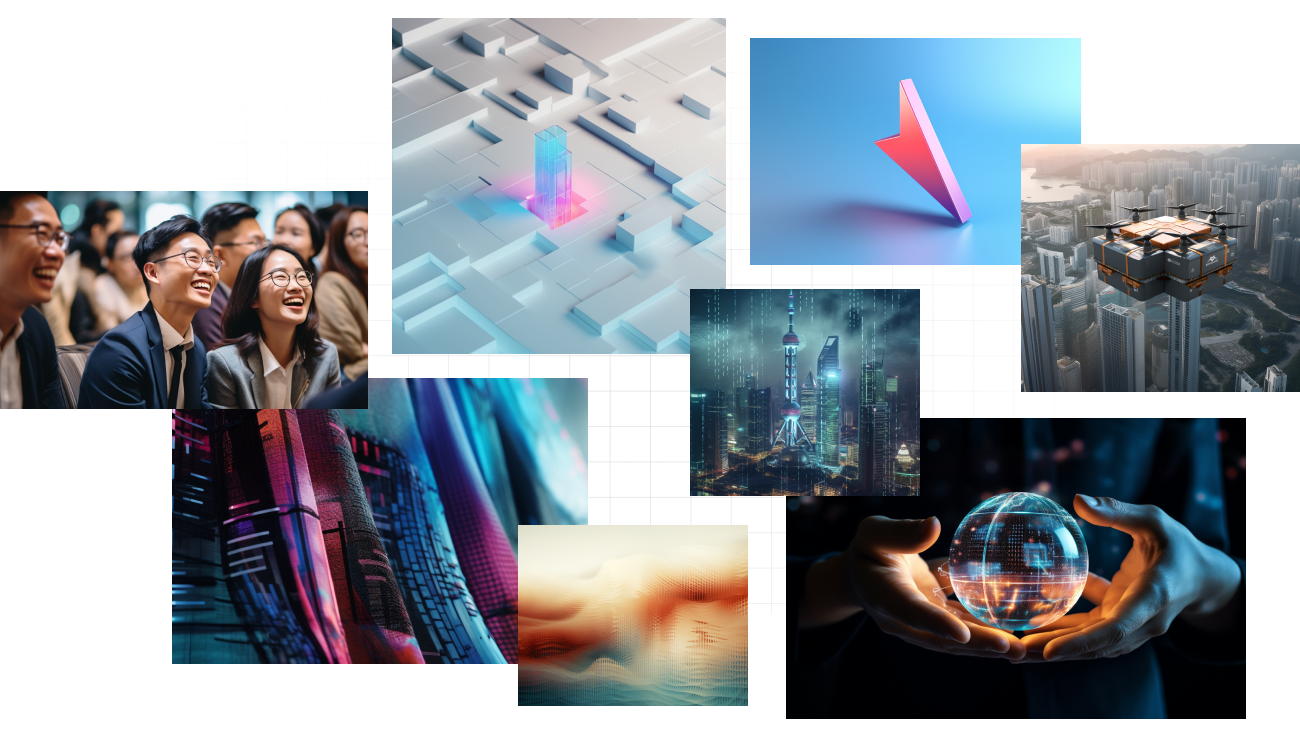 Years of combined design experience
Whether transforming clients who need to elevate their digital experience or nurturing our employees to become masters in their chosen field of expertise, we always strive - and deliver award-winning results.
Years of combined design experience
We'll need a clear understanding of your brand, target audience, and any specific visual or thematic elements you'd like to include.
We cannot give a particular time frame as this varies based on the project's complexity. While AI can produce images quickly, the subsequent designer edits will be longer.
Of course. Working with our design team ensures your visuals align with your expectations and brand's identity.
We combine AI technology with human insight to create designs that are tailored to your brand, avoiding generic visuals.
While we prioritize our client's privacy, we'd be happy to share certain examples or case studies that demonstrate our expertise in AI image generation. Please reach out for more details.
Our team is always learning, ensuring we stay updated with the newest tools and techniques in AI, so you always receive the best design solutions.
Our outputs are delivered in JPG, PNG, MP4 and GIF formats, depending on relevance.
We enhance the final output with post-production edits via Photoshop and add dynamism through GIF animations, if required.
Your data's security is our top priority. We use strong security measures—encryption, firewalls, and tight access controls—to keep it safe. We have a paid subscription to MidJourney and you can learn about their terms and conditions
here
.
While each project is priced individually, Midjourney operates on a subscription model with a Pro Package at $60 USD monthly, but our costs for strategy, training and consultation varies. We also offer training [link to be added] to help you craft captivating images on Midjourney tailored to your brand.
Absolutely. Our skilled designers, knowledgeable in both technology and brand details, work closely with you to ensure the AI-driven content matches your brand's identity.
Certainly, as long as the utilized software and methods are in line with legal standards, including copyright regulations. Midjourney's terms and conditions can be found
here
.
Ready to get started?
Discover how AI can revolutionize your business model. Claim your free consultation call now!