Working, Learning, Socialising
As a top performing HubSpot agency that consistently produces award winning work, we strive towards excellence and embrace the future of marketing.
Through a culture of collaboration, support and open discussion, we strive to uplift each individual and create digital leaders.

Stand at the forefront of the marketing world with us.
1. Growth Support
Employee-centric, as a company we believe in the growth and happiness of our employees. Work in a social environment where co-workers are friends and support each other.
2. Challenging Environment
We pride ourselves in the quality of our work. If you strive for excellence, are willing to learn, can take critiques and enjoy a challenge, this is the place for you.
3. Inclusivity
We are an equal opportunity employer and committed to building an environment where employees are celebrated and inspired, and all judgement is merit-based.
Our Values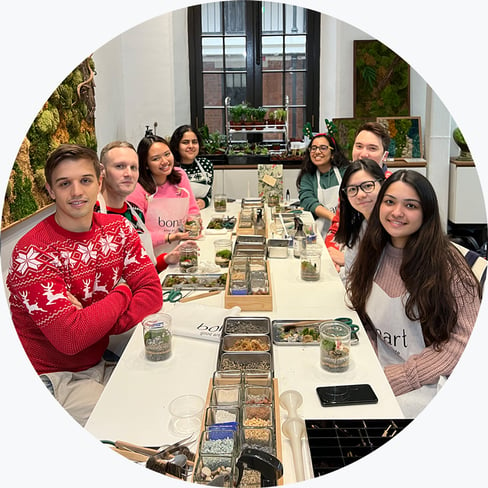 Humility
We value a growth mindset, the strength to be open to feedback, take ownership of mistakes, and share credit for success with colleagues and clients.
Curiousity
We all share a love of learning and the desire to get to the heart of a problem. We are committed to being experts in the field as well as being experts in what our clients do.
Excellence
We are dedicated to providing the best possible service and solution every time – no excuses. We refuse to accept 'good enough' and always aim for excellence in everything we do.
Efficiency
In a world where things move fast, we move faster. We stay ahead of the curve, meet our deadlines and maintain a high level of quality throughout.
Resilience
We are steadfast in the face of adversity. We pride ourselves on our ability to react positively to challenges, criticism, setbacks, delays, or unforeseen changes in market conditions. ‌Life sometimes throws us lemons, or in 2020 – coronavirus.
Oxygen Equal Opportunity Statement
Here at Oxygen, we welcome everyone to join our team. We are a diverse group of open-minded people, and we are dedicated to creating a work environment where each individual is supported, valued, and respected. Whether it is during the recruitment process or employment, you will not be discriminated against based on your age, race, gender identity, sexual orientation, disability, or any other protected characteristic.

The Oxygen Intern Program
Passionate about what you do but don't have any experience yet?
No worries. We have a great internship program available year-round. Our interns receive comprehensive digital marketing training and many go on to full-time employment with us (as many already have!)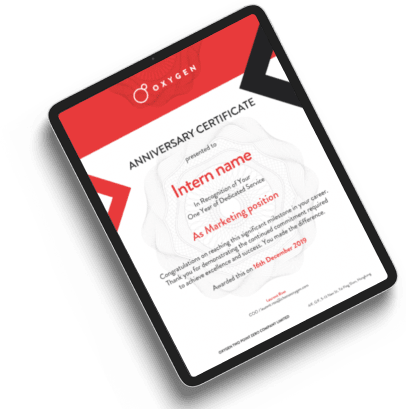 Oxygen Stories
This is a great place to work, learn, and grow - but don't just take our word for it.
I started out as an intern at Oxygen with limited marketing knowledge, but the willingness of the senior management to empower me with decision-making capabilities has enabled me to grow exponentially.
I'm grateful to have joined a company that pushes work-life balance and where the people are incredibly friendly and supportive of each other.

Shivia Ganglani
Associate Strategist
When I recap my first year at Oxygen, I am most thankful for the plethora of growth opportunities presented to me by the company. The progressive work culture empowers team members to constantly improve and stimulate their intellectual curiosity. I've learned something from everybody at this point, and am excited to see what lies ahead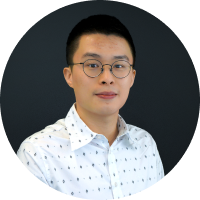 Anthony Mak
Client Success Manager
Oxygen is a great company to work for. I really enjoy working with the team and someone is always there to provide support when needed. I am also given freedom to work in a way that allows me to maximise my efficiencies and become great in my role. Overall I'm very happy and grateful to be given the opportunity to be part of the Oxygen team.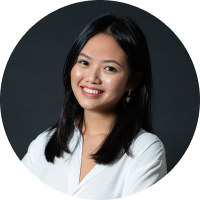 Claudia Cheah
Visual Designer
I've been at Oxygen for more than a year now as a full time/part-time marketing intern.
My time here has been a very exciting and fun way to experience working whilst still going to university. I've enjoyed working here because of the great amount of flexibility offered in my hours and the people I've met working at Oxygen. My peers have been so supportive and patient when I try to learn new skills and tackle hard tasks on a day to day basis.
Boris Changi
Marketing Intern
At Oxygen, we take care of our team by creating a working environment that promotes growth and balance. We also have proof to show
for it - we have been recognised by various organisations in Hong Kong as a great place to work at.