Overview
Tricor Group (Tricor) is Asia's leading business expansion specialist, with global knowledge and local expertise in business, corporate, investor, human resources & payroll, corporate trust & debt services, and governance advisory.
Tricor Group has ~50,000 clients globally, ~3,000 employees, and a network of offices in 49 cities across 22 markets.
Project Plan
Client Location
Headquartered in Hong Kong with offices in 22 other countries
Services Provided
Website Design & Development, Website Migration, Lead Management, HubSpot Integrations, SEO, Inbound Marketing, HubSpot Sales Hub Support, HubSpot Customer Service Hub Support
Related Sector
Business Services
Languages Supported
English, Mandarin, Cantonese, Japanese, Korean
The Challenge
When Tricor first approached Oxygen, they were looking to revamp their old website, which was hosted on WordPress. The site UX needed improvement and was not optimised for conversions. The website lacked content, had little information on Tricor's core service offerings, and what content was there often wasn't ranking well on Google, especially in local languages.
Lead management required a system to collect, organise and automate responses to the hundreds and thousands of leads generated in different countries each month for different campaigns.
Tricor also had multiple regional websites that needed to be integrated under a singular CMS with a subdomain per country.
Planning and maintaining a website of this size was challenging and required an expert team of designers, developers and marketing strategists.
Conversions & Tracking Optimisation
Creating a user-centric, smooth UX paired with the ability to track and manage leads effectively.
Search Engine Optimisation
Some regions and areas of the business weren't ranking well organically, especially in local languages so the website needed complete restructuring for SEO.
Segmentation & Lead Management
Collecting, organising, reporting on and automating responses to enquiries from 22 different markets in multiple different languages.

The Solution
One of the key considerations when rebuilding Tricor's website on HubSpot CMS was to create a user-centric, conversion-focused website that would appeal to people at every stage of the buyer's journey. Our team started by understanding the keywords that drove existing traffic to their website and then understanding visitors' intent based on these keywords. We found that most of the keywords were location-specific such as 'starting a business in Singapore', 'business services Australia', 'business expansion Hong Kong'.
We designed and developed a location dropdown front and centre on Tricor's homepage that would lead them to location-specific pages with more information on their business expansion services. The dropdown significantly shortened the user journey by allowing them to directly navigate to the place they need to be from the homepage without overcomplicating the menu bar. Each location page headings and content was keyword-optimised in English and Chinese and had its own HubSpot form. We had a floating CTA for general inquiries on the homepage and one for scheduling a sales call via the HubSpot meeting scheduling tool.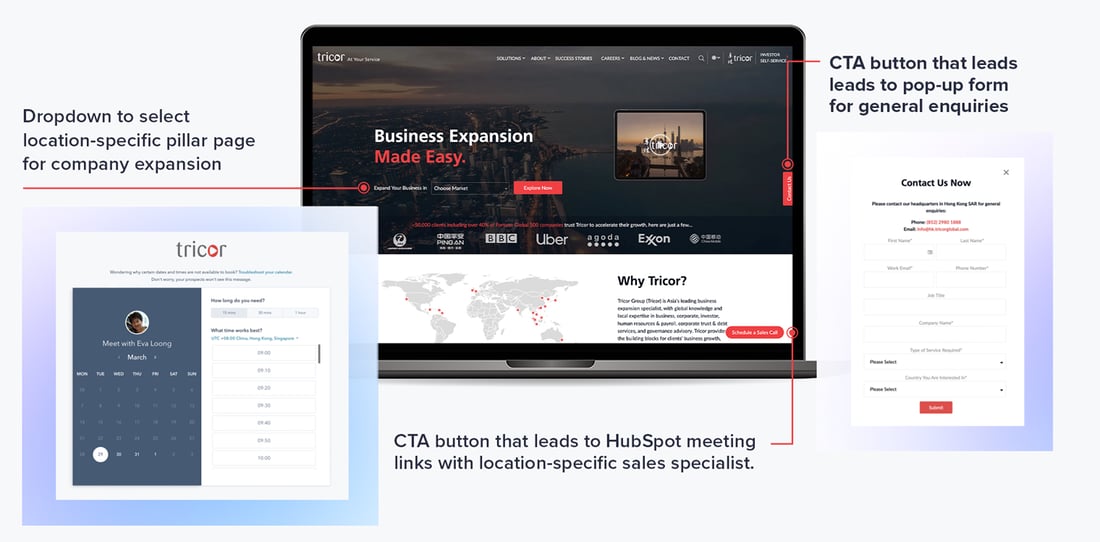 Tricor had market-specific websites that were hosted on WordPress. To strengthen SEO, we helped them migrate their Indonesia and Korea websites to HubSpot with a subdomain. We did keyword research by location for each subdomain and translated each page to the local language. We created a process whereby the blog page on the subdomain pages would lead to market-specific content hosted on the Tricor domain. Having subdomains by location for Tricor was helpful, as it allowed Tricor's market-specific team to have control over their branch's site.
Migrating over 1,000 web pages required a lot of planning to develop their site architecture that has flexibility in making edits quickly. Using HubDB, we developed several dynamic pages such as team member listing pages, location pages, case study pages and career listing pages. This allowed us to edit backend information quickly, all in one location.
The case study page in particular features multiple dropdown filters which allow visitors to quickly and easily filter with 'live' results below.
The Oxygen team helped create keyword-focused, relevant content, which has helped establish Tricor online as a trusted source of information. Tricor has content for almost anyone with webinars, blogs, case studies, news insights, etc. One of the critical factors that set them apart is their strategic use of gated content which has helped them attract high-quality visitors and convert them into leads and customers.

Although webinars are part of Tricor's inbound marketing strategy, it deserves its own shoutout as it was one of the best inbound tactics implemented. When COVID-19 first hit, Tricor saw an opportunity to move further in the digital space and explore how to take advantage of webinars for both prospects and existing customers.

Oxygen helped integrate Zoom with HubSpot using Zapier to sync over webinar registration details. From there, we took advantage of everything HubSpot's marketing hub had to offer, creating webinar landing pages, pre and post-webinar emails and webinar lead nurturing emails. Via this integration, we could segment contacts in HubSpot based on registration and attendance details so we could send follow-up emails.



Each office location had its own page with its HubSpot form to track leads by location better. This made it easy to view key data like form submissions by location. Using workflows, we could change key properties like lifecycle stage and contact owner, which was previously all done manually by the Tricor team. We also created lead nurturing workflows by sending relevant brochures and content based on their location and service interest.



The Result
Tricor's new conversion-optimised, SEO-friendly website helped boost the number of leads. By creating a clear navigation path with the dropdown function on the homepage and standalone location pages, Tricor has since received thousands of form submissions from the contact us forms. The floating contact us CTA's have also generated hundreds of additional new contacts.


Campaign Metrics to Date
+300
Keywords that rank position #1-3 on search
+1,700
Leads from webinar registrants
+67.6K
Increase in backlinks YoY (2018-2021)
Since partnering with Oxygen in 2019, Tricor's digital presence has grown significantly! The new global website and market sites build by their team has helped streamline our marketing and sales processes to generate and convert a lot more leads. Oxygen has always been quick to share inbound strategies and marketing insights that help support our company.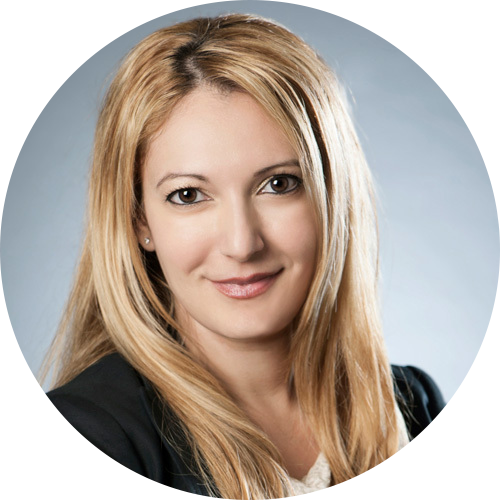 Sunshine Farzan
Group Head of Marketing & Communications, Tricor
Increased Organic Traffic & Keywords in Key Markets Since Working With Oxygen

Since we started working with Tricor, the number of organic keywords has grown to reach 678 keywords that rank positions #1-10 on Google. By optimising each location-specific pillar page and content for local search, we significantly increased total organic traffic for Tricor's key markets.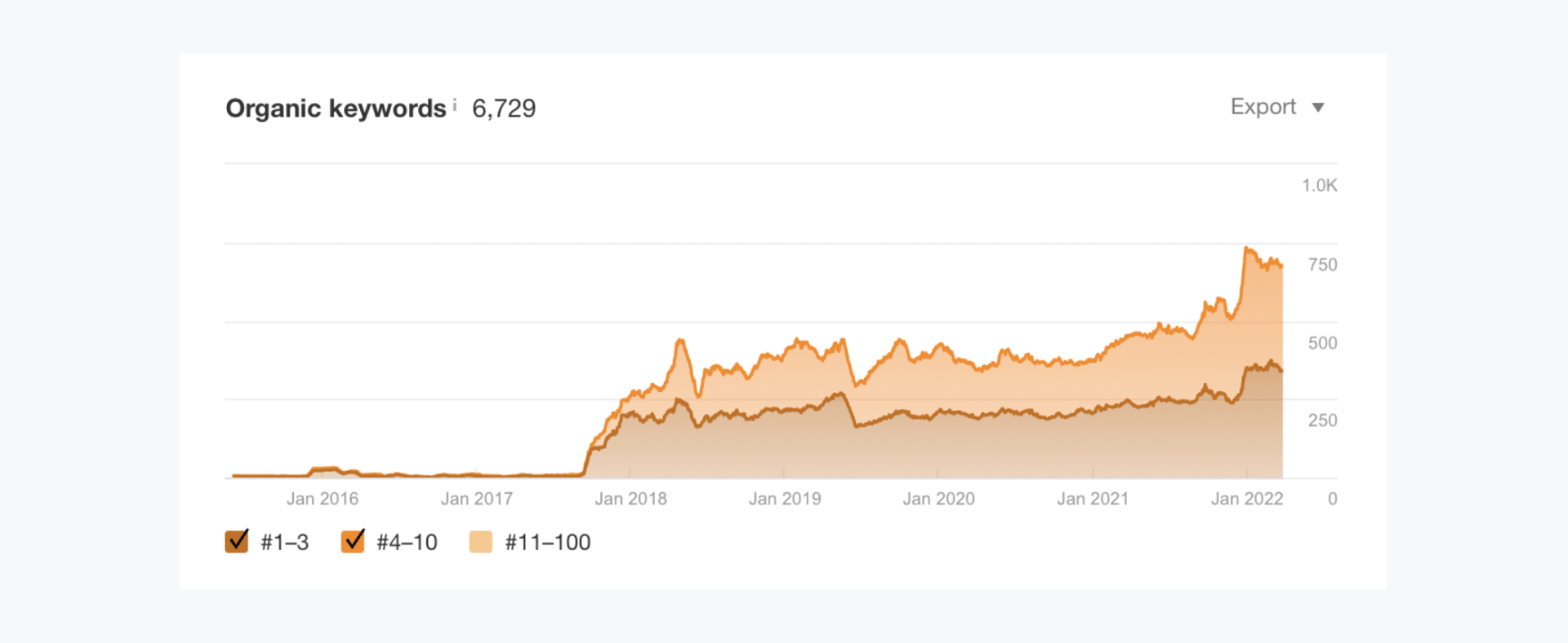 Increased Domain Authority by 9 points
On-page and off-page SEO managed to bring Tricor's domain authority score to 63 with over +1,200 referring domains.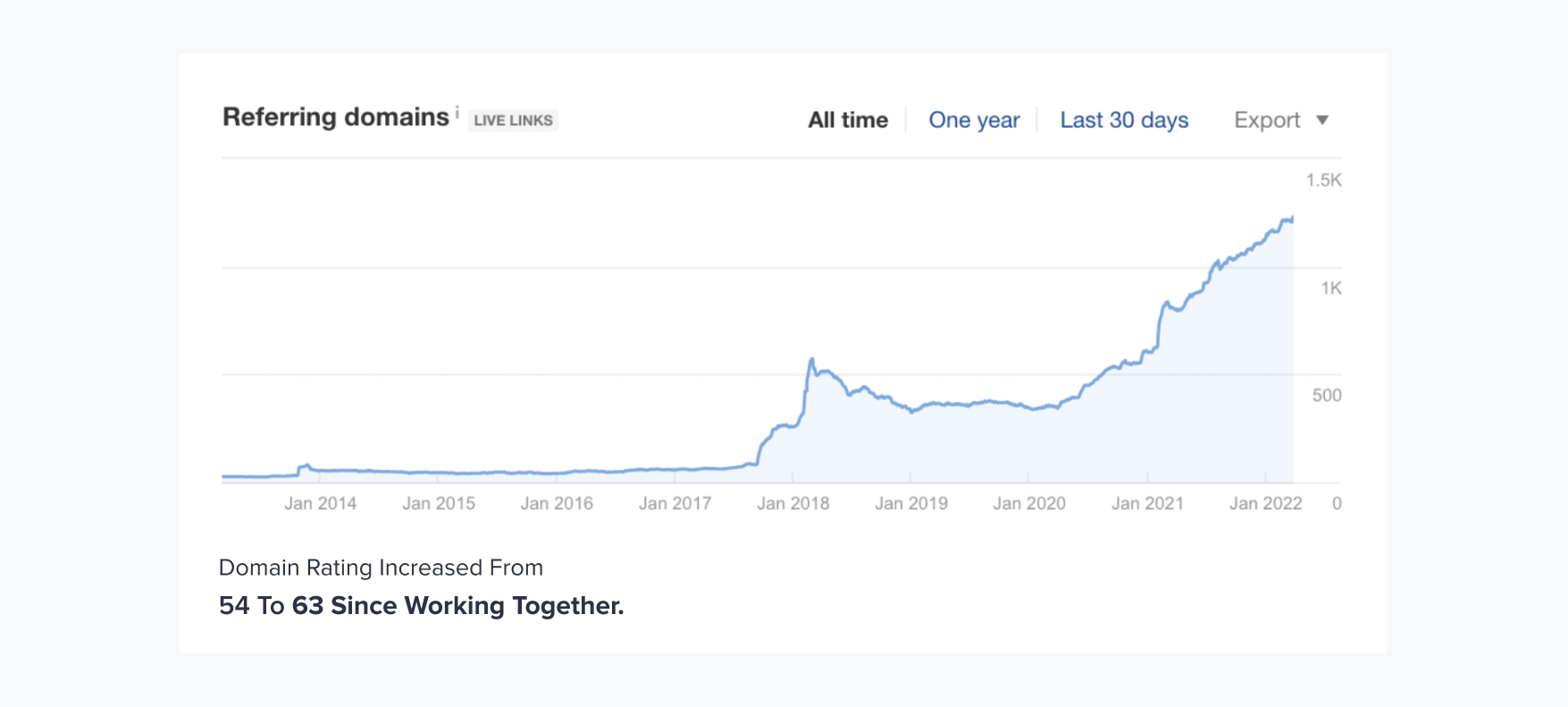 The Impact
In 2019, Tricor embarked on a company-wide digital transformation strategy to address operational pain points, deliver superior solutions, and craft personalized client experiences. Robotic Process Automation (RPA), which has completely revolutionized the client experience and backend processing, underpinned Tricor's digital transformation journey well before COVID-19 triggered a massive shift to digitalization and virtualization.
Tricor Group Awarded 2021 Best in Future of Digital Infrastructure
IDC Malaysia
Tricor's digital transformation strategy has shown great success, going on to win the 'Best in Future of Digital Infrastructure' award by IDC Malaysia. Oxygen's marketing efforts to rebuild Tricor's international website has been pivotal in ensuring Tricor Group outperformed competitors online and build a global customer base of +50,000.

The success of Tricor has been so noteworthy that in November 2021, Tricor Group was acquired by Asia's largest private alternative investment firm, BPEA, to continue its transformational growth story for $2.8 billion USD.
Our Future with Tricor
Moving forward with Tricor, Oxygen will continue to provide day-to-day support to ensure Tricor capitalise on the power of HubSpot CRM, marketing, sales and service hubs to remain competitive online. We look forward to providing Tricor with custom marketing solutions that will maintain Tricor's position in the digital space and continue to generate high-quality leads.
Working with Tricor for the past few years has been incredible. Sunshine and her team at Tricor are always willing to try new things and adapt the marketing strategy, especially in difficult times like the pandemic. They were one of our first clients to embrace webinars and have done really well thanks to their marketing creativity and their willingness to use the latest technology.

Some Of The Work We've Done
Building a website using the HubSpot CMS?
Speak with our team of web design experts today