Overview
Future of Trade is an award-winning report published by the Dubai Multi Commodities Centre (DMCC), the world's flagship Free Zone and a Dubai government authority on commodities trade and enterprise.

Published bi-annually, each edition of the report gathers research, data and global viewpoints from over 100 business leaders and trade experts. The report has gained global recognition and was featured by BBC World, Thomson Reuters and the Wall Street Journal. In 2016 and 2018, the report won Best Integrated PR campaign from the PRCA Awards.
Project Plan
Client Location
Dubai, United Arab Emirates
Services Provided
Content Creation, Website Design, Website Development, HubSpot Integrations
Related Sector
Government, Business Services
Languages Supported
English, Mandarin, Arabic
The Challenge
When DMCC first approached us, the Future of Trade report from 2018 only reached 42,000 downloads by the time they published their annual report that year. Though much was invested into creating the report and promoting it through marketing and PR activities globally, the website was simply not inspiring action from its visitors.
The impact of the COVID-19 pandemic also meant that many promotional activities had to move online, which made the website and this initiative even more important in 2020. DMCC wanted the website to better represent the 'future' they were reporting on. Their existing design and copy, unfortunately, could not convey this effectively.
There was also the challenge of making the report more accessible to more markets. With a target audience of English, Arabic and Chinese speakers, this presented a design challenge as English is left-aligned, Arabic is right-aligned and Chinese can be tricky with responsive formats to make sure the characters don't split in the middle of words.
Optimizing for Conversions & Tracking
The content and overall design of the website needed to be restructured to encourage downloads. DMCC already had HubSpot Marketing Enterprise, yet did not have full visibility over campaign performance.
Modernising the Brand
A sense of 'the future' needed to be integrated into the imagery of the website to match the forward-thinking messaging of the report.
Multiple Languages for Multiple Markets
Adapting the website pages to function perfectly for all devices in English, Arabic & Mandarin.

The Solution
Our team analysed competitor websites and mapped out the needs of DMCC's target personas. We focused on building a website with an improved user experience and a modern look, which could also fully utilize the HubSpot Marketing Enterprise's reporting features.
Taking into account the Future of Trade's international audience, we were required to build the website in 3 languages: English, Mandarin and Arabic. In total, we built and provided copy for over 50 website pages and blog posts; and published over 15 automated emails in 3 languages to aid conversions.
We prioritized presenting the report's value in the clearest and most compelling way possible. It was important to our team that the content engaged visitors' curiosity immediately and clearly presented CTAs as they scrolled down the page.
Our copywriters pored over the 104-page report to find interesting insights about the economy that would appeal to global business professionals. We then crafted headings and website copy in both English and Mandarin for the main website, as well as its supplementary sub-pages and blog posts.
Design-wise, the team took inspiration from news websites to create interactive, animated infographic sections allowing us to further highlight key statistics from the report.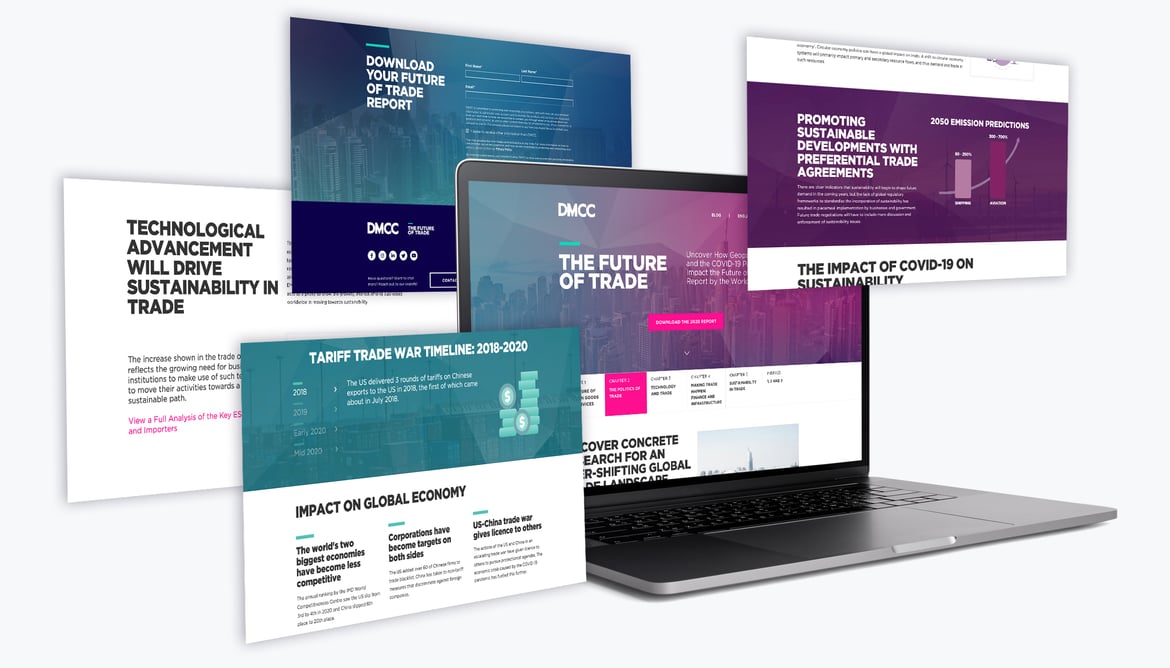 Providing the best user experience also means adapting the pages to fit the reading direction of the scripts, while also ensuring that selected web fonts have similar styles across languages and would work responsively with the website.
Our designers meticulously selected Simplified Chinese and Arabic fonts to fit the brand, and worked with our developer to create page templates tailored to the direction of the texts.
With the forward-moving and trade-focused messaging of the Future of Trade report in mind, we integrated imagery from the different industries and countries mentioned in the findings.
Our designers handcrafted animated icons and graphics to create more visual diversity and movement on the website. By utilizing LottieFiles, they were able to create beautiful, web-optimized JSON animation files on their own. This vastly minimized additional work for our developer, who was already hard at work developing templates and custom modules for the rest of the site.
To help with their online campaigns, we transformed many of these assets into images and videos for social media posts and PPC ads.
We moved the entire Future of Trade website to HubSpot, ensuring that the domain was connected properly and that 301 redirects were created, so the impact to their SEO and direct traffic would be minimal once the website was launched.
Since the website required multiple animated elements, we had to be extra careful with page load times and image scaling across multiple devices. Our choice to use LottieFiles helped thanks to its lightweight nature and scalability. We also implemented lazy loading across all pages, and optimized image sizes to work across various screen sizes.
For a closer look at Oxygen's B2B website development services, click here.
Within DMCC's HubSpot Marketing Hub, we created campaigns to track performance and applied them to website pages, marketing emails, PPC campaigns, social posts and other relevant assets hosted on HubSpot. We helped them set up their WeChat account and installed the "Parllay - WeChat CRM" HubSpot integration so they could pass Chinese social media activity into their CRM.
With the additional installation of Hotjar heatmaps (which was allowed through China's firewall), we could see what visitors were clicking on whether they explored the website on desktop or mobile—allowing us to measure the effectiveness of the new content and design in leading visitors to CTAs.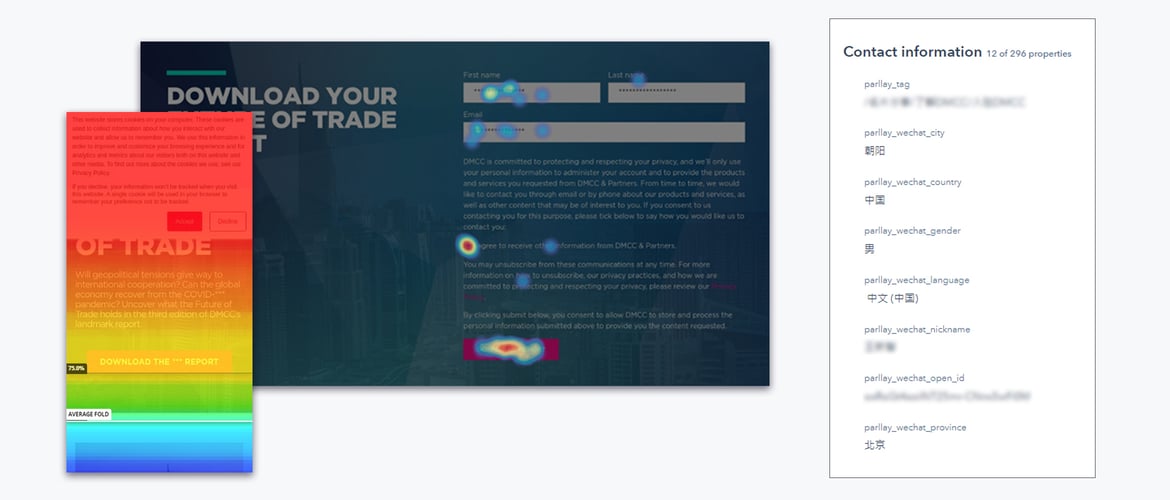 The Results
With the conversion-optimized content and modern design, we saw a huge leap in download numbers. Within 5 months, the report had accumulated over 250,000 downloads—with almost 30% of all visitors across desktop and mobile reaching the CTA at the bottom of the homepage and a 13% session to contact rate from organic traffic sources. Today, download numbers stand at over 434,000.
As a result, the website we built and the various social media assets we provided to promote the website were featured in the DMCC Annual Report 2020. This was the first time The Future of Trade had its own dedicated page since its launch in 2016.


Campaign Metrics to Date
+933%
Total Report Downloads
> 22K
Influenced Contacts
> 2,900
New Contacts Created
+133%
Organic Keyword Rankings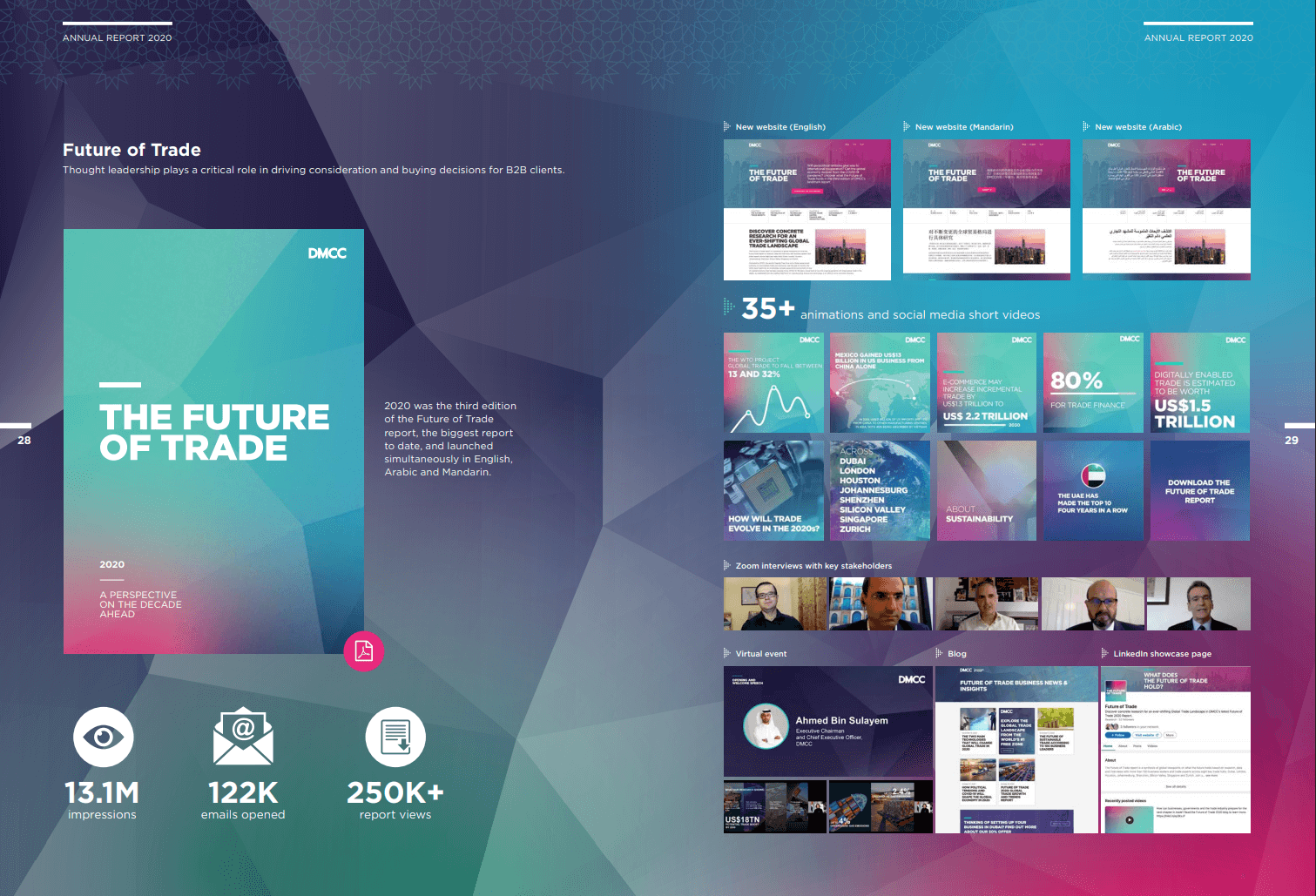 Our Future with DMCC
Thanks to the success of the 2020 campaign, our team is already hard at work in promoting DMCC's Future of Trade 2021 Special Edition mini-report. Since March 2021, we have been updating the website and managing advertising campaigns across Google, Baidu and WeChat to reach audiences in China and the rest of the world. So far, the 2021 campaign has already influenced over 14,000 contacts, and our team is excited to assist in promoting the next Future of Trade report in 2022.
DMCC have also approached us to migrate their main website over to HubSpot, which we will be working on in Q4 2021—in addition to providing ongoing content creation and SEO for their blog.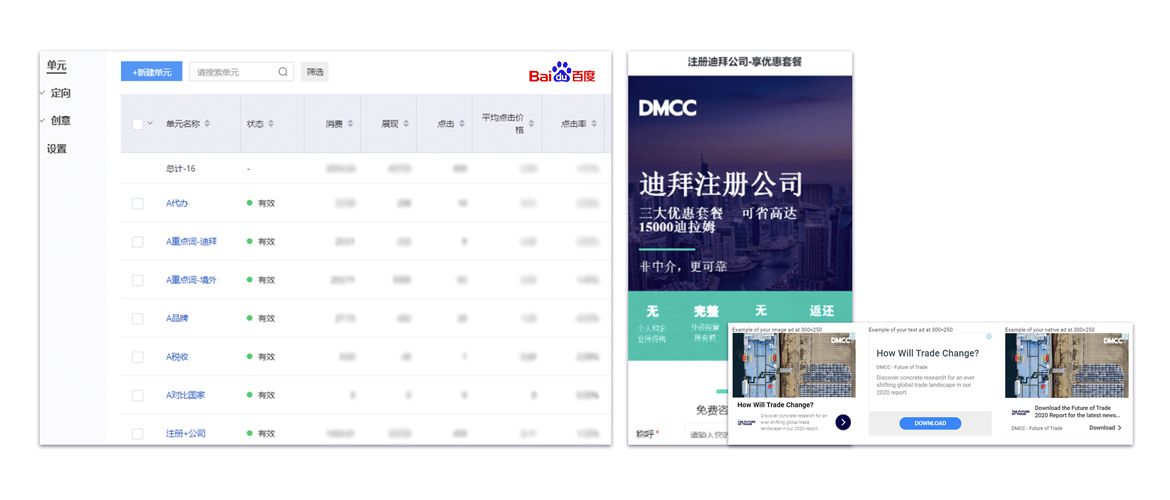 Our success with the Future of Trade website for DMCC has been thanks to our great relationship with the DMCC team and the excellent quality of the trade report. DMCC's willingness to push the boundaries of design and technology means that we are always able to do our best work and try new things.

Some Of The Work We've Done
Building a website using the HubSpot CMS?
Speak with our team of web design experts today