As another financial crisis looms over the horizon, traditional marketing roles in medium to large sized companies are increasingly precarious with the marketing budget usually being the first to get cut. With reduced resources, marketing teams are still expected to deal with fast-changing consumer preferences, the rise of multi-channel selling, mysterious platform algorithms, and increased pressure to support their company's profitability. How are marketers supposed to thrive under such constraints and complexity?
The answer is automation. Companies who have already adopted marketing automation have reported 14.5% increase in sales productivity. The inevitable approach of automation is already being felt with 72% of respondents in Social Media Today's 2019 survey felt automation would be coming to their industry, regardless of their inclination to use it.
Defining Marketing Automation
At a glance, many marketing managers associate automation purely as e-mail marketing tactics or social scheduling, but it's far more than that. Essentially, marketing automation is the use of software or web-based services that allows you to plan, execute, measure and analyse your marketing activities. Automation does this by letting the software manage and reduce repetitive and time-consuming tasks. In some cases, even eliminating them.

In the example graphic below, the HubSpot flywheel, we see all of the content and actions possible with automation during different stages of the buyer's journey.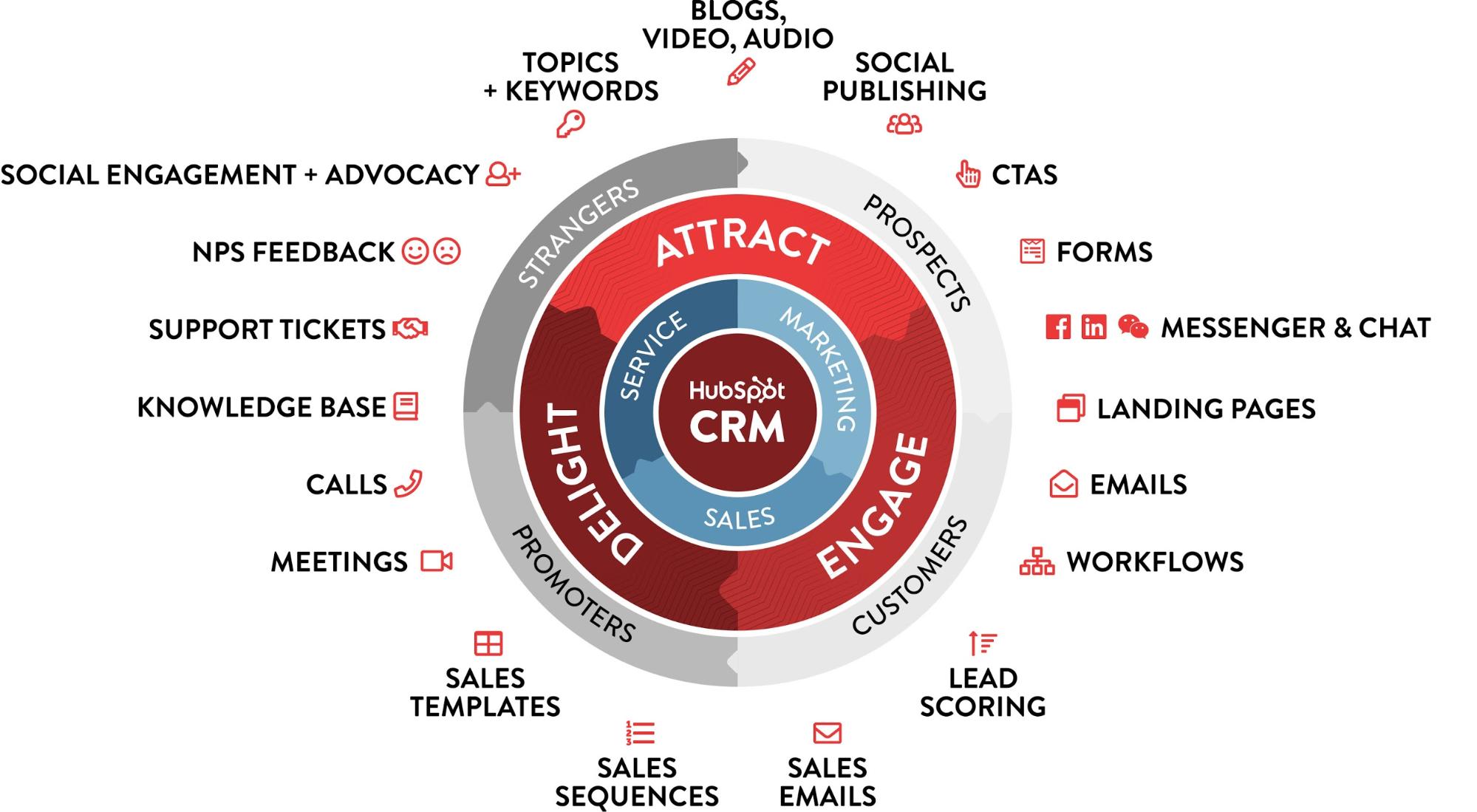 In an industry that continues to grow rapidly more complex, automation helps you save time and money by simplifying your tasks. It's no wonder, then, that 79% of top-performing companies have been implementing automation for three or more years now.
The Importance of Marketing Automation
As the market for products and services starts to saturate, prospects now have hundreds of touchpoints on their path to making any decision. Expectations on how to engage with these individuals are also changing, as they start to demand more personalised and meaningful interactions.
Marketing automation software not only helps with capturing these individuals but directly engages them through highly relevant content at every step of their journey. And it does this in the most personalised, one-to-one way.
"96% of visitors who come to your website aren't ready to buy (yet)."
Scalable-personalisation with automation, once thought to be extremely difficult a few years ago, is now becoming more accessible thanks to technology. Automation platforms like HubSpot can deliver those personalised experiences at scale—letting you convey specific messages to match the particular needs of each individual.
This, in turn, helps with lead nurturing as getting people to your website is only the beginning. You need to continually cultivate and foster their engagement throughout their entire journey through the funnel with meaningful interactions and relevant content, and automation undeniably assists with that.
It doesn't stop there. From these operations, we can also analyse and collect data, such as user engagement history and content performance to maximise conversions. Automation offers an advanced platform for marketers to effectively manage, streamline and optimise their strategies at every stage.

The future of automation grows brighter too. Fuelled by advances in technology and spending expected to reach $25.1 billion annually by 2023, the opportunities for digital marketing and automation will only get smarter and more focused. 2019 is shaping up to be a great year for digital marketing with a few cool new trends for engaging leads and generating customers.
How can Marketing Automation help your Business?
"Sales always wants to close deals, which requires making the funnel more efficient."
Time and cost saving
According to the 2018 State of Inbound report, 27% of salespeople are spending over an hour a day on data entry work instead of selling, meaning critical time is lost to administrative work. 48% of respondents also placed "improving the efficiency of the sales funnel" as one of their top priorities in 2019.
Automation allows you to save time and costs on manual and repetitive tasks by setting up those processes once and then having them running in the background. Your team's efforts can now be freed up to focus on other parts of the business that require attention.
Increases productivity
Apart from empowering time re-allocation, in automation, you can also specify criteria and outcomes for tasks and processes for the software to interpret, store and execute—reducing the margin for human errors made when dealing with so many repetitive tasks.
This improvement to productivity isn't just limited to smaller jobs either. The beauty of automation is that the systems are designed to scale alongside your business, and it doesn't require you to hire or train additional staff at extra cost.
"Marketing automation has helped me streamline my own process and gives me greater visibility into what my visitors and leads are actually doing. I can quickly find what content they're downloading, how they are responding to my e-mails, and how they are moving through the sales funnel. "
Personalisation
Marketing automation can send specific content to leads, based on user behaviour and activity—allowing you to create consistency in your content delivery and quality according to your target audience. Again, this is beneficial in lead nurturing as you can build relationships with your contacts in a smarter way. This has been proven in some industries to yield a 73% higher conversion rate than businesses who don't personalise at all.
Real-time data
Automation, when done correctly, is closed-loop – providing live reporting and real-time data tailored to your goals and the KPI's of your teams or individual team members. This will help you much quickly deliver insights on what's going on in the business, allowing you to understand the impact of your activities, make data-driven decisions and identify new opportunities as the data is coming in.
Improve your ROI
Marketing automation is focused on operational efficiency, meaning it can provide excellent ROI for your company. With automation, you can source more quality leads from the pipeline, have more productive sales reps, and therefore, attain better revenue by reducing existing costs in these areas. Organisations that use marketing automation can generate more leads by 80% and can increase qualified leads by 451%.
Marketing Automation Platforms to try
HubSpot
A clear favourite for most businesses, HubSpot is an all-in-one inbound marketing software and CRM solution for you and your entire team. Their automation software is comprehensive, visually easy to use (little developer input required) and they have an amazing support team available 24/7. It has a wide range of services that you can tailor and the opportunities to automate are seemingly endless. It's not the cheapest of options, but the time and cost you will save in the long-term make it worth the investment.
Databox
Databox is another software with a clear focus of automating business analytics. It can easily integrate all your key metrics from other platforms such as HubSpot, Google Analytics, Salesforce, etc. This offers everyone at your company quick and easy access to their data, tailored to their preferred information in one convenient place and available on desktop, mobile and TV screens throughout the office. You can view your data in any form you want, whether it be in live-time, daily, weekly, monthly or quarterly intervals to keep track of it all.
MailChimp
MailChimp is a marketing automation platform focused on e-mail marketing services. It provides a high degree of flexibility for designing, sending and planning the templates of your e-mails. Like an entry-level version of HubSpot, you can segment your data, target your e-mails and analyse your campaigns with options for integrating other data too.
How to get started
The trends say that marketing automation is here to stay. While initially, it may seem too complicated or expensive for your organisation, deciding to implement it today may be the best decision you can make to improve the impact of your marketing and sales operations in the long-term. To get the best results, it would be best to approach a local partner to assist you in planning and setting up your automation, as this can be a hurdle for most given the amount of customisation required to make it work for the specific needs of your business.
Ready to start implementing automation in your business? Speak with one of marketing experts to find out how we can help.