If you're reading this article there's a good chance you've already figured out that going into China digitally isn't going to be as easy as setting up another Facebook account. Unfortunately, the great firewall of China gets stronger each year and traffic going in and out gets slower (especially during certain holidays). This means, if you want to have a legitimate presence in China and be easily accessible by your Chinese customers, you will need to have a website that is hosted in China.
Do I really need a website hosted in China?
Technically, no, you do not need a website hosted in China. Nothing is stopping you from adding another language to your existing website and getting content translated. But there are two major issues with this approach: speed and search-ability. Even hosting in Hong Kong, while providing faster speeds to the mainland than other countries, with AliCloud or other Chinese services, your website cannot completely bypass the firewall and there is always the chance that you will be permanently blocked in China without any notice.
Websites hosted outside of China are going to load significantly slower than websites hosted inside of the great firewall. The difference can be anywhere from 2 to 60 seconds (on average around 10 seconds), which might not seem like a lot but it is enough to crush your conversion rates, especially since Chinese visitors are notoriously impatient and expect lightning-fast loading times.
Website speeds hosting inside vs outside of China
In the example below, this business is 'doing it right' with two websites: one on a global CDN (that doesn't have servers in China) and another hosted one hosted in China. The difference in loading speeds within China for the two websites is significant.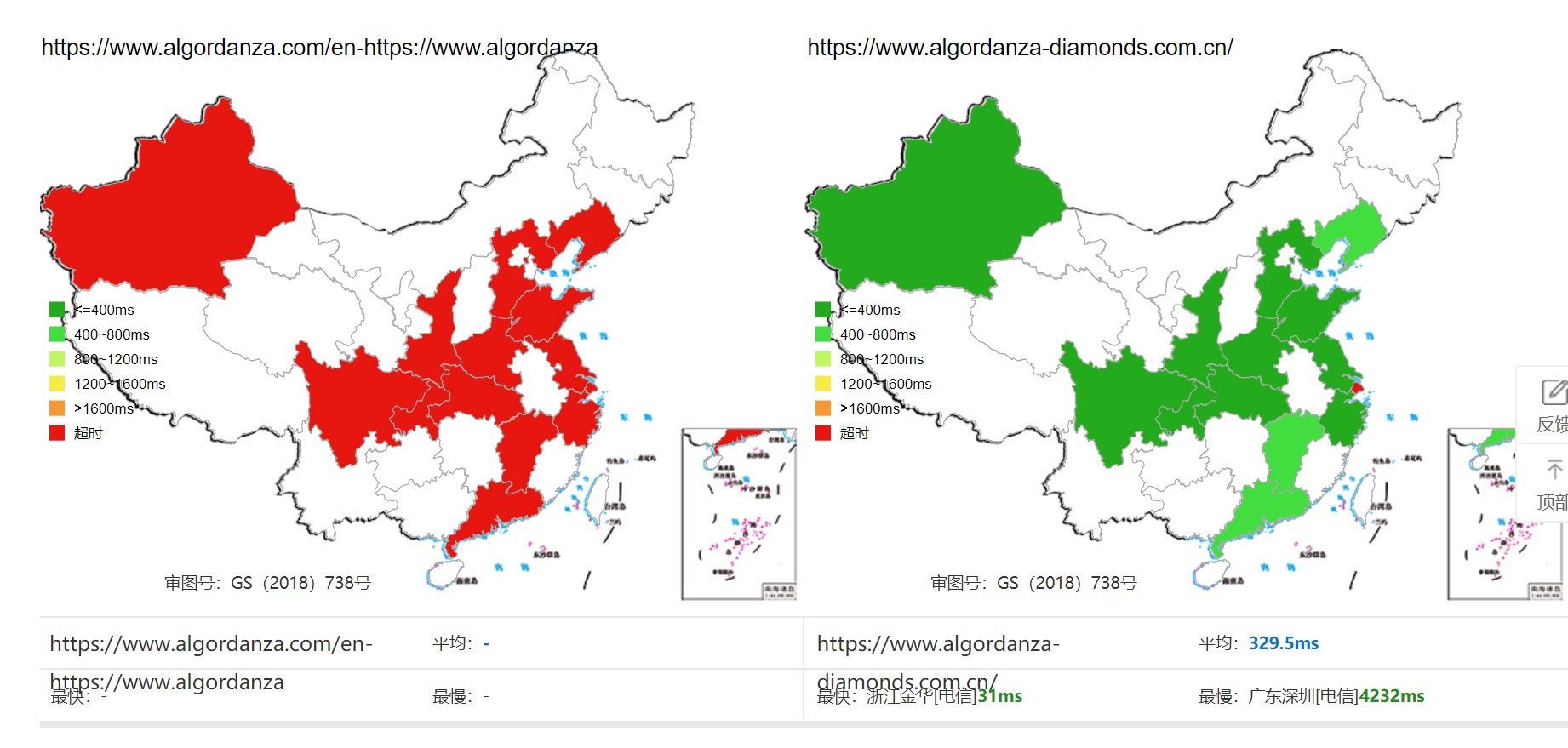 Showing up in Chinese search engines
Even if you have a website translated into Chinese that's not hosted in China, there's a good chance nobody's going to see it. Chinese search engines are well known for not indexing websites that are hosted outside of China and instead preference domestic websites. This also means that a Chinese competitor could choose to create content around your brand name and instantly outrank you online.
Do I really need a website? Why not just use WeChat?
While WeChat is the most important tool you can have for doing business in China and is basically the Swiss-army knife of Chinese social media platforms – there are some things it doesn't do well. It's great to have an official WeChat page for your business but this should be in addition to a website, and not in place of one. WeChat does have a selection of third-party apps with HTML 5 page functions that can be used as landing pages, but these can't really replace having a website. Not only do you have the trust signal of having an official .com.cn address, but you will also be indexable on search engines in China with an actual website.
Using WeChat and want to learn more about CRM integrations? Check out our blog here.
Advertising in China and the ICP license
In order to advertise on most digital platforms in China (Baidu, WeChat, etc.), you're going to need to have an ICP license. The registration number consists of a single character indicating the Chinese province/municipality where the license was issued, the category of ICP registration, and finally your registration number.
To get an ICP license (ICP备案) for your website, you must first: apply for hosting in China, set up your website and upload your content. Once you've applied, it usually takes around two weeks for approval, provided the content on your website isn't deemed too sensitive and that you meet the government's requirements of having a legal presence in China. Then you can update your website to list your ICP number at the bottom of your page and start applying for advertising accounts. This is an important step if you plan on focusing on China a lot in future, as inbound marketing will not work as well and advertising is a necessity in China. Having an ICP license is technically required by law if you're hosting in China and also greatly decreases the likelihood of getting blocked, which can happen at any time to any website without warning or recourse.
What are the options for hosting in China?
International CDN hosting both inside and outside of China
This is definitely an attractive option for most large businesses as it allows the use of one single website both inside and outside of China without any issues. Services like Akamai offer CDN solutions inside and outside of China and also allow you to apply for an ICP license once you have your website set up with them. The price tag on a service like this starts at around US$2,000 a month for the most basic of packages, and this is only for hosting and exclusive of any CMS (content management system) and other features.
There are a few complications with doing this, as tracking plugins like Google Adwords, Facebook pixels and Google Fonts have been shown to slow website loading speeds in China, which could mean that you would need to make significant changes to how you track things on your main website in order to be 'China-compliant'.
Two websites – one for China and one for everyone else
While initially, it may seem wasteful to split your business into two different websites, often this is the best approach for most businesses. If you've designed your China website properly (for the local market), it's unlikely to look or function anything like your international site as Chinese customers are accustomed to a different experience and prefer different designs. From our experience, the best Chinese websites are usually the simplest ones, with just one well-designed landing page and QR code links that go immediately to your sales team. This means that getting a micro-site like this set up is relatively quick and inexpensive. Hosting can be organised through a service like AliCloud and the website can be built on a CMS such as WordPress with potential links to your international website, CRM or marketing automation tool. Once your website is up and running, you can apply for an ICP license and begin advertising in China to get leads and customers!
Looking for an experienced partner for website design or marketing in China? Speak with one of marketing experts to find out.