Case study: Manufacturing consultants see 5x revenue growth from sales enablement with Oxygen
Case study: Manufacturing consultants see 5x revenue growth from sales enablement with Oxygen
By Gareth Jones - July 01, 2019
Finding the budget for marketing and sales as an SME can be a real challenge for many business owners. Renaud Anjoran, President at CMC Manufacturing Consultants decided to invest in marketing and sales with Oxygen in 2015 and has since managed to grow annual company revenue by a factor of 5! Having inbound leads and sales processes completely changed their business and has enabled them to be confident in further growth due to repeatable marketing and sales systems and processes.
The Challenge
Founded in 2012, by 3 veteran manufacturing experts including President and industry thought leader Renaud Anjoran, CMC is a team of more than 20 full-time manufacturing consultants. CMC Consultants come from a wide range of backgrounds in a wide range of manufacturing types, including, but not limited to automotive, electronics, textiles, industrial machinery, and furniture.

CMC's core mission is simple – improve quality, reduce inventory, or improve delivery times, and ultimately reduce costs at factories in China. CMC's services typically pay for themselves within one year, and often within just three months. With such a compelling service offering and an experienced team of manufacturing professionals, business growth should have been plain sailing right?

Not quite. CMC had no problems in delivering and was confident in its project delivery and success rates. Over the years, it became quickly apparent that ensuring that the consultants were busy, the company was profitable and growing year-on-year was a major pain point. CMC needed to go beyond referral business in order to overcome that challenge.
Renaud was already more than au fait with inbound marketing, maintaining the industry-leading quality control blog www.qualityinspection.org, for a decade and counting. So in 2015, Renaud began looking for an agency "to build a repeatable system for generating leads and converting those leads into customers".
Enter Oxygen.

Despite strong leadership and experienced consultants, Oxygen faced a number of challenges in getting the CMC inbound machine off the ground:

Very little sales collateral existed.
No standardised sales process or system existed.
No dedicated sales staff.
Only a very basic website existed with no industry keyword rankings and perhaps one legitimate enquiry every few months.
No standardised marketing system or inbound funnel existed.
No dedicated marketing staff.
In addition to the marketing and sales challenges above, CMC was offering a niche service, with Renaud acknowledging that "not many people in our industry search for services like ours online". Added to that was the fact that some influencers and personas were, in fact, Chinese and unable to use Google to find information online anyway.

Marketing Foundation
After some marketing, SEO and website consulting in 2015, at the beginning of 2016, CMC engaged Oxygen on an inbound marketing retainer. The goal of the retainer was to start their digital transformation by architecting their marketing processes and inbound marketing funnel – sales enablement support would come much later at the beginning of 2018.
Oxygen started by conducting comprehensive buyer persona research. Armed with a clear understanding of CMC's buyer profiles and personas, the first step was to define some initial marketing goals and ensure that the existing bottom of the funnel content was improved.
Create a website on HubSpot CMS
Below: Old website design vs new website and content engagement on LinkedIn.

The second step was to create a website on the HubSpot CMS in line with the existing CMC corporate branding focusing on CMC's core services. Once these foundations had been laid, it was time to produce a robust content strategy in order to attract factory owners, supply chain directors, production managers and other key personas to the website.
We started out following the classic inbound principles and created a content strategy around a key buyer persona priority initiative of "improving factory quality", with several blogs supporting this offer.
Over time, through analysing what topics resonated and progressively profiling leads when they downloaded more offers, we were able to clearly understand that cost and quality were the biggest concerns among key buyer personas.
Initially, growth was slow due to the poor domain authority and niche topic focus. However, through perseverance and commitment to quality content, CMC hit a tipping point in 2017 with targeted traffic really starting to take off. Due to the quality of the content, CMC started to get shared more and as a result gained more and more authoritative backlinks.
In addition to blogs, eBooks and whitepapers, we tried a variety of media from webinars and infographics to case studies and consultations.

Below: Organic traffic growth since starting inbound marketing.

In order to plan and execute on these campaigns, we leaned on President, Renaud Anjoran, and CEO David Collins II, to provide the expertise and seed content which was edited, published and analysed by Oxygen using the HubSpot blogging, social media and analytics tools.
As well as ranking #1 for "China manufacturing consultants" a result of the organic efforts, CMC is now on the front page of Google for many industry key terms.

Below: Some examples of CMC's current (2019) keyword positions on Google.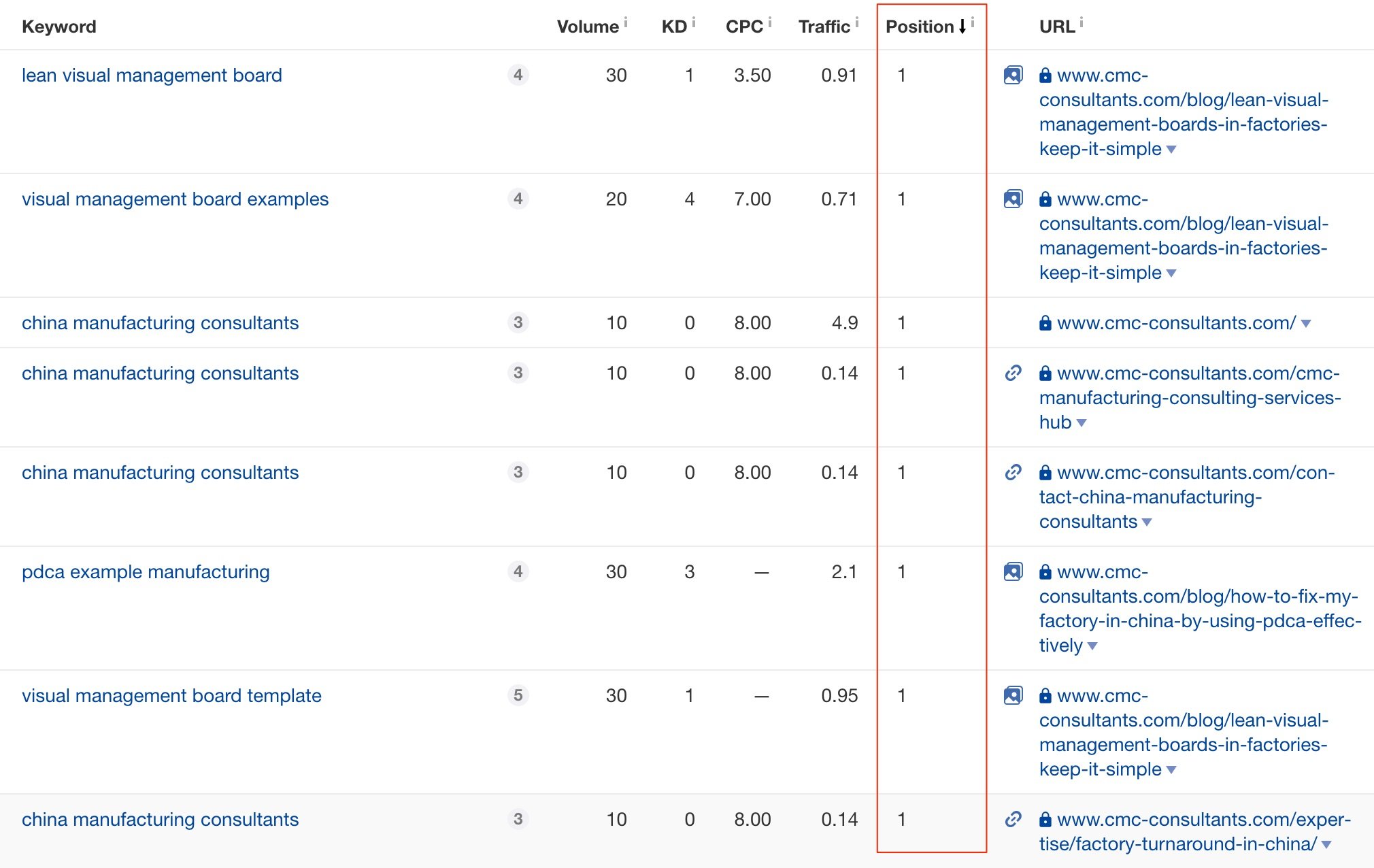 LinkedIn Training and ABM
In addition to the work done on the organic content, at the same time, Oxygen worked closely with CMC starting in 2016 by helping them cultivate their LinkedIn profiles. Since we were essentially starting from scratch with organic traffic in 2016, and in a very niche industry, in order to get CMC content in front of people it was crucial to embark on an aggressive LinkedIn ABM strategy using the buyer profiles and buyer personas outlined.
Oxygen coached and worked with David and Renaud in adding the right, industry-specific contacts, with the right messages and following up with the appropriate content from CMC wherever they were in their buyer journey.
In addition, Oxygen provided coaching on posting techniques and assisted with forum work and LinkedIn pulse posting. In addition to providing some ready-to-buy opportunities and directly generating customers, CMC now had 1000's of industry contacts to amplify content or become opportunities at a later date.
In addition, email campaigns were created from LinkedIn contacts with fantastic open and click rates. Providing additional touch points to leads that had been sourced from LinkedIn originally.
Below: CMC email outreach performance from LinkedIn contact list.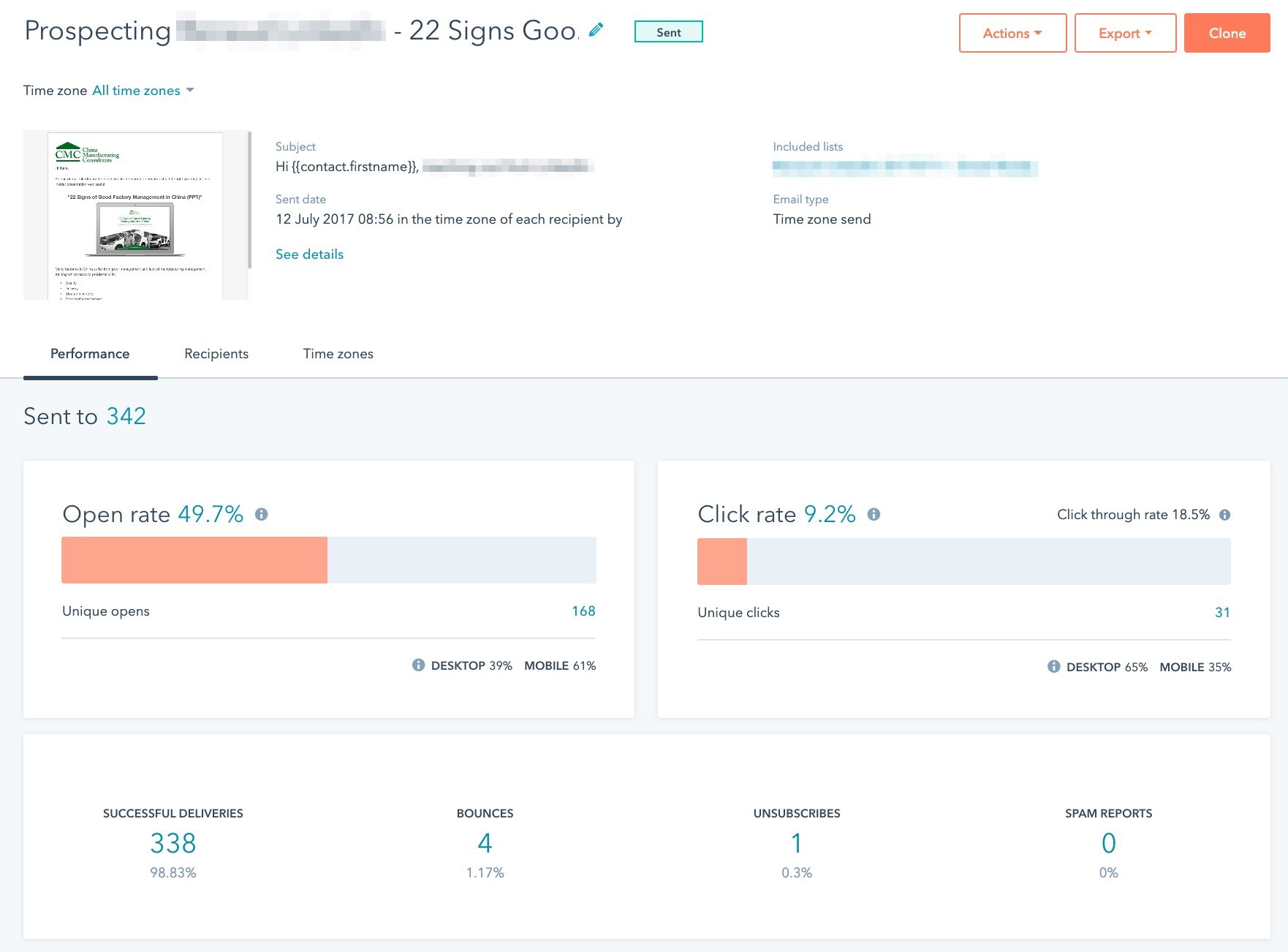 Of course, all of this lead generation would be disorganised if buyer journeys and lifecycle stages weren't mapped out clearly. So, from the beginning, we ensured that CMC had robust definitions for lead, marketing qualified lead, sales qualified lead, opportunity, customer and evangelist. These definitions evolved over time as we came to understand more about the buyer persona.
Below: Example of active buyer persona segmentation with lists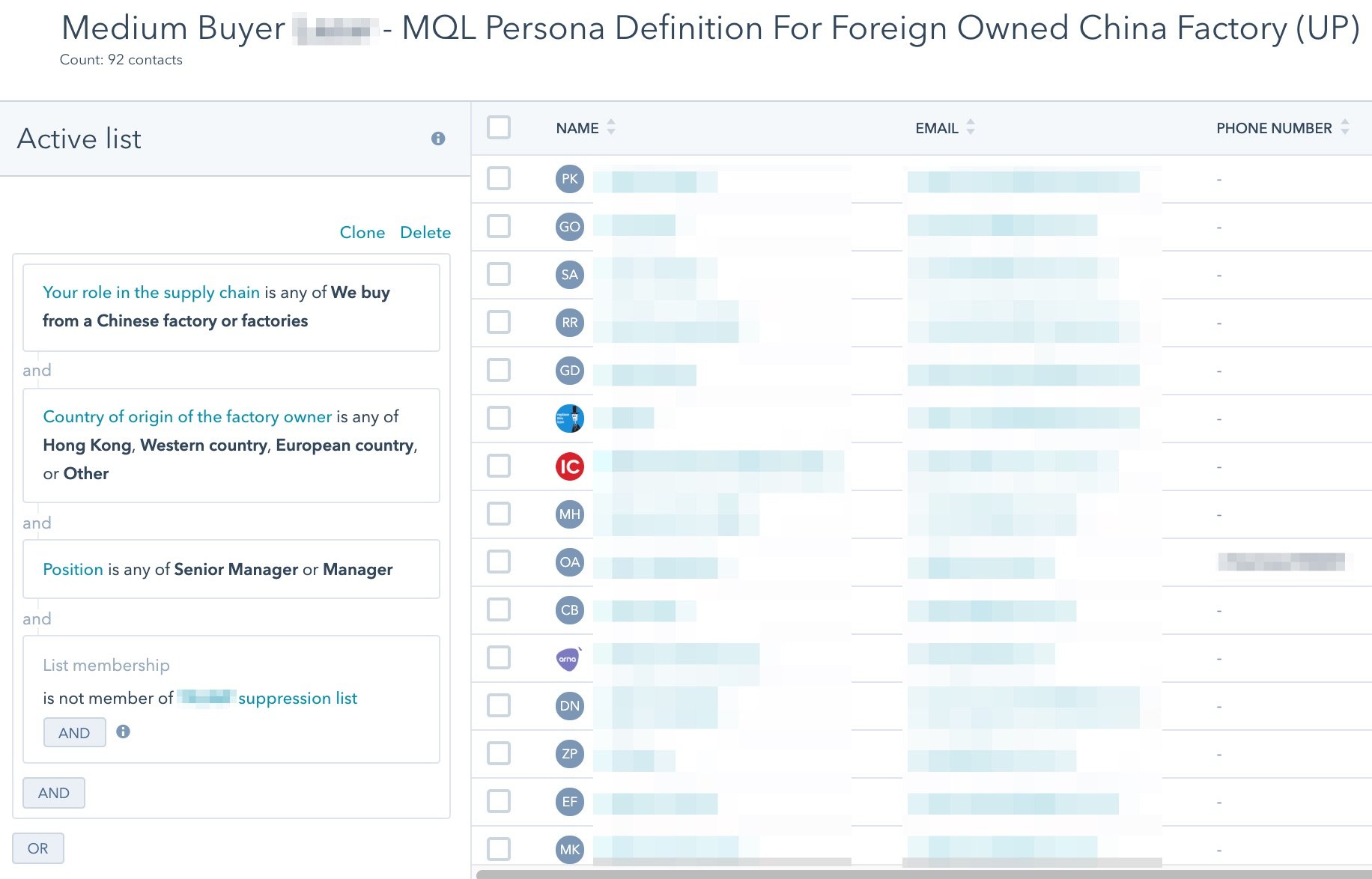 Marketing Results
Despite the impressive marketing results and consistent flow of qualified leads, CMC wasn't closing enough revenue from online sources. In January of 2018 Oxygen and CMC tabled a discussion in order to look at the CMC marketing and sales funnel and get to the bottom of the problem.

Below: Lifecycle stage breakdown of leads from 2016-2017. Not enough customers but many MQL/SQL/Opportunities.

Even with the structured lifecycle definitions, unless those leads were reaching out directly asking for consulting without prompting they were not 'good leads' in CMC's eye. CMC was focusing so much on doing a great job for their customers and referrals, they weren't as focused on new business unless online leads were literally calling in or requesting meetings via email/form fill.

So, it seemed the problem was not necessarily the opportunity to customer conversion rate, rather, that of the numerous marketing and sales qualified leads, because CMC were waiting to be contacted rather than creating sales touch points, higher value leads were being missed.
This presented a clear opportunity for change and is clear example of miscommunication between marketing and sales that needed to be bridged. To solve the problem, in January 2018 it was decided that Oxygen would, in addition to marketing, support CMC through sales enablement and sales support services. In addition, David Collins III would join CMC and provide additional operations and sales support.
The Solution
Pipeline Architecture & Sales Goals
The first step was to ensure the HubSpot CRM was being used correctly and by all members of the CMC team involved in the sales process. This meant that the actual sales pipeline was reevaluated and changed based on the actual CMC sales process. We also performed training and dialogue sessions with other senior members of the CMC team to ensure the deal stages and properties were clearly understood.

Below: The new CMC sales pipeline, with sales processes attached to each stage.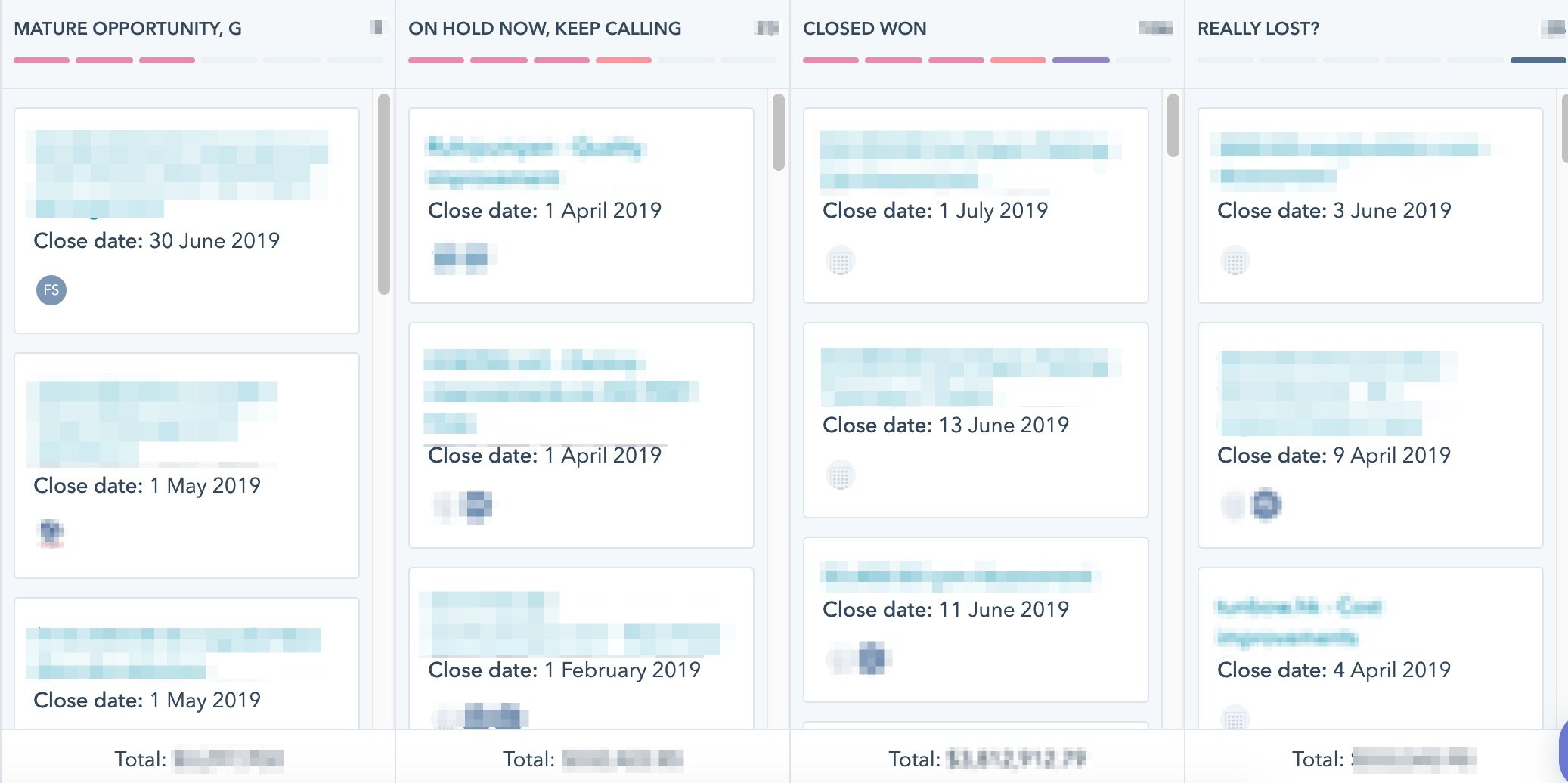 Live Reporting
We also setup Databox ensuring that we created a meaningful pipeline dashboard that everyone could see and understand. Being able to track sales performance against the previous month's performance has been a key indicator of success for CMC each month. Plus, having easy access on mobile and weekly email reports helped to keep everyone up-to-date.
Views & Lists
Once we had meaningful high-level targets in place and we were sure we were capturing the right qualification information through the GPCTBNI framework, we worked on ensuring we had a way of categorising existing leads.
Below: Example of smart contact lists to segment lead quality and engagement.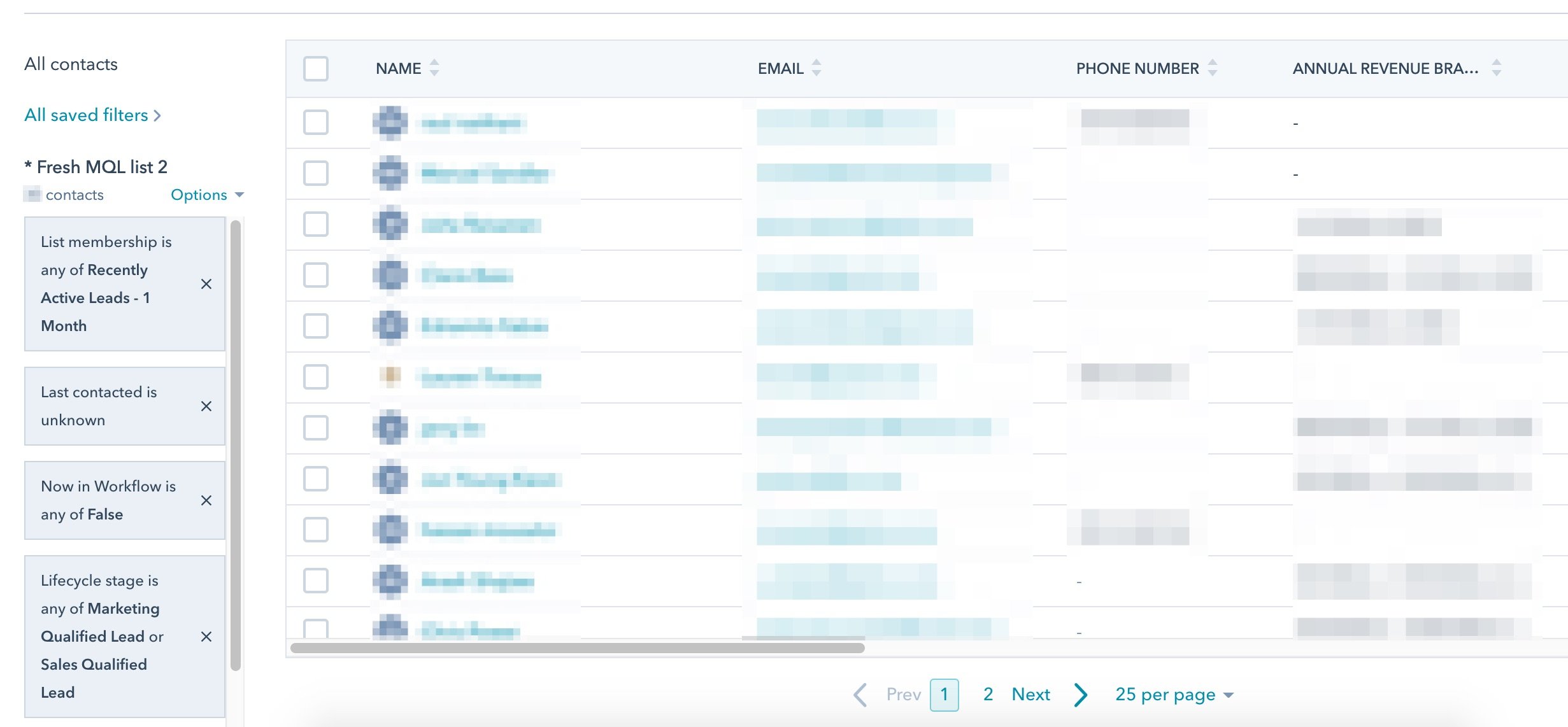 We created lists and views of qualified (MQL/SQL) leads that had had recently been active, followed by those that were dormant. Now that contacts were organised – and there were a lot of quality contacts that simply hadn't been touched beyond our interest-based lead nurturing campaigns – we created a follow-up architecture that both Oxygen and CMC could follow. With Oxygen providing first up lead generation and consultation and CMC providing the pre-sales meeting and close.
Sales Follow-up Architecture
We architected several scenarios based on leads that had come from inbound, outbound such as Import Genius and through various other touch points. This way, we had a clear SOP for what to do when certain 'types' of leads came in from how to respond and the effective response rate.
Below: Example section of the CMC sales follow-up process.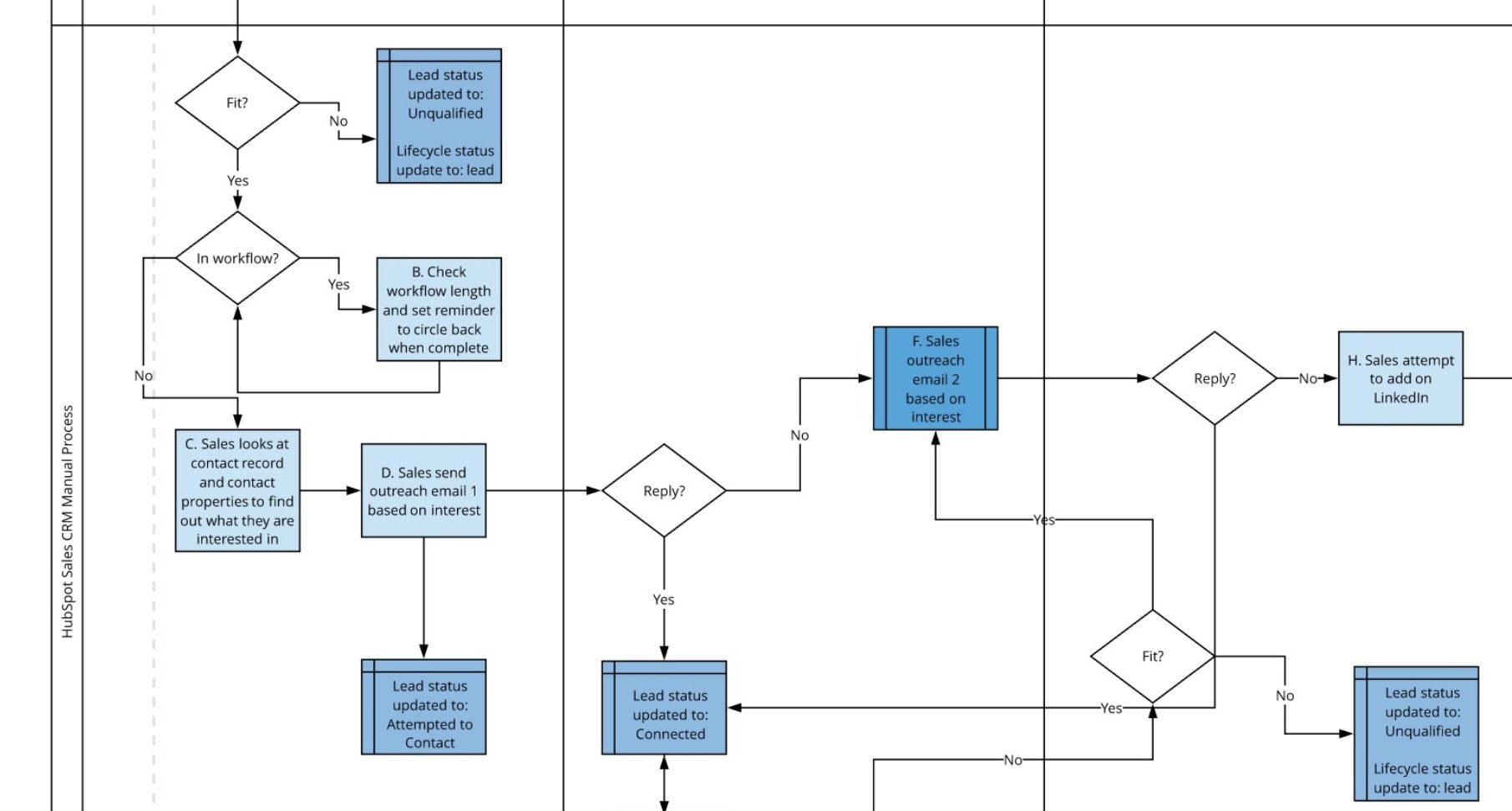 Meetings
We migrated CMC to Microsoft365 set up HubSpot meetings links for key salespeople. Being able to send HubSpot meeting links in sales emails was an easy win for improving conversion rates as it removes a lot of friction required in figuring out availability to setup meetings.
Sales Collateral, Templates & Sequences
Improving the sales documentation and presentations they were using to engage with leads was another key area where we were able to improve conversions. The CMC sales team were also able to starting using inbound content in their sales pitches which ended up being very useful for leads in this highly-consultative sales process. We created sales email templates and sequences that David Collins III could use in order to faster follow up email enquiries. As many of the enquiries CMC were getting had similar requested and followed a standard pattern it was easy to create templates which would save time for the management team who no longer needed to type out long email replies.
Below: Example of the improved sales collateral and inbound content.

Task Management
Though it sounds simple, effective task management in HubSpot is one of the most powerful methods of getting more out of sales. We created special task management SOPs, in this case, to work with Microsoft365, to ensure everyone involved at CMC knew what to do every day and became comfortable in the CRM.
Benchmarking Salesperson Performance
To keep both Oxygen and CMC honest we created a specific dashboard in Databox that records and benchmarks' salesperson activity over time. This allowed us to keep track of the individual performance of each sales person and the overall team.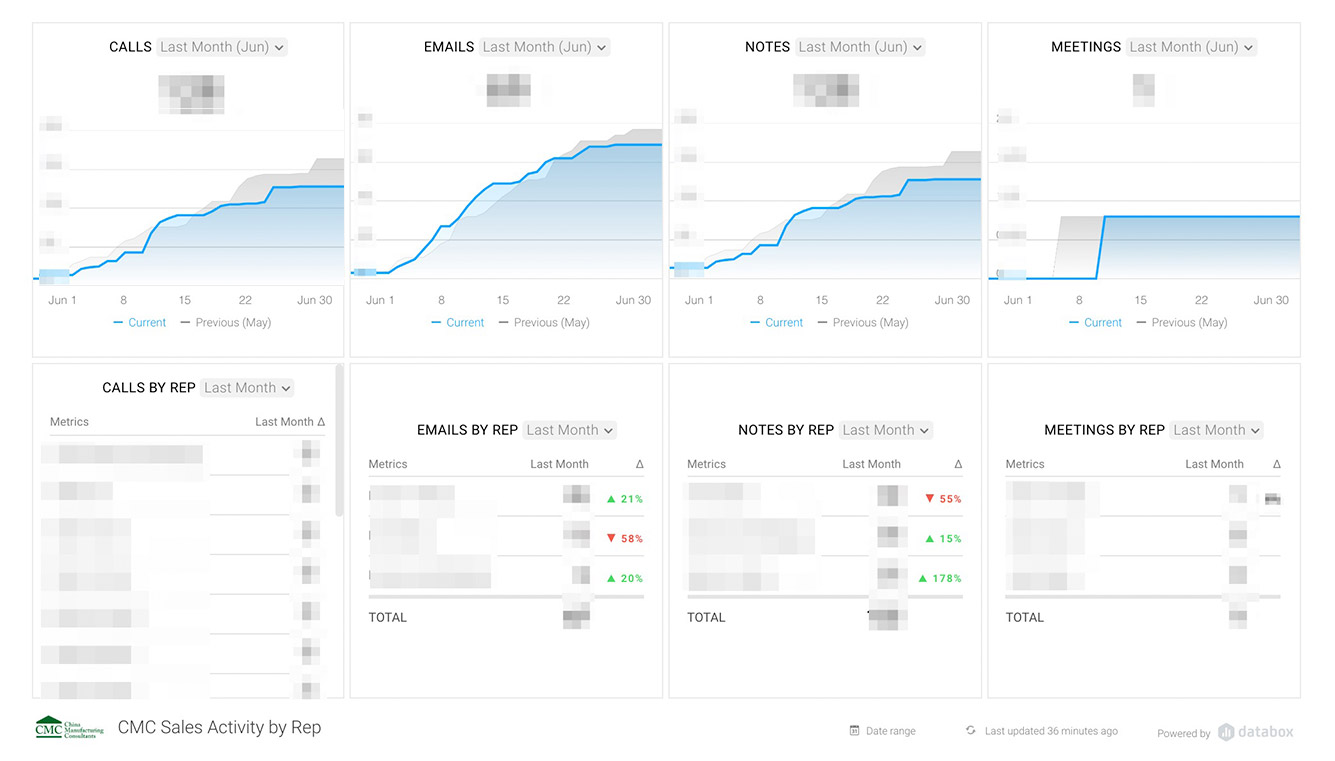 Sales Support
Even with automation and lead nurturing, CMC needed sales support and so began a sales retainer with Oxygen to give their management team more time to work on the business and less time worrying about closing deals. Oxygen's Sales Enablement Manager Patrick implemented the following activities to boost the conversion rate and improve CMC's sales:
Task and activity management
Logging incoming and outbound activity
Making outgoing calls to leads
Logging calls in HubSpot
Document tracking by uploading all sales collateral into the HubSpot system
Creating and managing sequences
Updating permissions and team configuration
Creating and updating meetings links
Creating and updating email templates
Creating and updating deals
Replying to leads via the website chatbot
Chinese Sales Support
While CMC does have dedicated China-based consultants, they were often busy and were not experienced at making follow up calls or engaging with leads/MQL's using a softer, 'help first' sales approach that is compatible with the inbound sales methodology. In order to improve Chinese sales conversion rates Oxygen began supporting CMC in early 2019 with Chinese sales support with our team in Shenzhen, China.
The Oxygen China sales team were able to effectively engage and follow-up with leads from mainland China (using the system created by our English-speaking sales team) which meant CMC's time had more time to work with existing customers and didn't need to worry as much about generating new business.
The Results
"We were looking for an agency partner precisely to build a repeatable system for generating leads and helping us convert these leads into clients. Oxygen helped us setup a strong base and a strong foundation helping us to convert at a higher rate, and we say... wow!" - Renaud, President
Below: Average deal size for CMC from 2014 to 2018.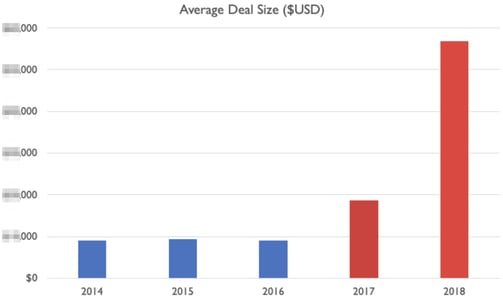 Through structured inbound marketing efforts, LinkedIn ABM and better sales collateral CMC doubled average deal size in 2017. Then due to the radical changes to sales processes, sales support services and more rigorous use of the HubSpot CRM they then tripled deal size in 2018. This huge increase in deal size has enabled CMC to grow more efficiently through working with larger, more profitable clients.
Sales Enablement Results
With clear sales processes, templates and more hands on-deck, there was a clear upward trend in the amount of sales interactions with leads from 2016 to 2018. Unfortunately, this graph doesn't include WeChat engagement for the Chinese market – which cannot be measured in HubSpot.
Below: Average number of sales activities over time (Aug 2018 was a holiday for both teams).
Next Steps
In the near future with CMC we will be working to tighten the sales processes and improve the use of sequences, meetings and the calling tool. In addition, we want to ensure that CMC can scale from a few salespeople to a full sales team through regular training sessions and more standardised processes.
Outside of the 'boots on the ground' sales work, a lot more needs to be done with the chatbot to ensure it meets the needs of visitors and leads – especially given that CMC's services are particularly technical and difficult to categorise in a logical bot flow.
For marketing, we intend to revamp and rebrand the existing website in order to attract more 'high value' leads that aesthetically are looking for more McKinsey and BAIN style design vs. practical engineer style. Outside of aesthetics, we will evaluate how new content performs iteratively over time using the GDD framework.
The Impact
The overall growth – 5x revenue – of CMC has been amazing for us, as an agency, to be an integral part of. Having a client that is trusting of our approach and is open to suggestions for ways to improve their business meant that we were able to try new things and find what worked best for CMC.
The relationship we have with our client is one of the key factors to our success. We love working with experts in their field like CMC and actually enjoy meeting with them and discussing strategy – we know our ideas are valued and that they are laser focused on delivering value to their client base.
"Since we've partnered with Oxygen, the company has grown 4-5 times – which is quite an accomplishment in less than 3 years. I can say that this has been driven mostly by the excellent marketing and sales systems that were put in place by Oxygen." - Renaud, President
Does your company need assistance with sales training and support? Speak with one of our sales enablement experts to find out how we can help.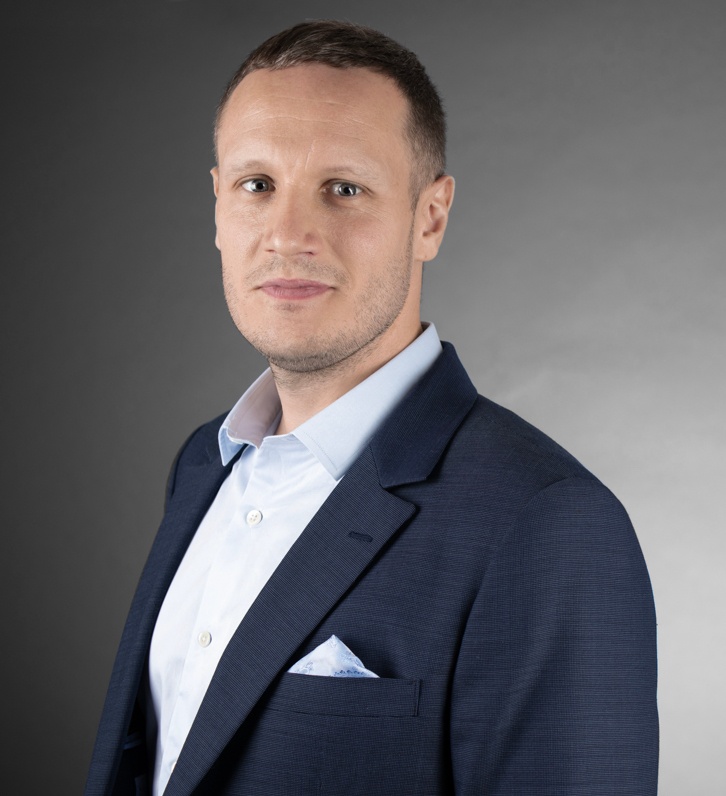 About the Author
Gareth Jones
Gareth Jones has been Oxygen's CEO since 2017, presiding over the company's transformation from a small branding agency to Greater China's foremost, and award-winning, marketing automation agency. Gareth holds an MSc in Computer Science and Informatics, and a BSc in Computer Science from the University of Reading, UK. He speaks and reads Mandarin at HSK Level 5, and enjoys nothing more going on weekend hikes, reading and spending time with his Maine Coons.