Overview
China Manufacturing Consultants (CMC) is a manufacturing consulting firm that advises on and executes manufacturing initiatives from the boardroom to the shop floor.
With a bilingual team and headquarters in Shenzhen, China, CMC has both foreign and local experience to strategically advise on the best manufacturing practices.

Finding the budget for marketing and sales as an SME can be a real challenge for many business owners. Renaud Anjoran, President at CMC Manufacturing Consultants decided to invest in marketing and sales with Oxygen in 2015 and has since managed to grow annual company revenue by a factor of 5! Having inbound leads and sales processes completely changed their business and has enabled them to be confident in further growth due to repeatable marketing and sales systems and processes.
Project Plan
Client Location
Shenzhen, China
Services Provided
Sales Enablement, Account-Based Marketing, Content Creation, Website Design, Website Development, HubSpot Integrations
Related Sector
Manufacturing, Business Services
Languages Supported
English, Mandarin
The Challenge
CMC had no problems in delivering and was confident in its project delivery and success rates. However, over the years, it became apparent that ensuring that the consultants were busy, the company was profitable and growing year on year was a major pain point. CMC needed to go beyond the referral business to overcome that challenge.

CMC's core mission is to improve quality, reduce inventory, improve delivery times, and ultimately reduce costs at factories in China. CMC's services typically pay for themselves within one year and often within just three months. Business growth should have been plain sailing with such a compelling service offering and an experienced team of manufacturing professionals.
Renaud (President of CMC) was already au fait with inbound marketing, maintaining the industry-leading quality control blog www.qualityinspection.org, for a decade and counting.

So in 2015, Renaud began looking for an agency "to build a repeatable system for generating leads and converting those leads into customers".
Pipeline Architecture & Sales Goals
The first step was to ensure the HubSpot CRM was being used correctly and by all members of the CMC team involved in the sales process.
Sales Collateral, Templates & Sequences
Improving the sales documentation and presentations CMC was using to engage with leads was a key area that required urgent input.
Create a website on HubSpot CMS
The third step was to create a website on the HubSpot CMS in line with the existing CMC corporate branding focusing on CMC's core services.

The Solution
The first step was to ensure the HubSpot CRM was being used correctly and by all members of the CMC team involved in the sales process. Through our sales enablement services, we re-evaluated and modified the sales pipeline to better reflect the actual CMC sales process. Subsequently this was adopted company-wide with buy-in from the entire CMC team.
We also performed training and dialogue sessions with other senior members of the CMC team to ensure the deal stages and properties were clearly understood.
The first step was to ensure the HubSpot CRM was being used correctly and by all members of the CMC team involved in the sales process. This meant that the actual sales pipeline was reevaluated and changed based on the actual CMC sales process. We also performed training and dialogue sessions with other senior members of the CMC team to ensure the deal stages and properties were clearly understood.

Below: The new CMC sales pipeline, with sales processes attached to each stage.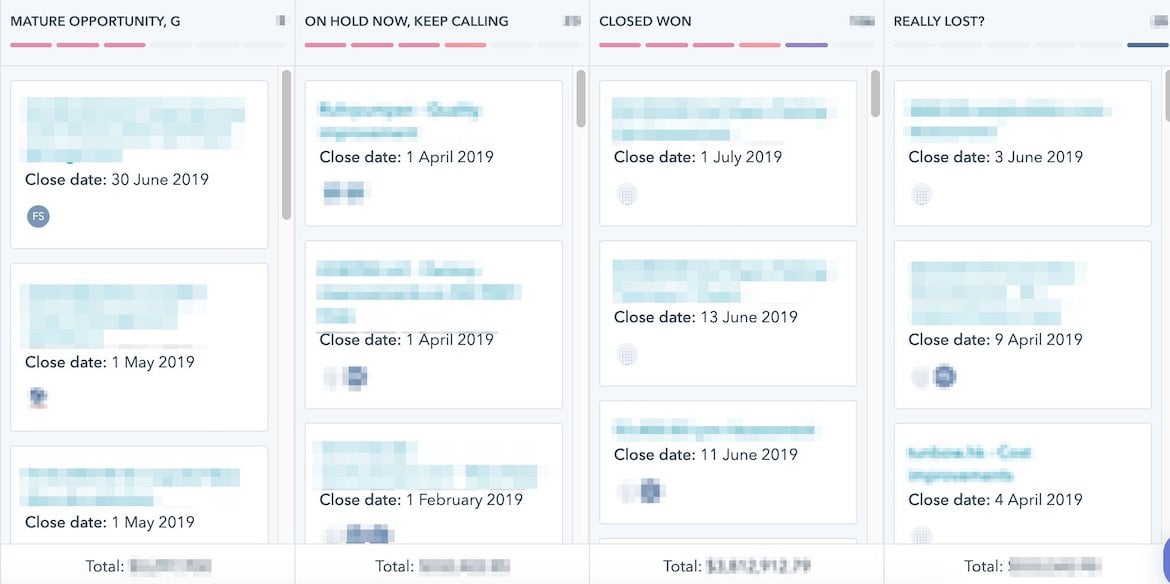 We also set up Databox ensuring that we created a meaningful pipeline dashboard that everyone could see and understand.
Being able to track sales performance against the previous month's performance has been a key indicator of success for CMC each month. Plus, having easy access to mobile and weekly email reports helped to keep everyone up-to-date.
Once we had meaningful high-level targets in place and we were sure we were capturing the correct qualification information through the GPCTBNI framework, we worked on ensuring we had a way of categorising existing leads.
Below: Example of smart contact lists to segment lead quality and engagement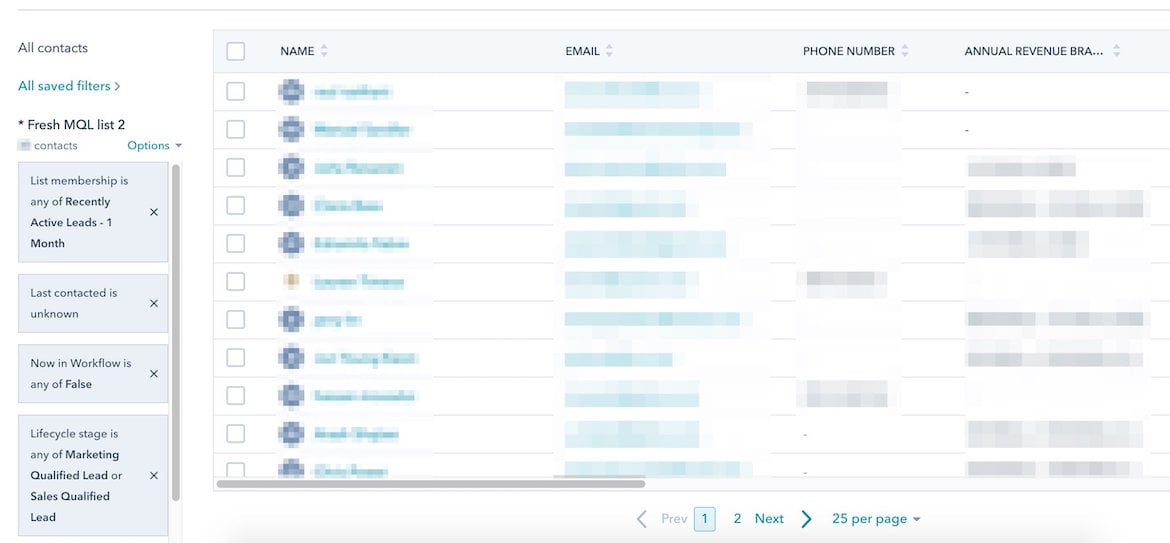 We created lists and views of qualified (MQL/SQL) leads that had recently been active, followed by dormant ones. Now that contacts were organised – and many quality contacts simply hadn't been touched beyond our interest-based lead nurturing campaigns – we created a follow-up architecture that both Oxygen and CMC could follow. With Oxygen providing first up lead generation and consultation and CMC providing the pre-sales meeting and close.
We architected several scenarios based on leads that had come from inbound, outbound such as Import Genius and through various other touchpoints. This way, we had a clear SOP for what to do when certain 'types' of leads came in from how to respond and the effective response rate.
Below: Example section of the CMC sales follow-up process.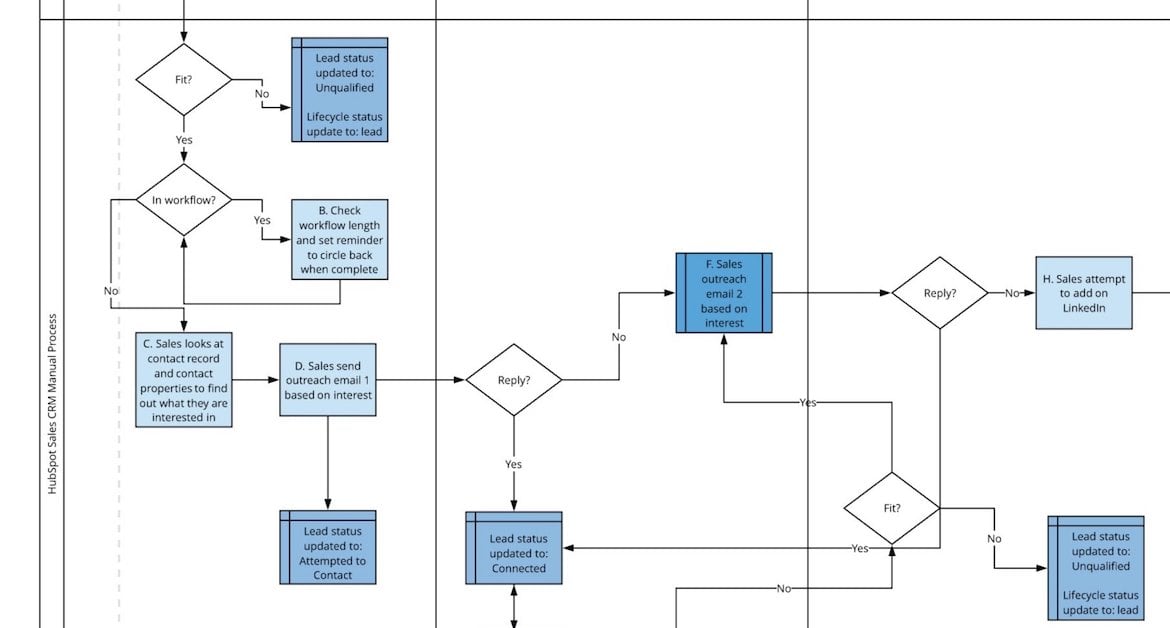 To keep both Oxygen and CMC honest we created a specific dashboard in Databox that records and benchmarks' salesperson activity over time. This allowed us to keep track of the individual performance of each salesperson and the overall team.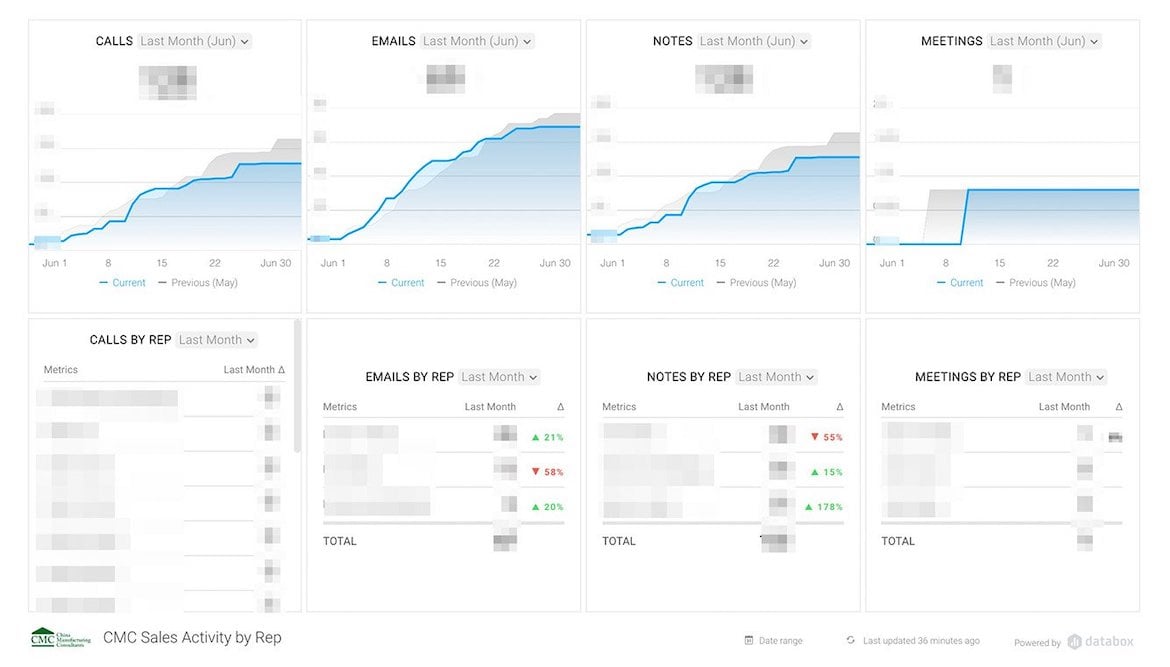 While CMC does have dedicated China-based consultants, they were often busy and were not experienced at making follow up calls or engaging with leads/MQL's using a softer, 'help first' sales approach that is compatible with the inbound sales methodology. In order to improve Chinese sales conversion rates, Oxygen began supporting CMC in early 2019 with Chinese sales support with our team in Shenzhen, China.
The Oxygen China sales team were able to effectively engage and follow-up with leads from mainland China (using the system created by our English-speaking sales team) which meant CMC's time had more time to work with existing customers and didn't need to worry as much about generating new business.
The Results
Through structured inbound marketing efforts, LinkedIn ABM and better sales collateral, CMC doubled average deal size in 2017. Then due to the radical changes to sales processes, sales support services and more rigorous use of the HubSpot CRM they then tripled deal size in 2018. This huge increase in deal size has enabled CMC to grow more efficiently through working with larger, more profitable clients.
The overall growth – 5x revenue – of CMC has been amazing for us, as an agency, to be an integral part of. Having a client that is trusting of our approach and is open to suggestions for ways to improve their business meant that we were able to try new things and find what worked best for CMC.
Campaign Metrics to Date
> 6000 +
New Contacts Created
"Since we've partnered with Oxygen, the company has grown 4-5 times – which is quite an accomplishment in less than 3 years. I can say that this has been driven mostly by the excellent marketing and sales systems that were put in place by Oxygen. We were looking for an agency partner precisely to build a repeatable system for generating leads and helping us convert these leads in to clients. Oxygen helped us set up a strong base and a strong foundation helping us to convert at a higher rate, and we say... wow!"
Renaud Anjoran
President, CMC
Our Future with CMC
In the near future with CMC, we will be working to tighten the sales processes and improve the use of sequences, meetings and the calling tool. In addition, we want to ensure that CMC can scale from a few salespeople to a full sales team through regular training sessions and more standardised processes.

Outside of the 'boots on the ground' sales work, a lot more needs to be done with the chatbot to ensure it meets the needs of visitors and leads – especially given that CMC's services are particularly technical and difficult to categorise in a logical bot flow.

For marketing, we will utilise our web services to revamp and rebrand the existing website in order to attract more 'high value' leads that aesthetically are looking for more McKinsey and BAIN style design vs. practical engineer style. Outside of aesthetics, we will evaluate how new content performs iteratively over time using the GDD framework.
Our success with CMC is mainly the result of an excellent management team. CMC's willingness to adapt and overcome has been paramount to the success of this campaign thus far. We can't wait to see what the future holds.

Some Of The Work We've Done
Building a website using the HubSpot CMS?
Speak with our team of web design experts today