With no direct competitors in the diverse app-marketplace of the Western world, most foreign businesses fundamentally do not understand the importance of getting WeChat marketing right. Often called a 'super-app', WeChat also includes sophisticated features that enable users to process payments, access transportation and even shop directly on the platform.
While WeChat's immense user base offers amazing growth opportunities for your business, it can be challenging to set up personalized marketing campaigns without an integrated CRM system. This is because the current WeChat algorithms do not support tracking lengthy buyer journeys, and rapid follower increases may hinder data utilization capabilities.
Today, most WeChat-savvy businesses are using Social CRM's, a personal marketing approach that triggers a tailored response based on customer data resulting in better engagement and increased retention rates. Whether you're just getting started or you're a seasoned WeChat marketer, this article will help you understand and use WeChat SCRM better.
WeChat Functionalities
WeChat provides various account types to connect users. You can choose a corresponding account according to your own business needs. Learn more about the pros and cons of different WeChat accounts in our Integrating your CRM with WeChat in China blog.
Regardless, the WeChat backend system is still far from perfect at the moment. Here we've listed some of its common limitations:
Very limited data reporting and analytics make it hard to monitor the account performance
No option to send messages to your target segment groups based on age, gender, location or other user characteristics
Customer chat history is only stored for up to two days
No calendar to maintain an automatic schedule for campaigns
Most importantly, the platform does not contain a proper CRM function
Without a proper Social CRM system, your WeChat funnel will look similar to the chart below: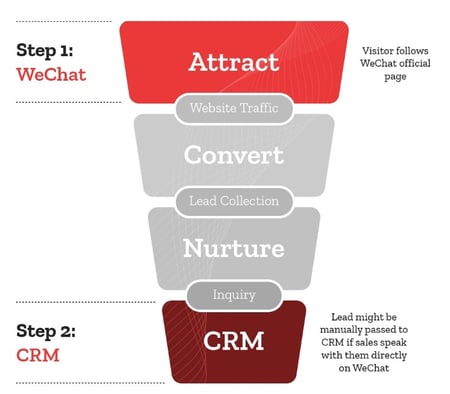 The standard WeChat funnel leaves a lot of room for human error due to leads being passed to CRM manually. This opens up an opportunity for companies to create better sales funnels by integrating with Social CRM tools. Social CRM tools will provide you with a deeper understanding of your customers by screening every interaction customers have with your brand across the WeChat ecosystem.
WeChat & Parllay
Parllay has extensive expertise in helping implement digital marketing projects on WeChat and specializes in measuring engagement and data analytics. Parllay does an excellent job of nurturing leads, and it also enables your business to interact with them easily by creating personalized responses that WeChat falls short of.
Here's what your WeChat funnel could look like with Parllay: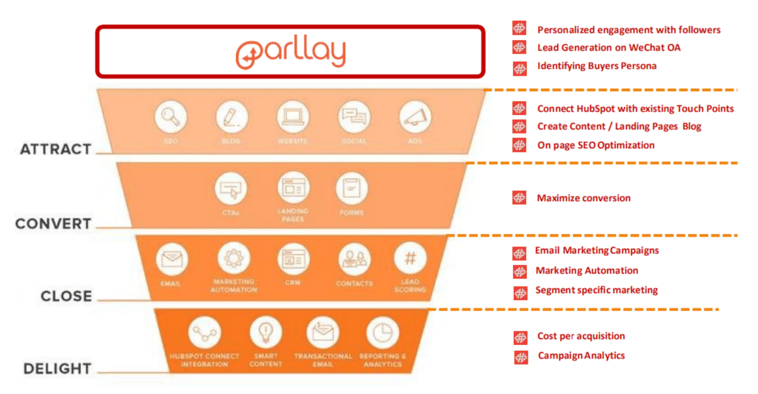 Features of Parllay

Parllay Social CRM
In Parllay Social CRM, you can match your customer data with user interactions. You can then easily segment your target customers by their geographic location, as well as demographic and behavioral properties. You can also quickly identify leads and customers at different lifecycle stages. Parllay's management system interface is intuitive, easy to get started with, and has both Chinese and English versions.
Parllay Social CRM
Parllay creates customer journeys aligned with personalized interactions of different user segments on WeChat and triggers personalized responses and menus accordingly. Parllay can provide different menus to users based on a variety of criteria, including language, region, and their mobile operating system.
Parllay Data Analysis
Parllay WeChat CRM creates custom reports for official accounts that help you better understand metrics like user retention, or identify the reason behind a sudden conversion rate decrease.
Parllay Content Marketing
Every enterprise strives to provide helpful content to its readers to increase viewing rates. Parllay can help you accelerate conversions by posting accurate content based on user attributes, and retain customers in the long run by personalizing the way they interact with your brand.
Parllay & Hubspot
Parllay is one of the very few WeChat integrations holding a Hubspot partner title. With Parllay, you can synchronize sales leads obtained from WeChat with your Hubspot account to monitor entire buyer journeys of potential customers. With the use of Parllay, you can also apply Hubspot functions to your WeChat service account including chatbot, forms, and reporting.
This is important for 2B businesses in particular, where the decision-making process tends to be quite long, as the WeChat public account cannot interact with potential customers for an extended time. You only have a 48-hour window to interact with them before the customer data is gone. With this, it is especially challenging to communicate with your potential customers.
Parllay connects WeChat with Hubspot, so you can not only maintain communication with customers in the long run but also make Hubspot the centralized system that manages your global sales leads.

Getting Started
Now that you know how to use WeChat SCRM to manage your audiences and create personalized marketing processes, your WeChat account will no longer be a simple content publishing channel. We would like to end this blog with some of the top tips to get you started:
Make sure you have created a WeChat service account. This is because a service account allows you to expand more functions through the API interface, which a simple subscription account cannot do.
Use existing customer information to clarify your buyer personas, and use Parllay to plan and set up the corresponding automated marketing processes to facilitate the lead conversion.
Communicate and review your automated marketing processes with experienced agents; they can help you build a perfect buyer journey.
Finally, to ensure optimal customer experience, sufficient testing should be done before rolling out your marketing processes.
Alternatives to Parllay
While Parllay is a great solution if you are looking for an intuitive interface and Hubspot integration, there are other tools on the market that may be helpful depending on your business needs.
If Hubspot integration is not your main priority and you are a larger business, you may want to consider JING. Learn more about JING in our previous blog on WeChat CRM integrations.
Although Knight is not a Hubspot integration, it can connect with some functions on Hubspot through their developer API. In addition to WeChat marketing, Knight also provides user management and WeChat e-store capabilities. Being a Salesforce partner, Knight is particularly suitable for retail enterprises.
Oktopost is another Hubspot partner app that can be integrated with WeChat. While Oktopost's features on WeChat are more limited, it is a good option for those looking for a one-in-all solution as it also works with LinkedIn, Facebook, Twitter, Instagram, and YouTube.
Is your company right for WeChat automation and CRM integration in China? Speak with one of marketing experts to find out.