So you're thinking about marketing in China and you want to know if you can replicate your inbound or content marketing strategy you've been using elsewhere? Inbound and content marketing does technically work in China – however it often doesn't work very well and you'll face much bigger barriers for not only getting found online, but also user engagement. Like marketing anywhere else in the world, there needs to be a balance of inbound and outbound to have a successful campaign in China.
Inbound vs Outbound in China
It's been proven over many years and many studies that inbound marketing generates a far better ROI than outbound marketing. So it's no wonder why so many businesses, who are looking at moving to China, try to take the same approach. However, before we dive into the optimal marketing approach for China, let's have a quick look at the differences in the digital market there and how that will impact your digital marketing strategy.
Search Engines in China
There are many different search engines in China, but like the rest of the world, one has a much bigger market share than the rest. With around 70-80% market share, Baidu dominates the search marketplace for both SEO and SEM.
Baidu is notorious for 'over-monetising' their platform with the front page of a Baidu search being almost entirely ads (unlike Google and other search engines which prefer organic content). Baidu also has a strict approval process for all businesses advertising on their platforms, which also goes through government censors. Many Chinese netizens believe that this process means that advertised content is often more credible than organic content. It's also intentionally unclear as to what's sponsored vs what's organic unlike other search engines which need to clearly list when something is sponsored content.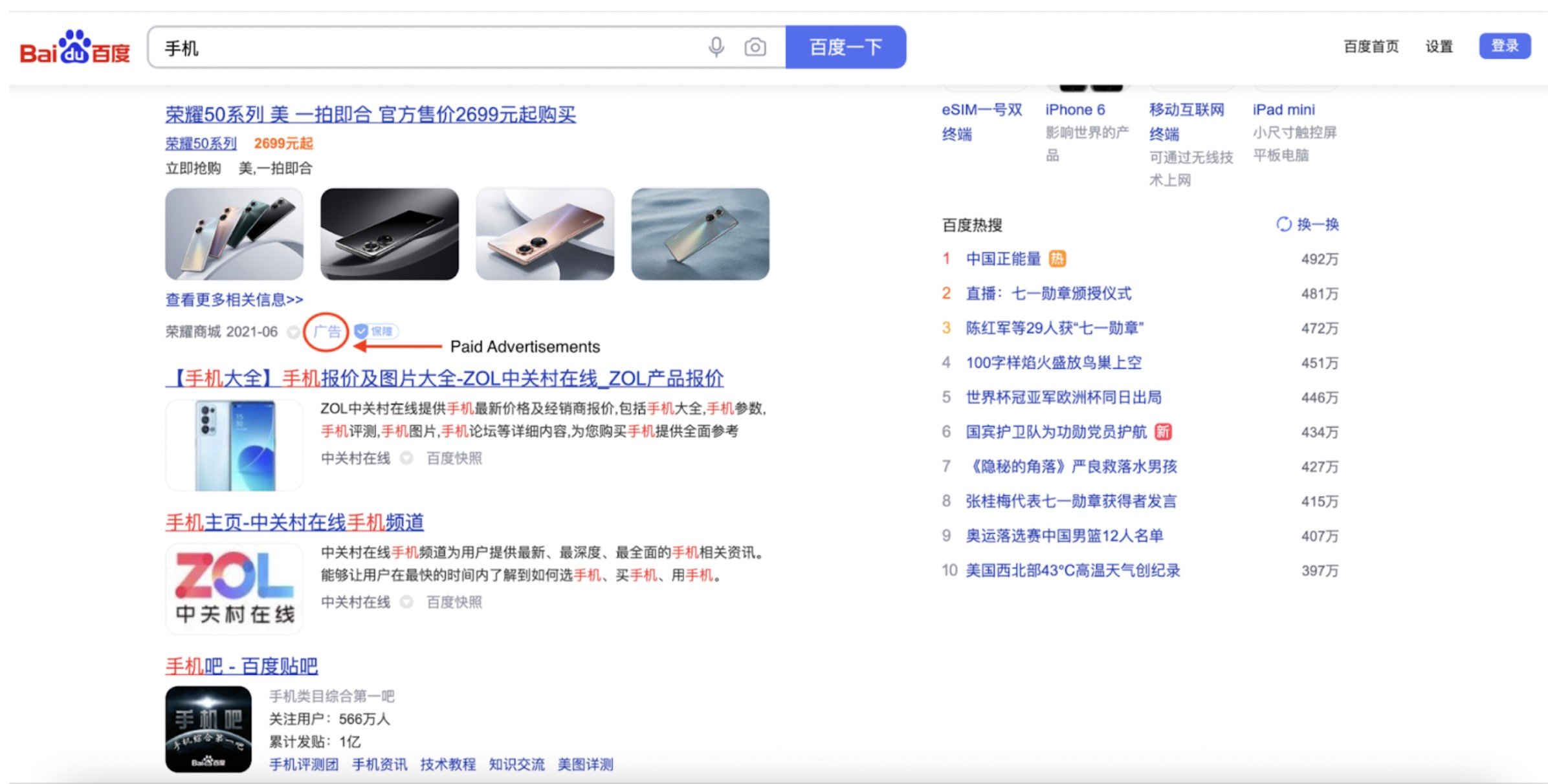 The sponsored content is clearly shown on the search engine and is typically denoted by the Chinese Character marked above.
It's also worth noting that unless you have a website either hosted within China or with an expensive service that has CDN servers both inside and outside of China, you're unlikely to show on search engines as they will always prefer domestic websites with an ICP license. This means that if you want to compete with Chinese businesses you need to have hosting and a domain inside of China, otherwise you will be facing an up-hill battle.
The main takeaway here is that search engines in China are intrinsically more "pay-to-play" than search engines in the West. However, there is some good news in that Baidu, on average, has a much more cost effective CPC (cost per click) than Google does for related keywords.
However, the rising popularity of Zhihu has been a new advancement in China's SEO efforts. With an increasingly strong domain, Zhihu has been able to compete with top SERPS on Baidu, effectively allowing SEO to be done to a certain extent in China. This is a new and developing occurrence in Baidu and is worth tracking and noting for months to come.
Language Barrier and Chinese Content
According to recent estimates, anywhere from 1% of mainland Chinese people are able to speak English conversationally. In China, unlike many other non-English speaking countries, everything is in Chinese and the government makes a concerted effort to ensure that English words are not used.
This means if you want to do well in the Chinese market, you not only need to create content in Chinese, but you also need to use native speakers who understand the colloquial phrases of the industry that they are targeting. As native English speakers can easily spot poor English in spam emails from businesses in non-english speaking countries – Chinese people can immediately tell when something has just been put through Google translate with little effort. A website that is only half-translated and has buttons and certain phrases in English is also a major red-flag and will decrease your conversion rate.
Social Media
Chinese people on average spend more time on social media than most other countries, so having a social strategy is key for this particular market. Just in 2020, on average, Chinese internet users spent five hours and 22 minutes per day using the internet. To put that into perspective, in 2021, the average UK internet user spends 3 hours and 37 minutes per day on the internet.
WeChat in particular, has completely dominated the marketplace in that it's almost impossible to function without it. When was the last time a store told you they don't accept cash or cards and want you to pay via Facebook QR code? This is very common today in China with WeChat QR codes.
There are various kinds of WeChat accounts, but most small to medium sized businesses run a WeChat Service account which has a business page, allows for a few social posts per month and has a few options for a custom menu and chatbot functionality. If you have a sales team and need more advanced functions, you'll need to look into Chinese CRM's, some of which can link to your existing CRM and facilitate a link with WeChat.
Chinese Social Media Advertising
A common question I get from businesses is "why can't we just target certain individuals and job titles on WeChat and other social platforms with ads?". This is a good question as technically, the feature does exist in the backend of these advertising platforms. However, unlike Facebook, Linkedin and other Western platforms, these features are notoriously dodgy. They will result in very poor quality leads no matter how specific you are with your audience.
Linkedin China is a good option for B2B businesses. However, you need to go through their support team instead of creating ads yourself and provide documentation for setting up an account (just like Baidu etc).
To learn more about social media advertising in China, read our blog about WeChat Advertising, it's viability, and it's alternatives.
Chinese KOLs (influencers)
It's no secret that influencers are bigger in Asia. In China, influencers are like celebrities and often have more followers than many Western celebrities. Utilising 'KOL power' in China is a great way to get brand exposure and reach your target audiences. However, KOL's in China are a serious investment, with most charging exponentially more than a similar influencer would elsewhere in the world. For perspective, most magazine publications charge anywhere from USD $3,000-$15,000 per social media post (yes, per post). This is also primarily attributed to Chinese consumers being more tolerant (even celebrating) influencers and product collaborations or promotions. An example of Chinese influencer pricing can be taken from Gogoboi. He charges US $50,000 per promotion message on WeChat, and gets approximately 15 deals a month. This translates to $9,000,000 yearly revenue from WeChat alone.
It's worth noting that Chinese KOL Marketing operates similarly to Western KOL Marketing, where metrics and data collection are limited. This lack of data collection would mean difficulty in measuring actual campaign results. Although this is not a significant issue, it's important to understand that Chinese KOL Marketing is a big investment as the costs are significantly higher than Western KOL Marketing.
Finding the Right Balance
China is a competitive market, and many businesses in China work relentlessly to stay on top of their competition so if you're going into this market you need a strategy that's safe and doesn't rely too much on PR campaigns and endorsements.
Content marketing should definitely be part of your marketing campaign in China, but more often than not (every business is different, but from my experience it has been the same for many clients), it shouldn't be the main focus.
Chinese content is important for developing a good quality, well-written/researched website and also articles for your Chinese social media pages. You won't need to invest a lot here as Chinese audiences are much less likely to want to read lengthy content or educational pieces (ebooks etc) and instead prefer to "get to the point". This means short conversion funnels and instant access to a Chinese-speaking sales or customer service team.
Here's a quick checklist for getting started with marketing in China (specially more for B2B than B2C but applicable to both):
Build a small website written and designed by a Chinese team (you may need to be flexible on your company branding if you want to appeal to the market) and

host it in China with a Chinese domain

. Some SEO and content work can be done to help your chances of being seen organically in China.
Once this website is ready to go live,

apply for an ICP license

which will allow you to open advertising accounts in China.
Apply for a business WeChat Service account and have a local team assist with setting up the account and optimising the functions and content.
Create a social media 'schedule' each month with a few quality, original posts. (unlike other social networks you will only need to post a few times per month).
Investigate other channels for promotion in China relevant to your industry and your buyer personas. This may include websites, publications, magazines or KOL's (influencers).
When your team starts to grow, consider

implementing a CRM for your China team

that can increase the functions on your WeChat business account.
Want to speak to an expert on marketing in China? Book a free 15-min consultation with a China marketing strategists to learn more.