The WhatsApp Business App is a popular instant messaging solution used by many businesses worldwide. With features like profile customisation and built-in auto-replies, they are able to create an official WhatsApp profile for their brand and provide faster responses to their customers.
However, these features may not be enough for businesses that manage hundreds of messages per day, and need to ensure the quality and timeliness of customer communications across multiple team members. For this, it's best to use the WhatsApp Business Platform—WhatsApp's flexible API solution to scale your business messaging and easily respond to the needs of your growing business.
Here's what you need to know about it.
What is the WhatsApp Business Platform?
"The WhatsApp Business Platform gives medium to large businesses the ability to connect with customers at scale. You can start conversations with customers in minutes, send customer care notifications or purchase updates, offer your customers a level of personalised service and provide support in the channel that your customers prefer to be reached on."
WhatsApp Business Platform Documentation
Unlike the WhatsApp Customer App and WhatsApp Business App that most of us are accustomed to, the WhatsApp Business Platform is not an application that you can simply open up and use on your smartphone or desktop. Rather, it is a programming language interface (i.e. an API) that allows you to connect WhatsApp with other backend systems like CRMs, marketing software, and even your own custom applications.
With the WhatsApp Business Platform, you can connect WhatsApp to applications with custom-built functionality you won't find on the customer or business app. With the right backend system connected via APIs, the WhatsApp Business Platform can allow you to send automated customer notifications, build customer service chatbots, broadcast messages to thousands of contacts, create team inboxes, create custom analytics dashboards, and/or log messages into your CRM—just to name a few.
3 Reasons to Use WhatsApp Business Platform vs. WhatsApp Business App
Though the WhatsApp Business App has been reliable as an instant messaging solution for many companies, it does come with several limitations that the WhatsApp Business Platform can help you overcome. These are some benefits the WhatsApp Business Platform has over the WhatsApp Business App.
1. More Users, More Devices
Both the WhatsApp Customer and Business Apps allow you to link up to 1 phone (the one that WhatsApp was registered on) and 4 devices at the same time, including logins via the Web and Desktop versions. That is a total of 5 devices per account.
This should be enough if you only have 5 members on your team or if you can set up some shared devices for multiple people to use. But what happens when multiple people need to use the same shared device at the same time? What if your team grows and 5 devices is no longer enough? What if your team members need WhatsApp on multiple personal devices so they can instantly message customers on-the-go?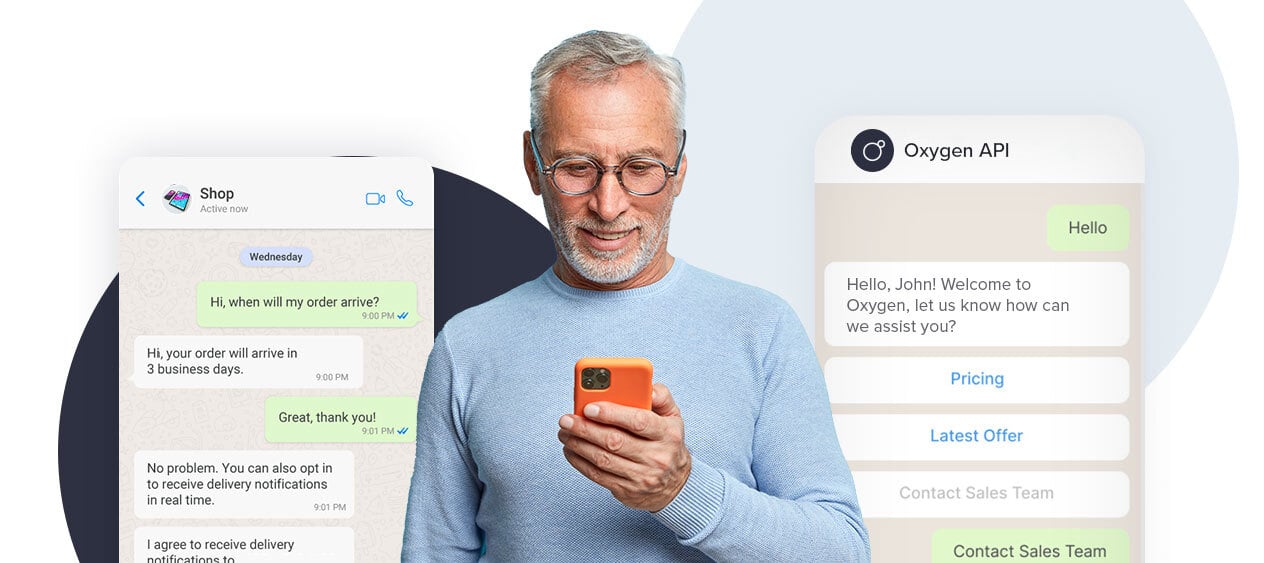 Through the WhatsApp Business Platform's APIs, you can connect as many users and devices as you want to your WhatsApp account. With the right backend system connected, you should also be able to access this from any device you need to: mobile, desktop, tablet—you name it. Some of these systems may charge you for additional users, but most of them allow unlimited users and device access to the account—allowing your team to message customers wherever and whenever they need to.
This should prevent frustration between team members, and keep customers happy with speedy replies.
2. Supports Custom Integrations & Enhances Automation
Out of the box, the WhatsApp Business App only allows you to set a very limited scope of auto-replies (e.g. Greeting Messages, Away Messages) with very little options on personalizing messages with the contact's name, interests and other information. Apart from that, your team may be spending hours every day manually sending repetitive WhatsApp reminders about overdue payments, document signatures, etc.
This results in team members scrambling to find information across different apps, setting reminders for themselves to follow up, and speaking with different departments to get the right messaging out. It's a huge waste of time when your team should be using their energy on delighting customers.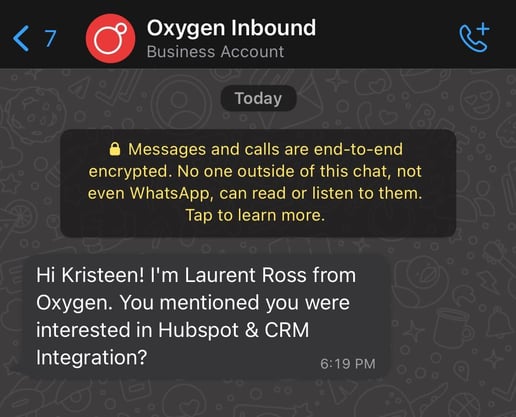 The good news is that if you are organised enough, all the information you need should already live in one of the software you use for sales, marketing, project management, document signing, etc. You only need some way to connect this information to WhatsApp and enable advanced automation features.
Thankfully, the WhatsApp Business Platform allows you to do that. If you've connected your invoicing or document signing apps to HubSpot, it will likely give you ways to filter contacts who haven't paid or completed a document yet within a certain time period. When you pair HubSpot workflows with the WhatsApp Business Platform, you can use these contact filters to trigger automated WhatsApp notifications consistently at a certain point (e.g. 7 days before/after the due date, on the due date, etc.)
The best thing about this is that you can even use information on the contact record to customise these messages. That means you can include their name, company, invoice/document number, payment links, etc. automatically without having to do any extra work. Once you set up your workflows and message templates, it will do all the heavy lifting for you, so your can focus on higher-impact activities.
3. Add Interactive Quick Reply Buttons to Your WhatsApp Messages
It can be challenging for customers to answer open-ended questions when they are on-the-go and juggling priorities in their busy schedules. Quick reply buttons on WhatsApp messages make it as easy as possible to learn your contacts' preferences. All it takes is one single tap for them to keep the conversation going.
These quick reply buttons, however, are only available with a WhatsApp Business Platform account. With the usual WhatsApp Business App, you will need to format your messages like this:
Which timeslot would you prefer?
(A) 1:00pm - 1:30pm
(B) 2:00pm - 2:30pm
(C) 3:00pm - 3:30pm
While still simpler than an open-ended question, contacts still need to type their selection and hit the send button. It seems like a simple task, but what if the contact gets distracted by another message, a sudden urgent request or a phone call from their boss? It's not uncommon to hear of people who forget to hit send on messages and emails they've typed out.
In the few seconds you had this contact's attention, you already lost your chance at getting that response once distractions come true. At best, your team might need to spend extra time following up. At worst, this person might change their mind and spend their money elsewhere.
Should You Leave the WhatsApp Business App for WhatsApp Business Platform?
While it was mentioned about how much better the WhatsApp Business Platform is compared to the WhatsApp Business App, it isn't automatically the best solution for every business. The benefits and use case examples mentioned here only scratch the surface of what the WhatsApp Business Platform can do, but you should also recognise that each business has unique needs and the WhatsApp Business App may be enough for some.
Another thing to consider: migrating from WhatsApp Business App to the WhatsApp Business Platform requires your company to go through some verification procedures with Facebook and start paying some monthly fees. It's not impossibly complicated but it does require some work and monetary investment.
With that in mind, the companies that will benefit the most from WhatsApp Business Platform are mid to large-sized ones with room to invest in new tools to improve operations. If you'd like to discuss your own WhatsApp use cases and discover the best solution for your company, Oxygen's integration consultants are happy to help.