WhatsApp Business has become an increasingly popular marketing, sales and customer communications tool for businesses looking to catch customers where they are and accelerate their buyer journey. In a recent Forrester Google study on consumer communication behaviour in 2020, it found that 68% of the respondents are more likely to buy from a business that offers convenient communications and efficient customer support. The instant messaging platform integrated with HubSpot's powerful CRM has created endless whatsapp business benefits, where teams across a business are able to interact with customers on their preferred channel, while the HubSpot CRM creates a centralised customer database and offers a range of marketing and automation tools.
On Thursday, April 7th 2022, Oxygen's Kristeen Romero and Gareth Jones, along with the co-founder and COO of Niswey, Abinav Sahai, gathered with entrepreneurs and digital marketers to discuss the advantages, case studies, and use cases of integrating WhatsApp with HubSpot.
In this HubSpot User Group China event, Oxygen and Niswey demonstrated just how powerful this integration is, not just as a MarTech tool, but for streamlining your CRM and communications.
Speakers
Gareth Jones - CEO, Oxygen
Kristeen Romero - Solutions Engineer, Oxygen
Abhinav Sahai

- Co-founder & COO, Niswey
Why We Use WhatsApp
Kristeen opened up the conversation by introducing how WhatsApp has had a worldwide influence on instant communications over the years and its rise in usage. Ranked 3rd most-used social media platform in the world and number 1 most favourite social media platform globally, WhatsApp's popularity is undeniable. With 2 billion active users by the end of 2021 and 1 billion of those users acquired between 2016 and 2020, WhatsApp has displayed massive reach power with rapid growth.
Top 5 Countries With The Highest WhatsApp Users Against Popular Social Media Apps in 2022:
| | | | |
| --- | --- | --- | --- |
| Country | WhatsApp | Instagram | Facebook |
| South Africa | 96% | 11.1 % | 48.9% |
| Malaysia | 92% | 47.6% | 91.5% |
| Brazil | 91% | 59.3% | 82% |
| Spain | 88% | 52.4% | 75.7% |
| Indonesia | 87% | 37.6% | 70.9% |
Thanks to its global appeal and sustained growth over the years, WhatsApp for business has caught the attention of many business owners due to the app's potential of being a strong marketing and operations tool for businesses of all industries. There are currently 5 million businesses registered as WhatsApp Business accounts worldwide.
WhatsApp CRM: Should You Use HubSpot for Your CRM Integration?
There are a number of CRM's on the market available for the WhatsApp Business Application Programming Interface (API), so why choose the HubSpot CRM for your WhatsApp Business account? HubSpot is one of the most comprehensive CRM's in the market and outshines most paid CRM's with its business benefits for marketing, customer communications and integrations. The platform thrives on cohesive software, customisable features and is easy-to-use which will solidify your Whatsapp communications and Whatsapp marketing.
3 Key Benefits of Integrating HubSpot and WhatsApp
There are 3 main benefits of creating a WhatsApp Business account through the HubSpot CRM integration with WhatsApp API, that allow businesses to catch customers where they are and nurture them accordingly.
1. Create a Single Source of Truth (SSOT)
The Single Source of Truth is a philosophy for collecting data across the enterprise and aggregating it into a central repository for business growth management. By connecting a WhatsApp Business account to a CRM used by multiple teams with the WhatsApp Business multiple login feature, conversations are now easily viewable on the platform.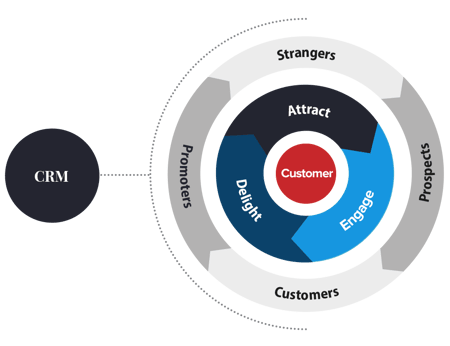 2. Automate CRM Data Entry & Follow-up WhatsApp Messages
Any task that needs to be done before or after a conversation with a customer can be automated using the WhatsApp business API integration with the HubSpot CRM. Because the integration logs interactions immediately on the contact records, you are able to use messages sent and received as triggers in HubSpot workflows.
You can use these to update records within HubSpot; send internal notifications via Slack; and create automated responses with personalization tokens. Basically, anything already available to you in HubSpot's workflow actions.
3. Increase Customer Engagement
Studies have shown that messaging channels have a 98% open rate and that customers prefer receiving urgent messages through text. This means activities like customer support, account change notifications, billing reminders etc. have a quicker turnaround time and allows for personalised interaction through the HubSpot WhatsApp API integration.
HubSpot + WhatsApp Integration Case Studies
The WhatsApp Business API integration on HubSpot is one of the least expensive marketing and sales systems in the market. Gareth points out that with its affordability, it has a high return, which is not the case with many other integrations available on HubSpot.
So with a high return on investment plus affordability, how can businesses take advantage of WhatsApp business? Abhinav demonstrated how Niswey's integrations addressed different operational problems within different industries, showing practical examples of how WhatsApp for business improved efficiency in large organisations.
University of Mexico
Goal: Improving completion rate of University applications using reminders
Challenges: Leads nurtured via email to complete University applications were not responding and eventually disappeared from the sales funnel, while leads that were being successfully nurtured through WhatsApp were not tracked.
Impact of WhatsApp Integration:
Improved conversation tracking led to a 3x increase in lead conversion in 3 months.
Turnaround for completed applications and payments went from months to just 2 hours
Insurance Firm in The Caribbean
Goal: Collecting important documents through WhatsApp messages and storing them on HubSpot.
Challenges: Generally, insurance firms require a bulk of documentation in order to get you started with your cover. The sales and support team of this insurance firm in the Caribbean was using personal WhatsApp numbers to speak to prospects and customers and also collected the required documents. This made it difficult to track the number of prospects, conversions as well as documents.
Impact of WhatsApp Integration:
1 automated document organisation system that streamlined the paperwork collection process and stored documents in a centralised database.
Documents received on the customer's timeline triggered automation to attach documents to the contact record. This gave the management team control over all data for improved tracking of the number of prospects, conversions, final customers as well as documents.
School in Mexico City
Goal: Monitoring the quality of their teams' customer communications on WhatsApp.
Challenges: All student enrollment conversations moved to WhatsApp during the pandemic. As the number of conversations increased, the COO was unable to manage and monitor all conversations for quality and effectiveness.
Impact of WhatsApp Integration:
WhatsApp conversations are logged in the HubSpot contact timeline making it easy to track the customer journey.
Conversations could be monitored within HubSpot helping ensure consistency of information and messaging
The future looks bright with the HubSpot WhatsApp integration, which takes the benefits of WhatsApp Business and HubSpot to the next level. To learn more and access the full event presentation, click the banner below.
If you're interested in leveraging WhatsApp on HubSpot for improved customer service and operations, speak to one of our marketing experts today.