Overview
PEL, established in 2004, is an eyewear testing and inspection service company operating out of Shenzhen, China. As with many industrial or service companies in this area, the majority of their clientele are Chinese companies producing products in China on the behalf of Western brands (with varying degrees of success).
Niche companies can be tricky but rewarding to design for – with no set industry standards or other companies to take inspiration from it's basically a clean slate.
The story of PEL really goes to show what can be achieved through good design, iterations and good client communication.
Project Plan
Client Location
Shenzhen, China
Services Provided
Website Design, Website Development, HubSpot Integrations
Related Sector
Manufacturing, Business Services
Languages Supported
English, Mandarin
The Challenge
PEL previously found all of their business through the network of their GM, Zenobia Chan, who is a seasoned expert in the eyewear industry and has many contacts. Unfortunately, this was not scalable after a certain point and Zenobia often did not have enough time to respond to leads or search for new business.
PEL did have an English website from 2011-2016, however, it wasn't ranking for any keywords and had barely seen any use. The old website had no blog, very very little content, no trust signals and didn't give the visitors the information they were looking for – especially given the highly consultative nature of the sales process for their services.
While records from the internal analytics of the website showed really good traffic, upwards of 50k visits a month, it was quickly found out to be almost entirely spam. The website was infected with some viruses and was constantly bombarded by IP's from Russia and China of which none converted. Simon Zeng, the sales representative at PEL, estimates that only 1-2 leads came through the website each month, and possibly only 2 or 3 leads were ever converted into customers during the total duration of this website's life.
PEL was in the need of help from a marketing agency that understood the requirements and needs of western companies but also wanted to find a local partner who could meet in person to discuss strategy and performance. Oxygen was selected to build the PEL website and begin a marketing retainer in early 2017.
Website Design
The first step was to design a niche website with aesthetic value associated with the eyewear trade.
Website Development
PEL needed a fresh start for PEL, with new branding, a new URL, and new services to showcase on their new website.
HubSpot CMS
We began conceptualising the new brand and built PEL's new website on the HubSpot CMS.

The Solution
It was a hard decision to make for PEL to move onto the HubSpot CMS and the marketing platform. Chinese companies are especially sensitive to software pricing and management at PEL were initially hesitant to spend so much when the company was still small and have some trouble with finding a budget for marketing.

Eventually, after seeing the success of some of Oxygen's other quality-control based clients, they were persuaded and we began the conceptualisation of the new brand
and what was required for the new website. It would be a fresh start for PEL, with new branding, a new URL, and new services to showcase on their new website.

After starting the design conceptualisation process, we immediately hit our first barrier. There was no stock photography for eyewear inspection or quality control available online.
The few images available online were deemed 'not relevant enough' by the client and we had to quickly come up with another solution. As one of the Oxygen offices is based in Shenzhen, China and we frequently cross the border, our team decided to take this challenge head-on and do the photography at the laboratory ourselves (with no extra charge
to the client).
Our team spent a day in the laboratory, learning about the different tests and procedures, and photographing PEL employees while they worked. Luckily, the photos turned out great,
and we were able to start shaping PEL's professional image with photos of real people actually doing their jobs (something which many websites today can't say).
Our content team began to meet with the GM, Zenobia Chan, frequently and juiced her for all the information we could on the latest procedures and which certifications and regulations mattered for creating more trust signals on the website. What was previously one page of some bullet points of their services quickly became a large drop-down menu of individual pages with information on search services. Zenobia also helped us to overcome the language barrier, as many of the tests and equipment were almost impossible for our staff to try
and translate as the language was very technical.
The Result
The website acted as an inspiration for the rebranding of the rest of the company, which has led to new brochures and new booth designs helping PEL to grow offline as well as online.
New PEL branding being used for booth design at a trade show in Milan 2019


It took not only our entire team of design, marketing and sales experts to develop these custom solutions but also the faith of our client in our ability to deliver. Utilising the powerful features of the CMS, marketing and sales of HubSpot enabled us to create a customised approach tailored perfectly to the requirements of our niche client. Our website development process included a combination of constant content and design updates, utilising A/B testing and frequent SEO improvements meant that we were slowly able to scale the ranks of Google.
| | |
| --- | --- |
| Old organic keywords in 2017, 34X increase in keyword ranking over 2 years. | New organic keywords in 2019: |
| | |
PEL are now the proud owners of many top spots on Google including several difficult keywords related to their core service offering such as 'eyewear in China' and 'blue light blocking' making them one of the go-to resources for many professionals in the industry. To learn more about our inbound marketing results for PEL please see our case study
here
.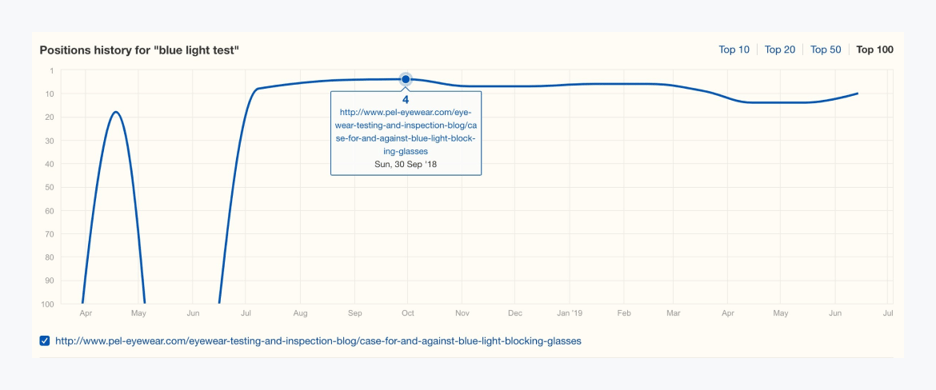 Previous estimates of conversions before the new website launched were less than 0.1% according to sales because of the sheer amount of spam traffic they were receiving.
Some of the landing pages on the website promoting content offers now have over a 30% conversion rate for visitors to contacts.
PEL's new website and branding immediately elevated PEL, making them look like a professional, English-speaking, and most importantly, trustworthy service provider for eyewear testing and inspection in China.
The new design showcased PEL's experience, qualifications and trustworthiness by using real images of their processes and employees whenever possible. Unlike competitors who use generic stock images, this website stands out as authentic – something that is critical in this industry. We even used a real video of some of the PEL laboratory equipment in action for the home page of the website, pioneering a look and feel which has now been emulated by competitors.
The new clean and modern design is full of CTA's for various different stages of the buyer's journey. By utilising the inbound methodology when creating content we have been able to successfully generate over 931 new leads through the website alone since we started the project in 2017.


Campaign Metrics to Date
> 10x
Increase In Sales Qualified Leads P/M
> 1000 +
New Contacts Created
34x
Increase In Organic Keyword Ranking
"At PEL we have limited resources and our client base are from Western countries. So in order for them to know about us, we need to be present digitally. With a digital presence, we can explore and reach out to more than we could have with trade shows alone."
Zenobia Chan
General Manager, PEL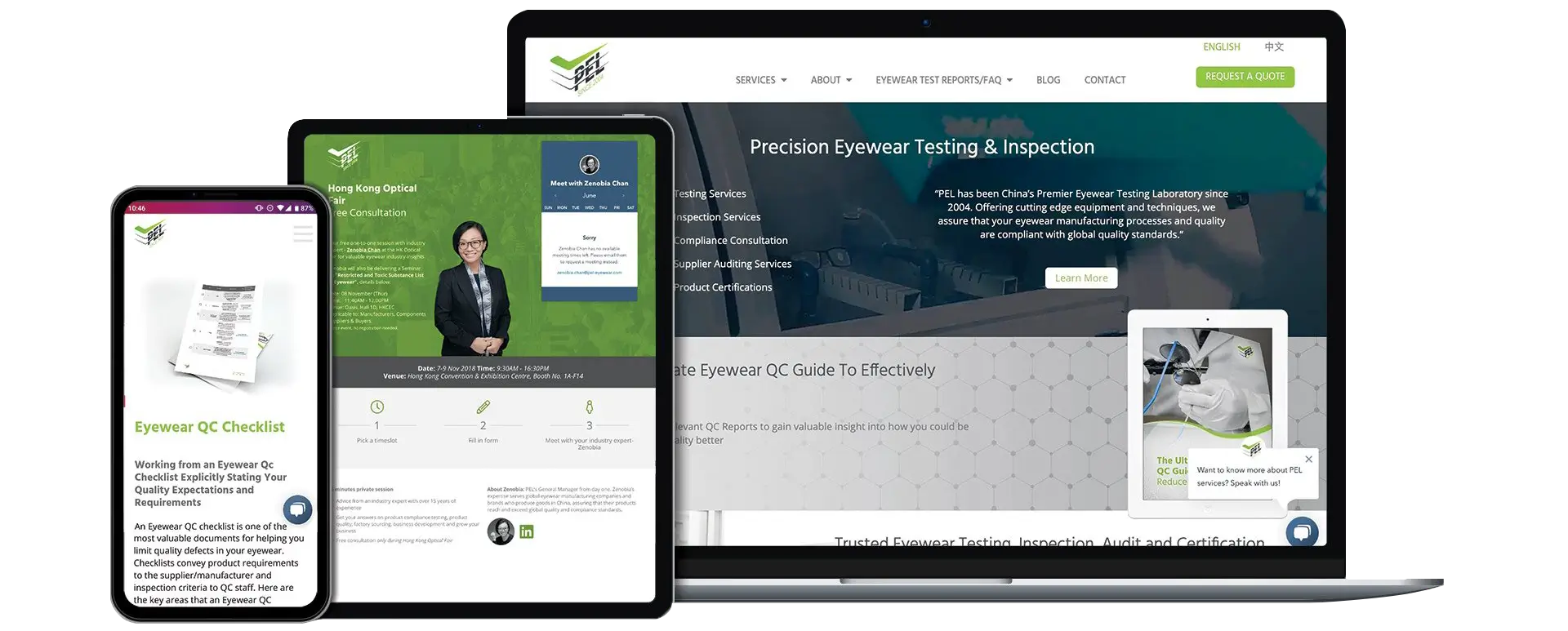 Some Of The Work We've Done
Building a website using the HubSpot CMS?
Speak with our team of web design experts today