Have you been manually scraping data from different sources to create monthly marketing or sales reports for your business? Chances are your reports probably aren't very accurate or valuable to the business and you don't even know it.

Ask yourself the following question:
"Do I know the dollar value (in terms of revenue generated) of every website page, blog or piece of content that my marketing or sales team have created?"
If you aren't able to answer this question, there's a good chance your reports suck – and that's okay. Most businesses have very little to no understanding of their entire marketing to sales funnel, which is a golden opportunity for you to make the most of yours.
Many businesses are accustomed to creating partial attribution reports through analysing each of your channels (advertising, email, content, sales etc) and looking at ROI per activity or department. However, this data is intrinsically flawed. It doesn't take into account the multi-step process which large consultative sales are almost always made of.
Example of the different points in a customer's journey: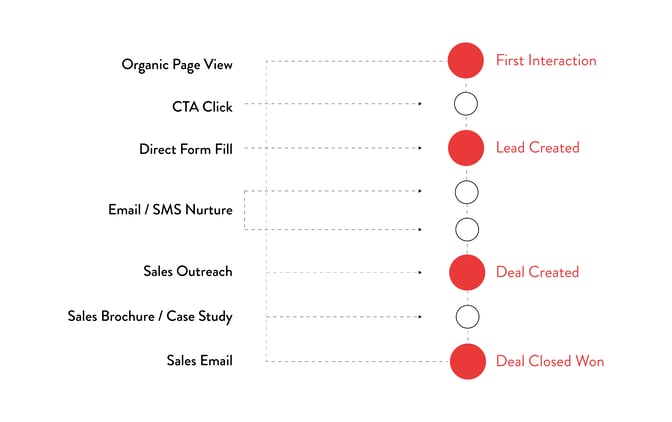 For some B2B businesses, a sale could mean 30+ different touch points from marketing and sales content plus a few months of negotiations. To give credit for that sale to one piece of content (first interaction) or one salesperson (last interaction) is a disservice to the entire team that may have influenced that lead. Likewise, pooling your total marketing and sales budget to calculate ROI is oversimplifying the report and won't tell you which parts of your customer journey were the most influential.

Complete and automated attribution reporting is the stuff of marketing or sales manager's dreams. Attribution reporting allows you to track engagement and ROI for all of your marketing and sales touch points simultaneously. Businesses that can successfully track all of their marketing and sales touch points with attribution reporting are exponentially more effective at succeeding with their campaigns and growing their businesses.
What does attribution reporting look like?
Like most reporting tools, attribution reporting comes with lots of options. It's important to remember that no singular attribution report model is going to give you the 'full picture' and that the best strategies will come from analysing multiple models.
We can see in the above basic example that if we only look at attribution by 'first interaction' (giving 100% revenue attribution to only the first interaction) only one piece of content shows as generating value. However, when we add the 'W-shaped attribution' (30% credit to first, last and everything in between) we see that many other pieces of content have generated value for this business at different stages throughout the buyer journey. If you're looking for more information on the type of attribution report models available HubSpot has some great resources here.
There are many many different kinds of ways to filter and view attribution reports. Once you have your set up and working in a way that gives you visibility over all your data – you can add them to your HubSpot dashboard where you will see them frequently or even set up as a frequent email report.
"It's important to remember not to rely on a singular type of attribution report and instead view each as a piece of the overall report on ROI"
How does HubSpot calculate revenue?
In order to make the most of your attribution reporting tool, you will need to make sure that HubSpot has data on your sales. If you are using HubSpot for marketing and sales then contact, company and deal data will be synced and these reports will be easy to generate. If you are using another platform like Salesforce for the sales side of your business, you will need to make sure that your sales information is synced to HubSpot so that it has enough data to generate these reports.
Will I really benefit that much from attribution reporting?
Absolutely, and attribution reporting is especially important for smaller businesses with limited budgets that need to know exactly where to focus their marketing and sales efforts. For bigger businesses, attribution reporting will be more difficult with more touch points to map out and track – but the potential upside is easily worth the effort.
"Content builds relationships. Relationships are built on trust. Trust drives revenue" – Andrew Davis
Some of the key benefits of using attribution reporting:
Goals: Create and refine detailed goals which are achievable and based on real data
Budget: Understand exactly for every $1 you spend in a department what your return will be
Performance: Discover exactly which parts of your sales and marketing helped to push those customers over the line
Planning: Know where to focus your efforts for the maximum results and least effort
Hiring: Clearly see which roles need to be filled and where the company will get the best results from a new hire
Does your company need assistance with getting set up on HubSpot? Speak with one of our HubSpot experts to find out how we can help.