With a 12.7% annual growth average over the past five years, WhatsApp is one of the most popular mobile social apps worldwide. Yet businesses today are either unaware that WhatsApp Business exists or are not using its free features to the fullest potential.
To give you an idea of how big WhatsApp is, by the end of 2021, the social platform reached over 2 billion users worldwide – beating its sibling, Facebook Messenger (1.3 billion), and China's favourite messaging app, WeChat (1.1 billion). In fact, there are only 25 countries in the world where WhatsApp is not a market leader.
Tapping into this vast audience as efficiently as possible requires you to use all tools available to your business. So what exactly is WhatsApp Business, and how can you use it in your own marketing and sales efforts?
What is WhatsApp for Business?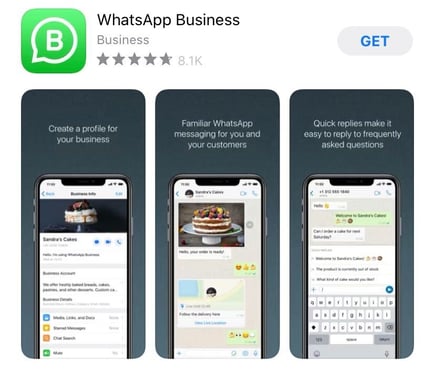 The WhatsApp Business App was introduced in 2018 to help small businesses connect with customers in new ways. The app was built to make it easier to respond to customers and have employees use a brand account instead of using their personal ones in customer communications. Initially only available on Android, the app rolled out globally to the iOS platform in 2019.
WhatsApp Business features include:
Business Profiles: showcase business description, location, contact details, and products/services.
Smart Messaging Tools: create auto-greetings, replies, and away messages.
Statistics: see how many messages were sent, delivered, and read.
Labelling: Segment customers into stages to organize your operations.

Facebook
Messenger

vs WhatsApp Business: What Is the Difference?

Businesses already using a Facebook page connected to Messenger may be asking why they need a WhatsApp Business account when Messenger has similar features.
WhatsApp Business Strengths
Increased Security & Privacy. WhatsApp uses end-to-end encryption, which means that messages are only seen by the sender and receiver – nobody else in between. While Messenger offers the same level of security for secret messages, they do not enable this by default in regular conversations. In short, their servers can see your conversations.

Additionally, WhatsApp is a standalone app, meaning that users do not have to worry about businesses seeing more than what is directly on their WhatsApp contact info.


Not all customers are using Facebook/Messenger. After a series of privacy concerns in the past few years, Facebook has seen a decline in younger users – with an estimated 15 million users lost during 2017-19 in the US alone. Though WhatsApp is owned by Facebook, some customers might simply be more comfortable using WhatsApp.


Better quality and smooth phone calls. WhatsApp was built for calls from the very start and can handle phone calls even in places with a weak signal. As both a messaging and calling platform, WhatsApp allows you to reliably consolidate communication all in one place.
Messenger Strengths
Native multi-user support. Because Messenger is connected to Facebook pages, it benefits from the ease of adding new users and assigning different page roles. This makes it much easier for your team to access messages from their own devices.


More customer management features overall. Thanks to Messenger's connection to Facebook, you can display average response time on your page, assign keywords and notes to conversations, create templated and see user information.
Add More to WhatsApp Business with Integrations
It is important to note, however, that some features available on Facebook Messenger can be added into WhatsApp Business if you have an existing CRM that allows integration with the app. For example, by using Niswey's HubSpot WhatsApp Integration, we were able to connect our WhatsApp Business conversations into HubSpot – allowing us to see all interactions between multiple platforms into one customer profile.
You can see it in action below.
How WhatsApp Business can Help Your Business
Did you know that 65 billion messages are sent on WhatsApp every 24 hours? That is 2.7 billion an hour, 45 million per minute, or 750,000 per second. WhatsApp's user base and overall usage is astronomical, which means that the potential to reach both your existing and future customers is massive.
Here are a couple more ways WhatsApp Business can benefit your sales and marketing activities:
Customer service made easy
Managing customer service can be hard for growing companies. A case study by Globe Air on the use of WhatsApp Business found that the messaging platform boosted customer service by 225%. All thanks to a company-wide WhatsApp channel that allowed multiple customer services to collaborate when chatting with clients.
Increased sales
The Globe Air case study also noted that sales increased by 27% since the implementation of WhatsApp Business in their practice. This can be boiled down to customer satisfaction.
Customer preference
A 2018 survey by Nielsen has found that 53% of consumers are more likely to shop with a business that can be directly messaged. WhatsApp Business provides a messaging platform that the customer is already familiar with. Customers prefer this mode of communication and, in turn, will be more inclined to purchase your product or service.
Decluttering for productivity
According to Staples,

3 out 4 owners of struggling businesses agree that disorganization has taken a hit on their productivity

. Loss of productivity may be the Achilles heel of all companies. WhatsApp Business' labelling feature helps declutter clients and helps you organize your operations leading to increased productivity.
How Do You Use It For Your Business?
The WhatsApp Business interface is identical in almost every single way to WhatsApp. While businesses will need to download a separate app (available on iOS and Android) to access its features, customers can use the regular WhatsApp app already on their devices to chat with businesses.
Starting Conversations on WhatsApp Business
To start conversations in WhatsApp, you usually need to add the person's number to your contact list. This might be alright for businesses reaching out to customers, but it becomes a point of friction when it comes to customers trying to initiate conversation.
Thankfully, WhatsApp Business streamlines this process through the use of short links.
Step 1: Grab Your Short Link from WhatsApp Business
In the WhatsApp Business App, go to Settings and select Short Link. Here, you can copy your unique business link.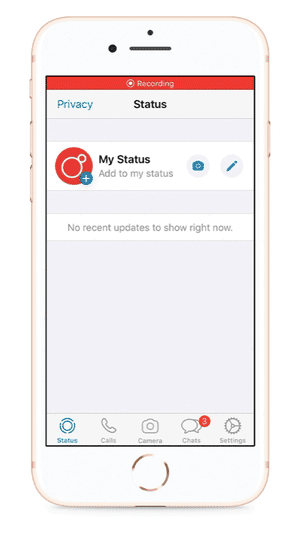 Step 2: Share It With Your Customers
Once you have your short link, you can add it to your website. Some areas where you could place it include:
Contact page
Call-to-action buttons
Links on webpages or blogs
Chat button
Alternatively, for events or physical locations, you can create a QR code using a generator and print it out for visitors to scan. To see how it works, feel free to scan our own QR code below.

Step 3: Start Chatting with Customers

After clicking on the link or scanning the QR code, users will be prompted to open WhatsApp where a new chat with your business will automatically open up. From here, you can choose to set automatic messages to greet them or notify them when you are away.
Is WhatsApp Business Right For You?
WhatsApp currently dominates messaging apps in terms of users globally. Although its Business app lacks many customer management features found natively on its sister app Messenger, it makes up for it with a secure, private and reliable messaging and calling experience. If you are looking for deeper customer management features in WhatsApp Business, you'll need to look into whether your current CRM offers integration with the app.
Looking to get started with CRM integrations and marketing automation?
Download our free eBook to learn more.