In the digital age, establishing a robust online presence is paramount for businesses hoping to make their mark. Particularly in Asia, where the digital landscape is continuously evolving, the choice of your website's Content Management System (CMS) can significantly influence your success. The HubSpot CMS presents a powerful solution for businesses aiming to create an impactful and efficient digital presence. Here, we explore the top 7 benefits of using the HubSpot CMS for building your website in Asia.
7 Benefits of Using a HubSpot CMS
1. HubSpot CMS Fully Integrates Into HubSpot's CRM and Marketing
Inarguably, one of the most significant benefits of HubSpot CMS is its seamless integration with HubSpot's Customer Relationship Management (CRM) and marketing systems. This integration affords businesses an all-in-one solution, merging sales, marketing, and service operations onto a single platform. As a result, businesses can manage their entire operation on HubSpot, simplifying their workflow and promoting better synergy between teams.
HubSpot's CRM and CMS integration also offers a comprehensive view of your customer's journey, enhancing the ability to deliver personalised experiences. This, in turn, strengthens customer relationships and drives growth.
2. HubSpot CMS' Intuitive Drag-and-Drop Interface
The HubSpot CMS boasts a user-friendly drag-and-drop interface, recognised as one of the best web design software solutions, that makes designing and managing your website a breeze. Whether you're an experienced designer or a novice, you can create attractive, professional-looking web pages without needing extensive technical knowledge. This enables businesses to keep their website updated and relevant, enhancing their digital presence and boosting engagement.
3. Unified Website Themes
Another standout feature of the HubSpot CMS is its unified website themes. This feature allows for consistent branding and design across your website, creating a cohesive and visually appealing online presence. Whether it's your blog, product pages, or landing pages, a unified theme ensures that your brand's identity remains consistent, fostering recognition and trust among your audience.
4. In-depth Strategic Contact Attribution Reporting
With HubSpot CMS, businesses gain access to in-depth strategic contact attribution reporting. This feature provides valuable insights into your website's performance and your audience's behaviour. By understanding which channels and content are driving conversions, you can optimise your marketing efforts and boost your return on investment.
5. SEO Recommendations Home Screen
HubSpot allows you to view SEO recommendations within HubSpot itself. This invaluable tool offers personalised suggestions to optimise your content for search engines, making your website more visible to potential customers. By enhancing your SEO, you increase your chances of ranking higher on search engine results pages, leading to more traffic and potential conversions.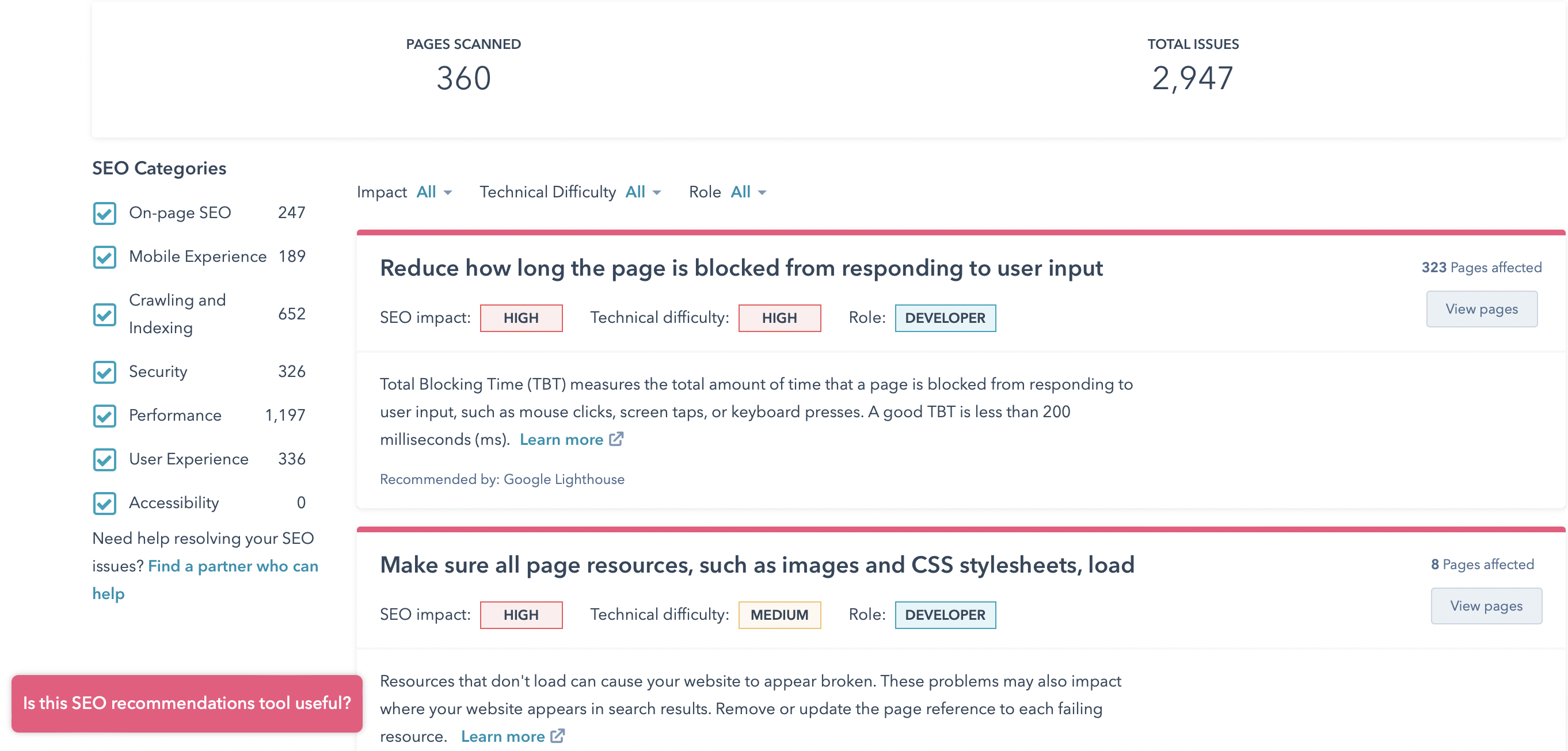 6. Easy Content Creation
Creating engaging content is simpler than ever with HubSpot's content AI assistant, ChatSpot. This feature enables you to produce high-quality content with ease, fostering engagement and keeping your audience coming back for more. With AI assistance, you can ensure your content remains relevant and engaging, boosting your website's performance and enhancing your brand's reputation.
7. Smart Content Driven by HubSpot's CRM
Smart content is another exceptional feature offered by HubSpot CMS. Utilising the data from HubSpot's CRM, businesses can deliver personalised content to their visitors based on their interactions and preferences. This level of personalisation significantly enhances the user experience, promoting engagement and fostering loyalty among your audience.
FAQ's on HubSpot CMS For the Asian Market
Can HubSpot CMS Be used in China?
The use of HubSpot in China is always in question on the subject of China's Great Firewall. While HubSpot uses global CDN (Content Delivery Network) servers to guarantee HubSpot hosted websites load at high speed, regardless of where the website is loaded, HubSpot does not have these servers in China. This makes the use of the HubSpot CMS Hub in China defective, as every now and then, you may face issues with loading web pages which can negatively affect your website marketing efforts in China.
To counter this, you can purchase a corporate VPN which are available from most government telecommunications companies.
Does HubSpot CMS support
multi language

websites?

Absolutely. HubSpot CMS provides robust support for multi-language content creation, a vital feature for businesses operating in the linguistically diverse Asian market. This feature allows businesses to create content in various languages, catering to their diverse audience and expanding their reach.

To learn more about using HubSpot CMS to grow digitally in multiple markets, check out our case study here.
Is HubSpot CMS suitable for e-commerce websites?
Yes, HubSpot CMS is suitable for e-commerce websites. With its wide array of features like easy product page creation, secure payment gateways, and efficient order management, it can effectively support the needs of an e-commerce business.
Looking To Build an Amazing Website With the Hubspot CMS Hub?
HubSpot CMS offers a wealth of benefits that can help businesses thrive in the Asian digital market. From its seamless integration with HubSpot's CRM and marketing systems to its intuitive design interface and comprehensive SEO recommendations, HubSpot CMS is an ideal choice for businesses seeking a robust, efficient, and user-friendly CMS solution. With HubSpot CMS, businesses can deliver top-tier digital experiences, driving engagement and growth in the competitive Asian market.
Looking to get started on the HubSpot CMS? Speak with one of our marketing experts to find out how we can help!