B2B website design, especially in Asia, is challenging to get right. Finding the right balance between engaging, informative and conversion-focused (often for multiple local markets) are some of the main challenges. Most new B2B websites in Asia launch simply as a new digital facade to the business with little thought into how to attract and convert leads. However, when done right, your website can be your best salesperson - not to mention generating a positive ROI!
At Oxygen, we understand what makes a quality B2B website. Here is a roundup of the 10 website designs that have successfully adhered to some of the top principles for building a high-performance B2B website for the Asian market in 2023.
1. DMCC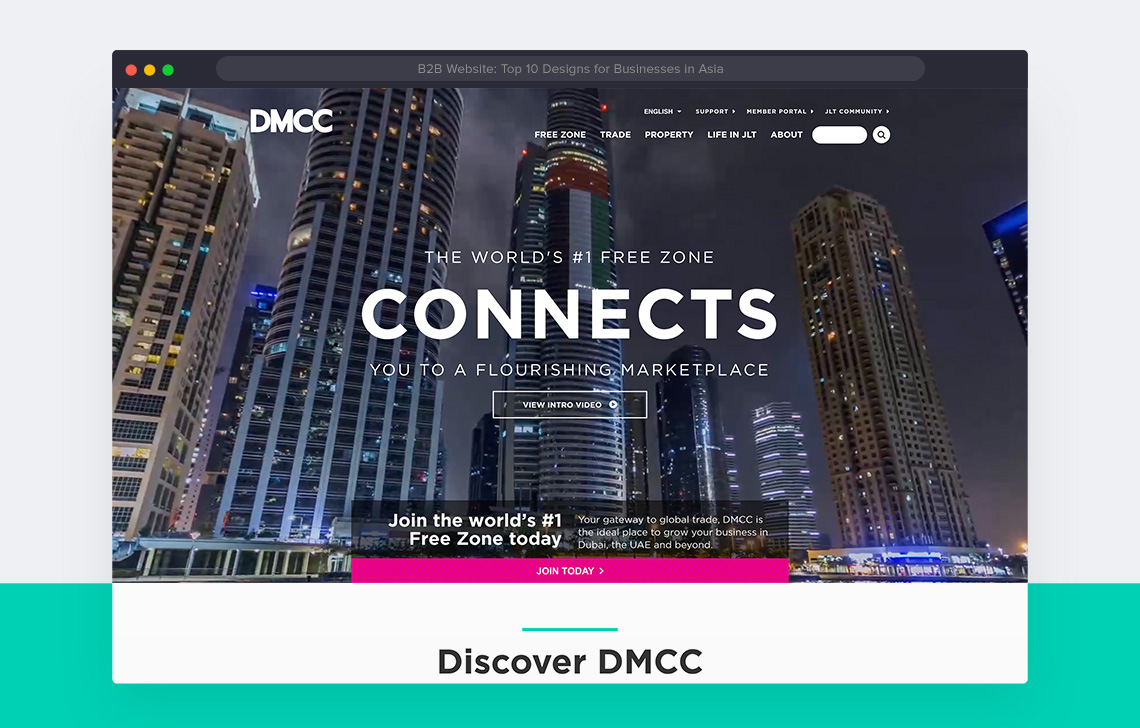 By striking the perfect balance between engaging visuals and user experience, DMCC's website showcases the value of a well-thought-out B2B website design. DMCC's website is a prime example of a design that successfully combines stunning visuals with exceptional user experience. The site effectively communicates the futuristic aspect of its business through the use of dynamic, handcrafted animated icons and graphics. This creates a sense of visual diversity and movement, giving visitors a glimpse into the future of business within the DMCC Free Zone.

A standout feature of the DMCC website is its well-placed calls-to-action (CTAs) throughout the site. These CTAs not only encourage visitors to explore the process of setting up a company in the DMCC Free Zone, but they also provide easy access to essential information about commodities, the community, the business setup process, and more. The seamless integration of these CTAs ensures that potential clients are guided through the website in a way that maximises engagement and conversion.
2. Tricor Global Group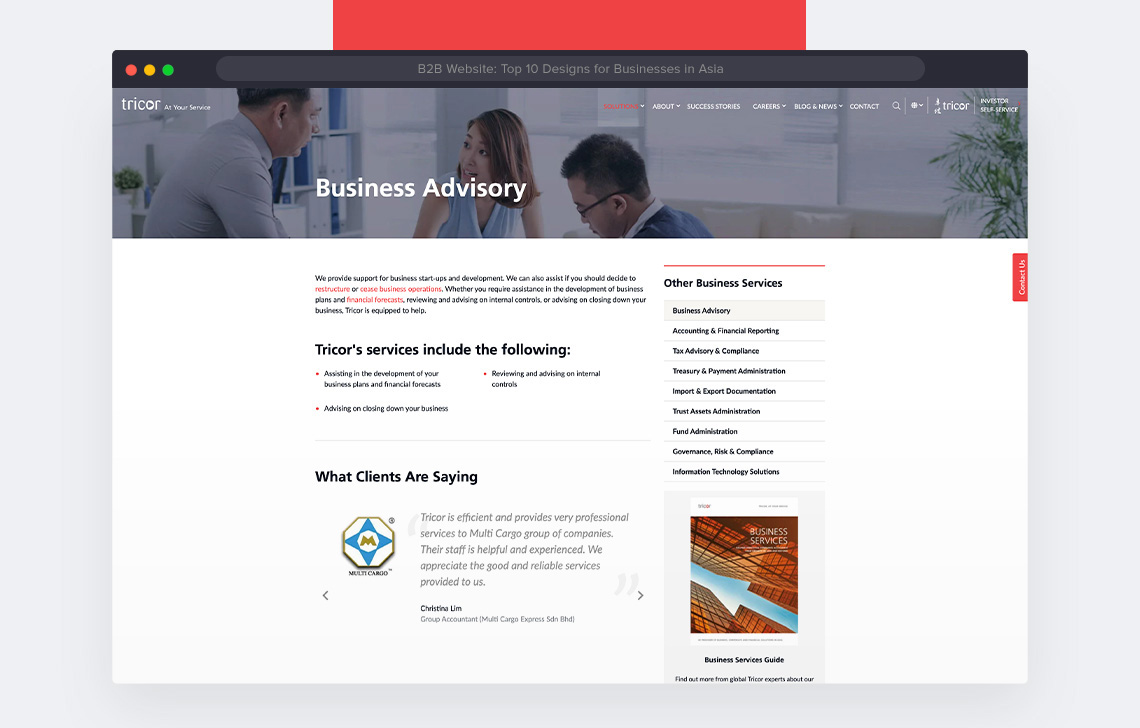 Tricor understands the importance of good, inbound focused content, which has helped to establish Tricor online as a trusted source of information. The site offers a diverse array of informative resources, like webinars, case studies, and news insights, which cater to a broad audience while showcasing Tricor's expertise in their field.
One of the key elements that sets Tricor's website apart from its competitors is the effective use of gated content. Now, you might have heard that gated content has been a hot topic of discussion in 2023, with many businesses moving away from it. But here's the thing: Tricor does a great job at balancing gated and ungated content. They only gate content when it's high-quality, decision-stage material, and when they really need key information from the visitor to move them through the lead nurturing process. This way, they avoid turning off potential leads and keep a user-friendly approach to their content strategy.
To read more on how Oxygen helped Tricor Global Group revamp their entire website, click the button below:
3. Hongda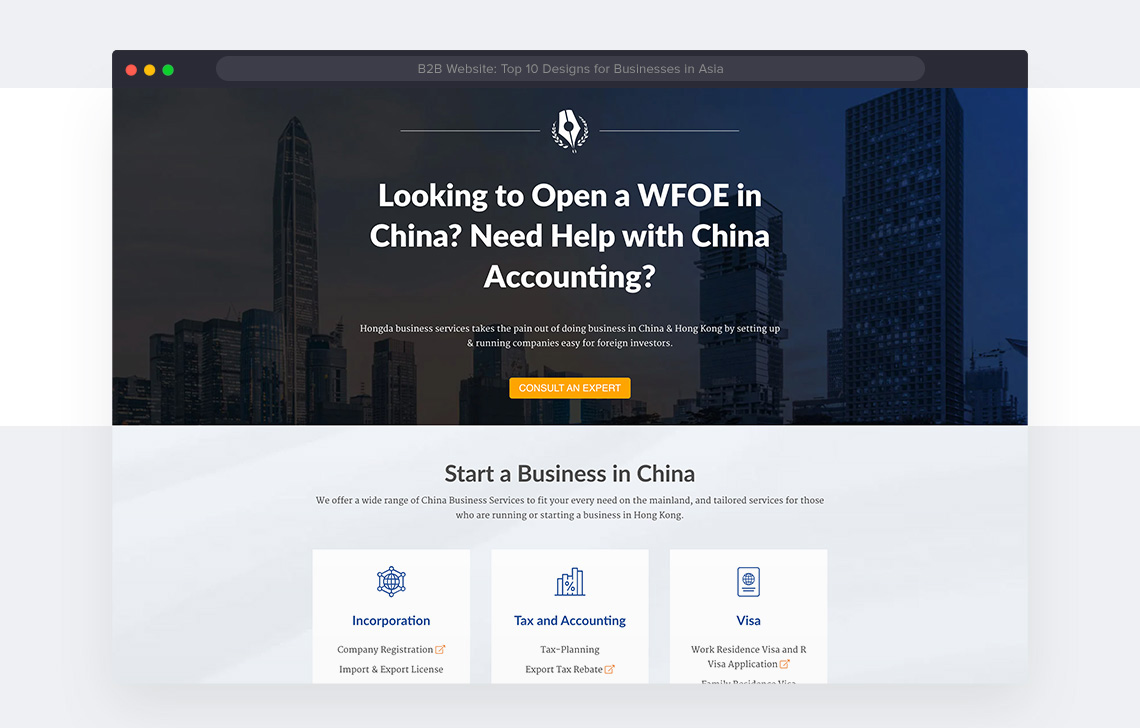 Hongda's website design showcases the company's professionalism and offers a clean, aesthetically pleasing user experience. The website's minimalistic design utilises white space and consistent branding, making it easy for users to navigate and improving readability. Additionally, our team at Oxygen made sure to optimise the website for multiple local markets, enabling Hongda to reach its target audience effectively.
One of the most impressive things about Hongda's website is the strategic use of content focused on specific keywords related to their core services. They've also created content that addresses common problems faced by their target audience. This approach has resulted in Hongda ranking number one on Google for several highly coveted keywords, generating a steady stream of organic traffic and contributing to the company's growth over the past few years.
To read more on how Oxygen helped Tricor Global Group revamp their entire website, click the button below:
4. OT&P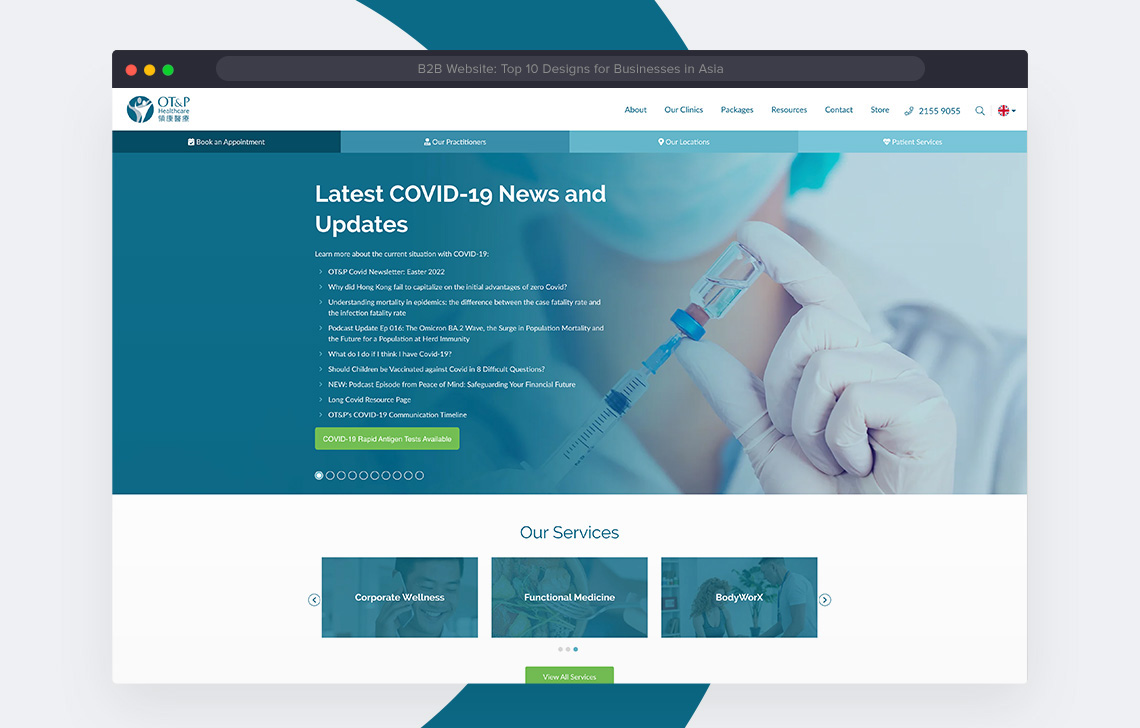 OT&P (technically B2C but similar to B2B in that inbound works extremely well) has incorporated everything from great aesthetics, UX, performance and inbound marketing through quality content and SEO. The website's state-of-the-art Knowledge base demonstrates OT&P's commitment to providing informative and educational content to their audience, establishing the company as a thought leader in their field.

OT&P's new website highlights its credentials, experience and trustworthiness by using real images of their clinics and employees throughout the whole site. Many doctors and patients have commented that the new OT&P website is the 'best looking and most user friendly' clinic website they have ever seen.
OT&P's website redesign by Oxygen goes to show what can be achieved when time and expertise are applied to redesigning a website, leading to their Hubspot Impact Award of 2019 for website design.
To read more on how Oxygen helped OT&P revamp their entire website, click the button below:
5. OVNU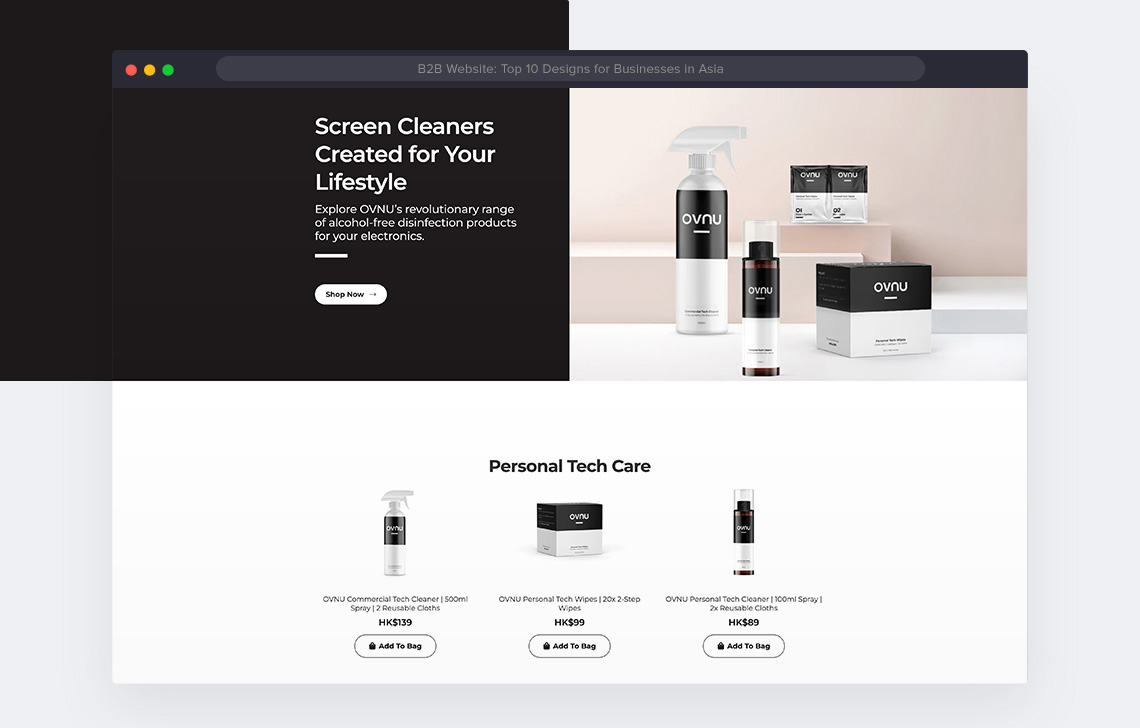 Minimal web design focuses on arranging elements in a way that maintains a clear visual hierarchy and avoids distractions. OVNU has achieved this beautifully through their flat web design, strategic use of white space, and a limited color palette. These elements work together to create a clean, visually appealing site that effectively communicates OVNU's value proposition and services.
6. China Manufacturing Consultants (CMC)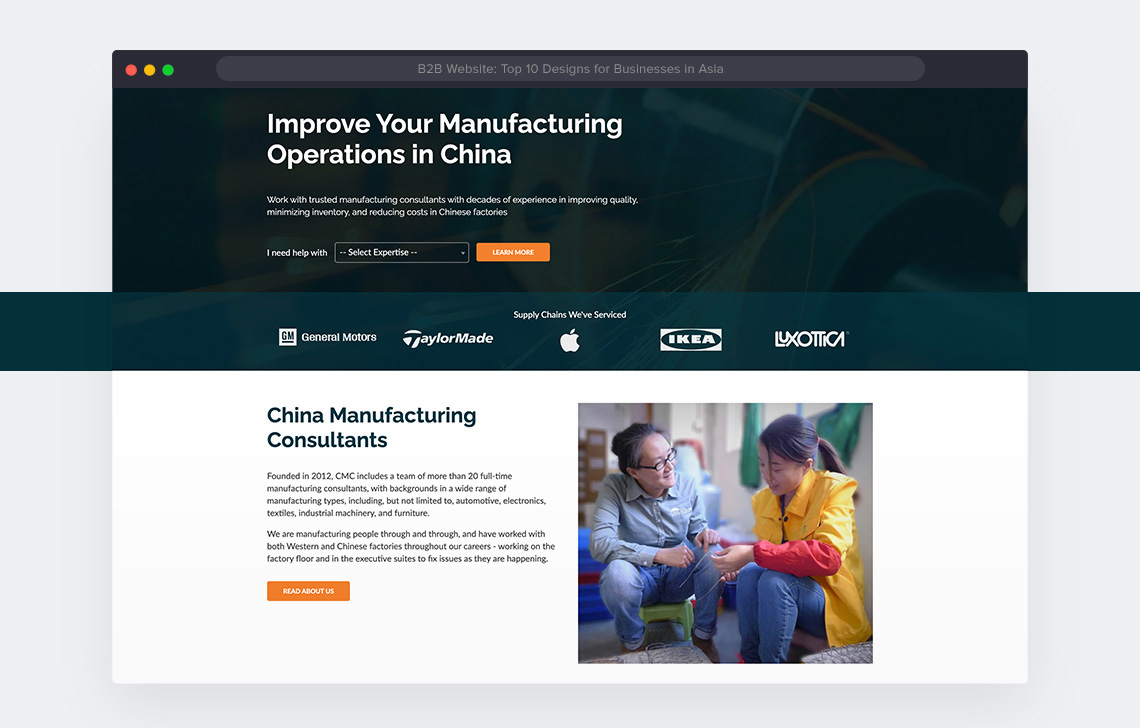 CMC is a manufacturing consulting organisation that advises on and executes manufacturing initiatives. Their website utilises practical engineer style principles to attract highly valuable leads and fits perfectly with their target audience. Having helpful information on your site can encourage more people to visit it. CMC utilises this efficiently to change their visitors into frequent visitors and eventually become clients, members, or subscribers. We consider CMC's website's resources the most crucial component of its intuitive design.
7. Additive3D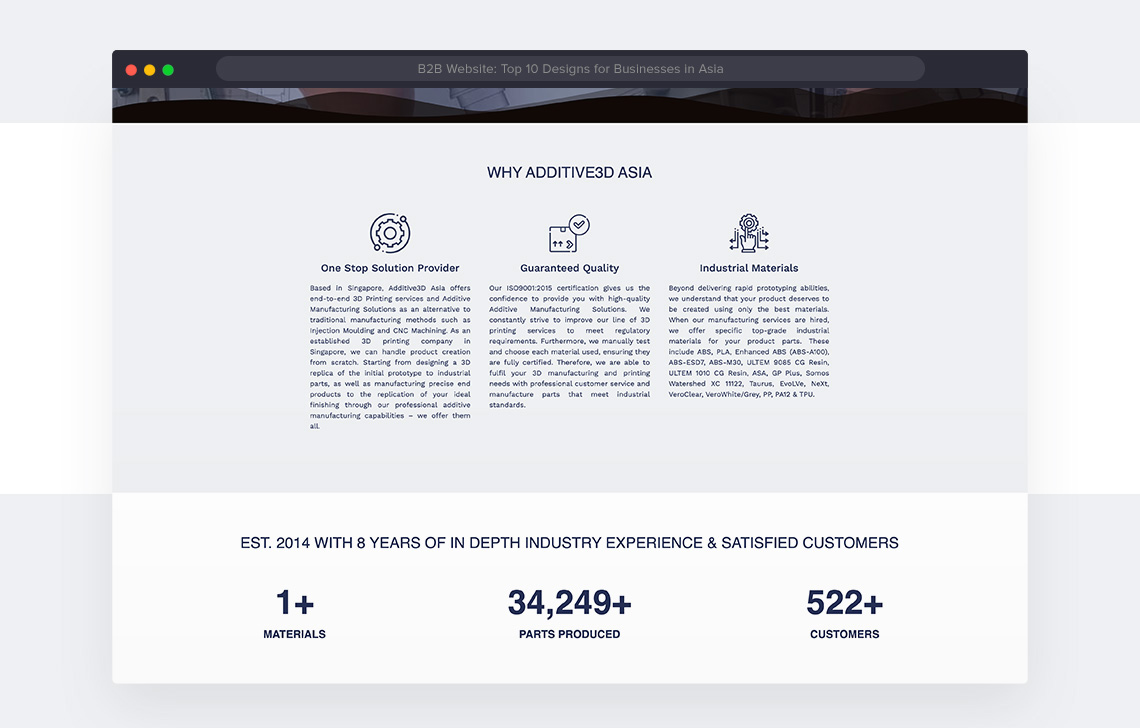 Getting bogged down with technical details and a lot of industrial jargon can turn away many leads who really just want to know "what is it going to cost me?". Additive3D Asia is a good example of a 3D printing company website that solves this problem very well. While technical details in 3D printing can be complex, Additive3D Asia keeps the jargon on its website to a minimum and instead focuses on their instant quotation system and 3D printer booking service.
8. DJI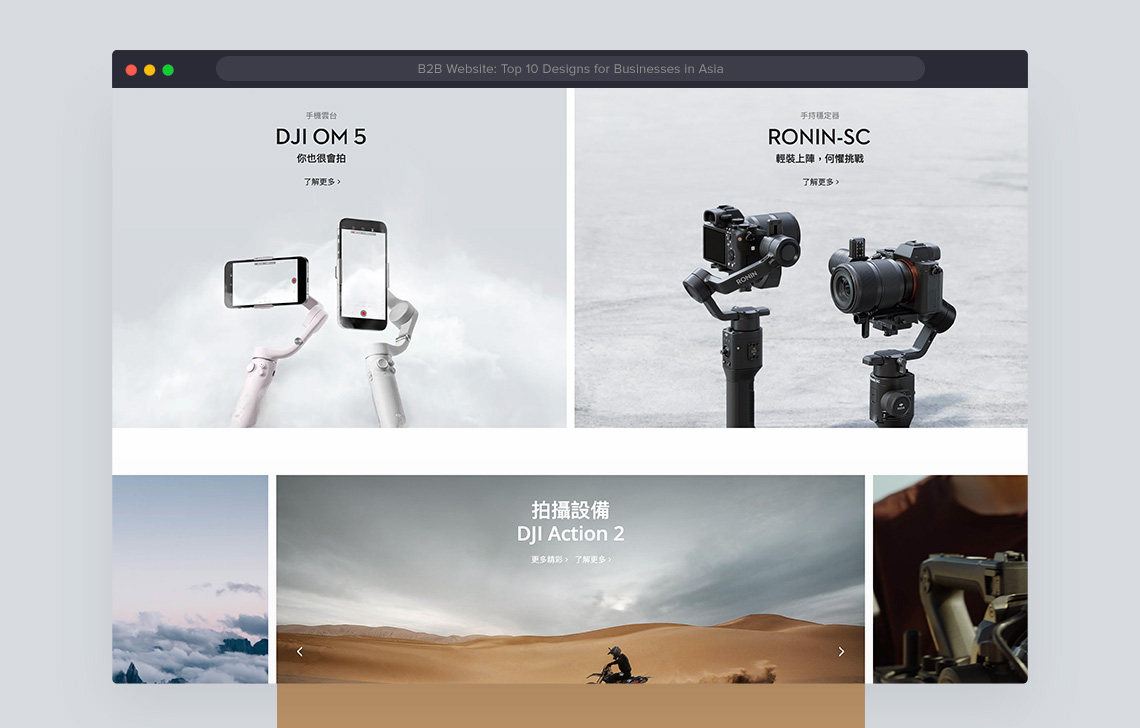 As the market leader and household name in easy-to-fly drones, DJI's website lets their products speak for themselves. Their list of high-quality images, video demonstrations and animations on their website showcases their successful range of top-quality products and services on offer. Their clean user experience really increases customer engagement on their website. DJI also understands the importance of localising their content for local audiences with a huge list of supported language options.
9. C'monde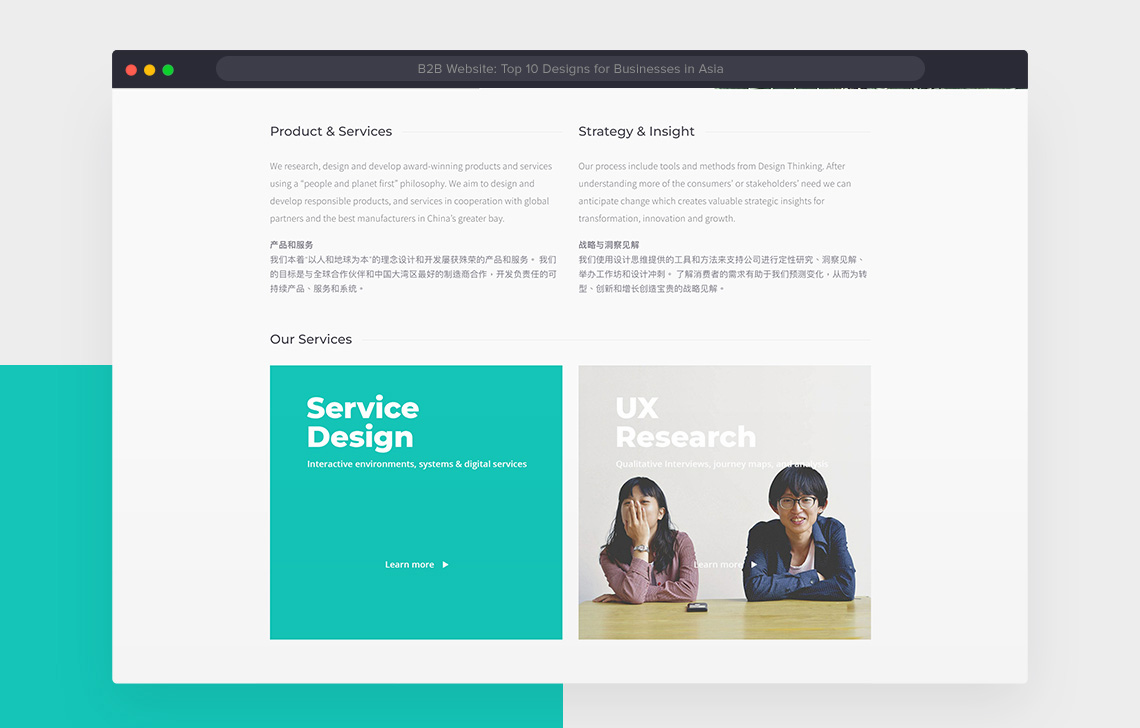 Your visitors should be able to instantly identify what exactly your company does and your unique-selling-point. Upon entering C'monde's site, their value proposition is clear and concise. Their use of small statements like 'Strategic Design & Innovation' and 'We work user-centric' make for a bold, impactful impression for visitors.
Not to mention, their engaging visuals, consistent branding and plenty of white space throughout the website make it easy for users to navigate around the page to find exactly what they are looking for and increase readability. A really great design, and it works perfectly on mobile!
10. Oxygen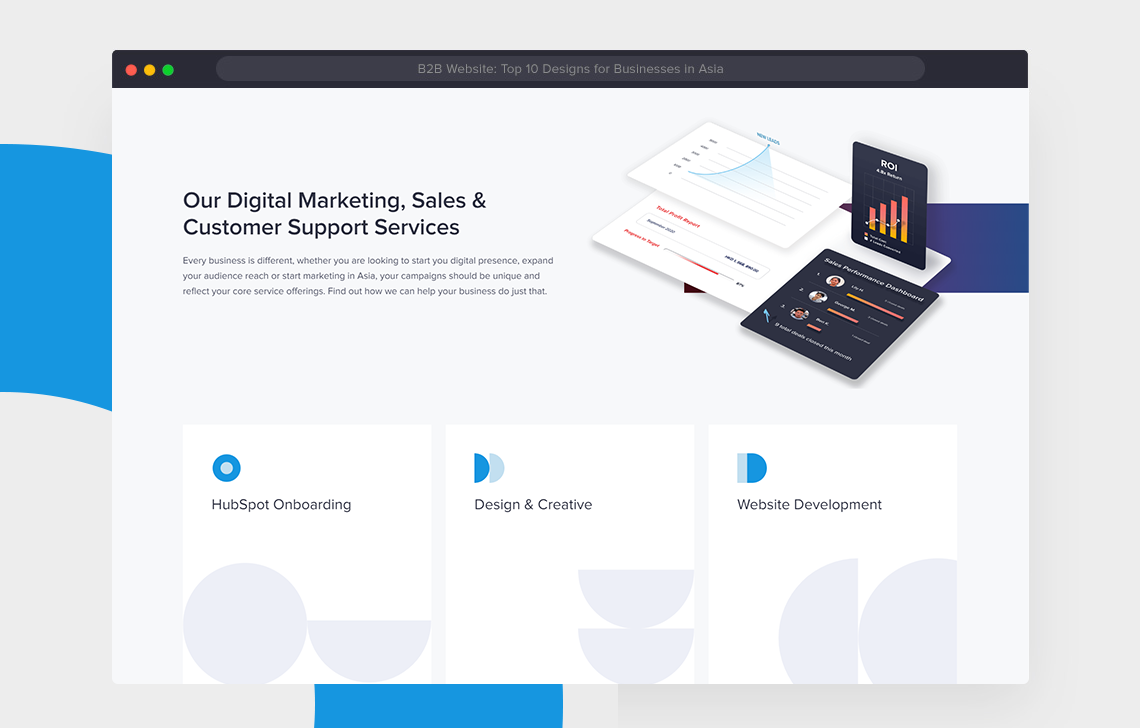 Now, we don't want to toot our own horn too loudly (okay, maybe just a little), but we believe our website deserves a spot on this list. As China's Premier HubSpot Agency, we've designed our website to provide a clear value proposition and showcase our expertise in the industry.

Our website is designed with user experience in mind. Above the fold, the H1 clearly states our position as "China's Premier HubSpot Agency," immediately conveying our unique selling point to visitors. Our extensive content library includes pillar pages for each of our core service offerings, providing valuable information and demonstrating our knowledge in the field.

To further establish trust, we've included case study pages and testimonials from satisfied clients. These trust signals not only showcase our successful track record but also give potential customers the confidence to choose us as their partner.
The Oxygen website embodies the best practices in B2B website design, providing a clear value proposition, extensive content, trust signals, and a user-friendly conversion funnel. We might be a little biased, but we think it's a great example of what a B2B website should look like!
Tips for Creating a Great B2B Website in Asia
Building a standard B2B website with a list of services and an 'about us' page is easy, but creating an award-winning B2B website that acts as your best salesperson is a real challenge, especially in the Asian market. B2B websites in Asia need to not only attract, educate, and convert leads with shorter attention spans but also cater to the unique requirements of the region. Let's explore some tips for creating a successful B2B website in Asia.
1. Language and Localisation
Asia is home to a diverse range of languages, making localisation a crucial aspect of B2B website design. Providing content in local languages and ensuring proper translation can improve user experience and increase the website's reach. If you plan on marketing to the Chinese market, which is completely different from all other markets, detailed buyer persona information specific to that market is imperative for success.
2. Mobile-first Design Approach
With mobile internet usage significantly higher in Asia compared to the western world, B2B websites in Asia should prioritise mobile-first design to cater to the majority of users accessing the site via smartphones and tablets.
3. Search Engine Optimisation (SEO) for Regional Search Engines
While Google dominates the global search engine market, some Asian countries have their popular search engines, such as Baidu in China. Optimising the website for these regional search engines can improve visibility and reach among local users.
4. Content and Design Tips
Great website experiences are intuitive and have everything your visitor is looking for, plus more. The key to creating this is understanding the problems to solve for your visitors or potential visitors. Invest in quality content over advertising, as inbound marketing has proven to be more effective when it comes to ROI. Ensure that your value proposition is clear, especially on the main pages. Make sure that your navigation is clear, easy to use, and makes sense to someone who doesn't know your business. It should also be 100% functional on all devices.
5. Finding an Agency and Planning Your Launch
Choose your agencies wisely, as taking a smaller agency from a lesser-developed country for a lower cost might seem like a good idea at first, but it could lead to delays and endless revisions.
Creating a successful B2B website in Asia is achievable with the right approach and the right team. By focusing on language and localisation, mobile-first design, regional SEO, and selecting the right agency, you can build a website that truly stands out in the Asian market.
Looking for an experienced partner for website design in Asia? Speak with one of marketing experts to find out.