Since opening in 1994, OT&P Healthcare has grown to be one of the most successful private clinics in Hong Kong with over 7 locations in the city with more under development. Despite having a website with a high domain rating (thanks to the quality of their backlinks), a lot of their business came through word-of-mouth, referrals and insurance arrangements.
The Challenge
A large majority bookings came by phone and detailed service information was distributed through leaflets in their clinics to help educate patients on their full range of services.

A particular service area they were struggling with was their body check packages – which were primarily promoted through personal conversations with patients. While their website did provide a download link to a body check service list and had a banner encouraging patients to ask for more information, they did not have dedicated pages for each of their packages to explain the differences. As a result, they rarely got bookings online and were not ranking for "body check"-related keywords, which had a search volume of well over 2,000/month in Hong Kong and a Keyword Difficulty of under 10 according to AHREF's.
"Before working with Oxygen we didn't place much focus on our digital marketing so we had been plateauing for some time."

Celina Wong – Marketing Manager, OT&P
Below: The old website before the revamp, showing a banner encouraging patients to ask about body check packages.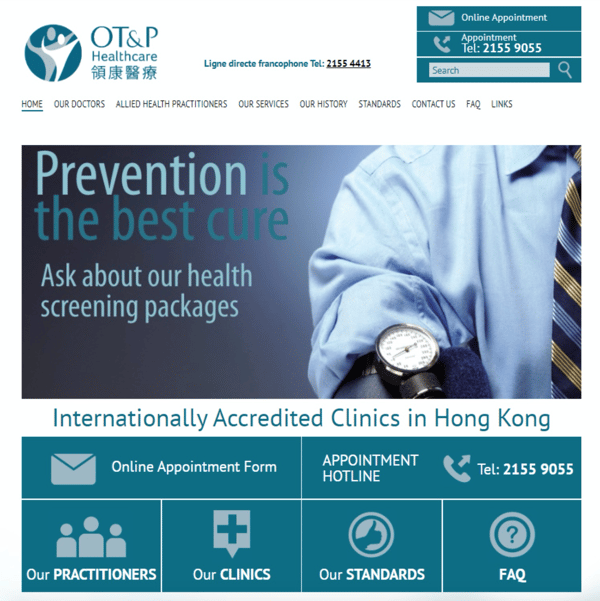 The old, simple design was not ideal as their main competitors' all had easily accessible and detailed package information on their websites, helping them rank very well for high-intent keywords related to 'body check'. However, many of these pages were not rich with content and just simple tables listing which tests would be done and some information on booking which we identified as a great opportunity for OT&P.

OT&P was looking for a partner to bring their long-established clinic into the digital age and help them attract both returning patients and new patients to book online. Oxygen was signed on in late 2018 to redesign their website, create inbound content and help increase appointment bookings across the board. As part of this digital transformation, we initially focused on marketing their body packages which we believed would be an easy win to help educate patients on the benefits of booking a more comprehensive package with OT&P.
The Solution
We built an entire inbound campaign around the body check packages which involved research, strategy, content creation, design and development. To support our SEO efforts here, we also needed to build Domain Authority within the healthcare space in Hong Kong. Otherwise, the body check pages wouldn't rank as well as their competitors.
Building Domain Authority (DA)
Looking through local search data on AHREF's, we quickly noticed that many users were searching for services by practitioner names, and most of this traffic for OT&P's staff was actually going to other medical listing websites instead of their own website. Since OT&P didn't have practitioner profiles on their own website, we worked out that creating these individual pages (using the HubSpot DB tool) would help us gain quality, high-intent traffic and subsequently, help us raise our DA very quickly.

In addition to all this, we created service pages with more relevant content. This was aimed at increasing the keyword density for healthcare-related topics across the whole website – signalling to search engines that OT&P's website was highly relevant to medical-related search intent.
Buyer Persona & Keyword Research
To better understand OT&P's customer base for whom we were creating the content, we developed survey questions to send to their mailing list of over 2,400+ patients. Their staff also assisted in conducting phone surveys over the course of many weeks. From these responses, we developed a better understanding of the needs of their patients and how we could improve the content on the website to better educate potential patients before they called and the overall booking process.

With the new buyer persona findings in mind, we looked at best practices from competitor pages and conducted keyword research on AHREF's to determine the content needed on the website. We worked closely with the doctors to create content that was not only medically correct but also using phrases that were commonly searched for on Google to make sure the content would get in front of the right people.
SEO, Webpage & Content Offer Creation
In total, we wrote, designed and developed five pages: one parent page listing all the packages, and four child pages for each package on offer. The content emphasised the importance of preventative healthcare for each age group and provided in-depth information on service coverage. We focused on optimising user experience in the design and added Structured Data Markup to increase OT&P's real estate on Search Engine Results Pages (SERPs).

Below: The SERP listing for OT&P's body check parent page, including pricing info thanks to Structured Data.



To better educate patients and provide an offline resource that they could download or print, a content offer was created, containing all the body check package information and an additional pre-screening checklist within a PDF.
Supporting Blogs
We worked with doctors and the marketing team at OT&P to come up with three "body check" topics to cover on their blog. Using the core keywords, we organised the blog post headings to answer common queries on search results and made sure to include locally relevant information. In the blog post template, we incorporated a module to display links to the body check packages to increase internal linking between the blog and the package pages.
Below: One of the many high-performing blogs on the new website.

The Results
Exponential Growth in Organic Traffic
After launching the website in February 2019, the body check pages and blog posts average more than several thousands of page views monthly, with a majority of those coming from organic search.

Below: Traffic growth since the new website launch. Organic Traffic accounts for more than half of all the website's traffic.

Increased SERP Presence
Since launch, OT&P's number of organic keywords has quadrupled – causing the website to show up more often overall when users are searching online and increase the chances of their brand getting seen.

Below: After February 2019, organic keyword density has had consistent growth, with steeper increases correlated to major content updates on the site.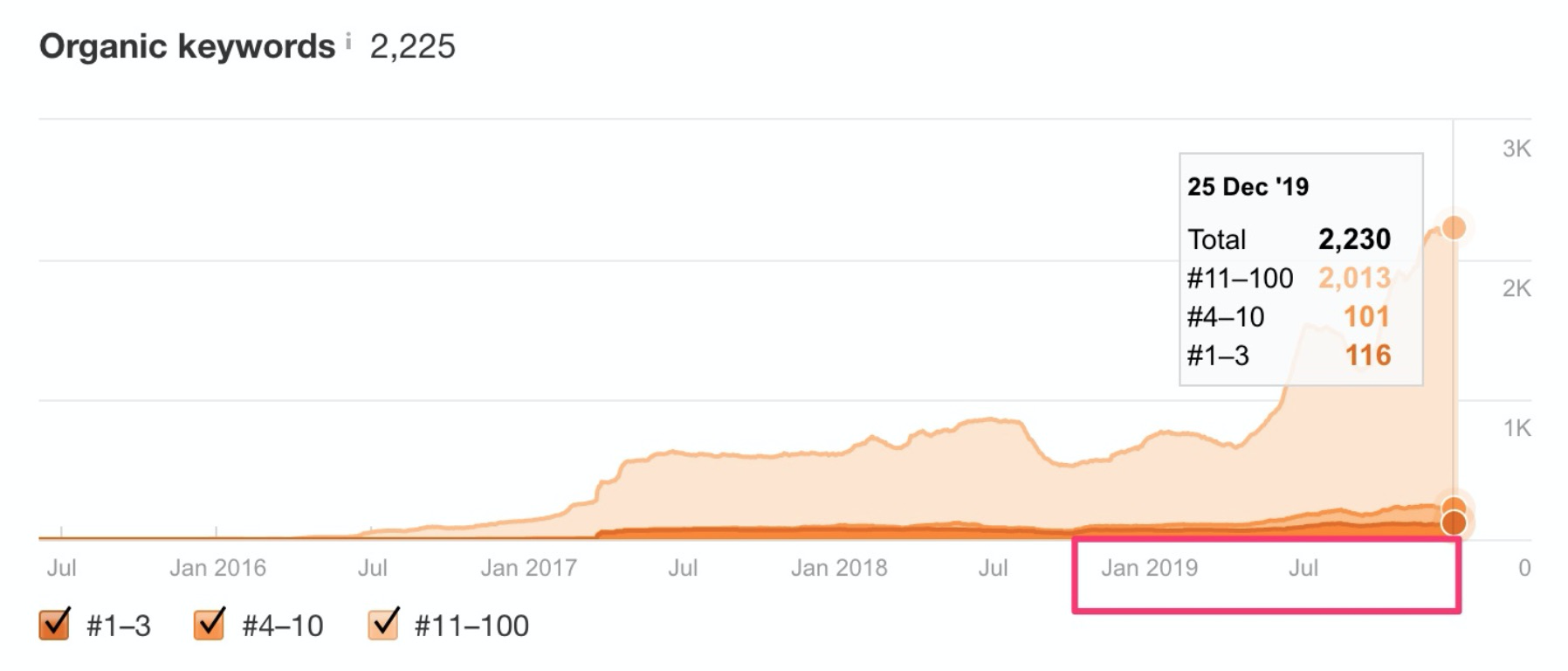 Below: Looking at keyword quality, OT&P are now competitively ranking in the first two pages for high-volume keywords related to actual healthcare services available at their clinics (where they weren't previously ranking at all).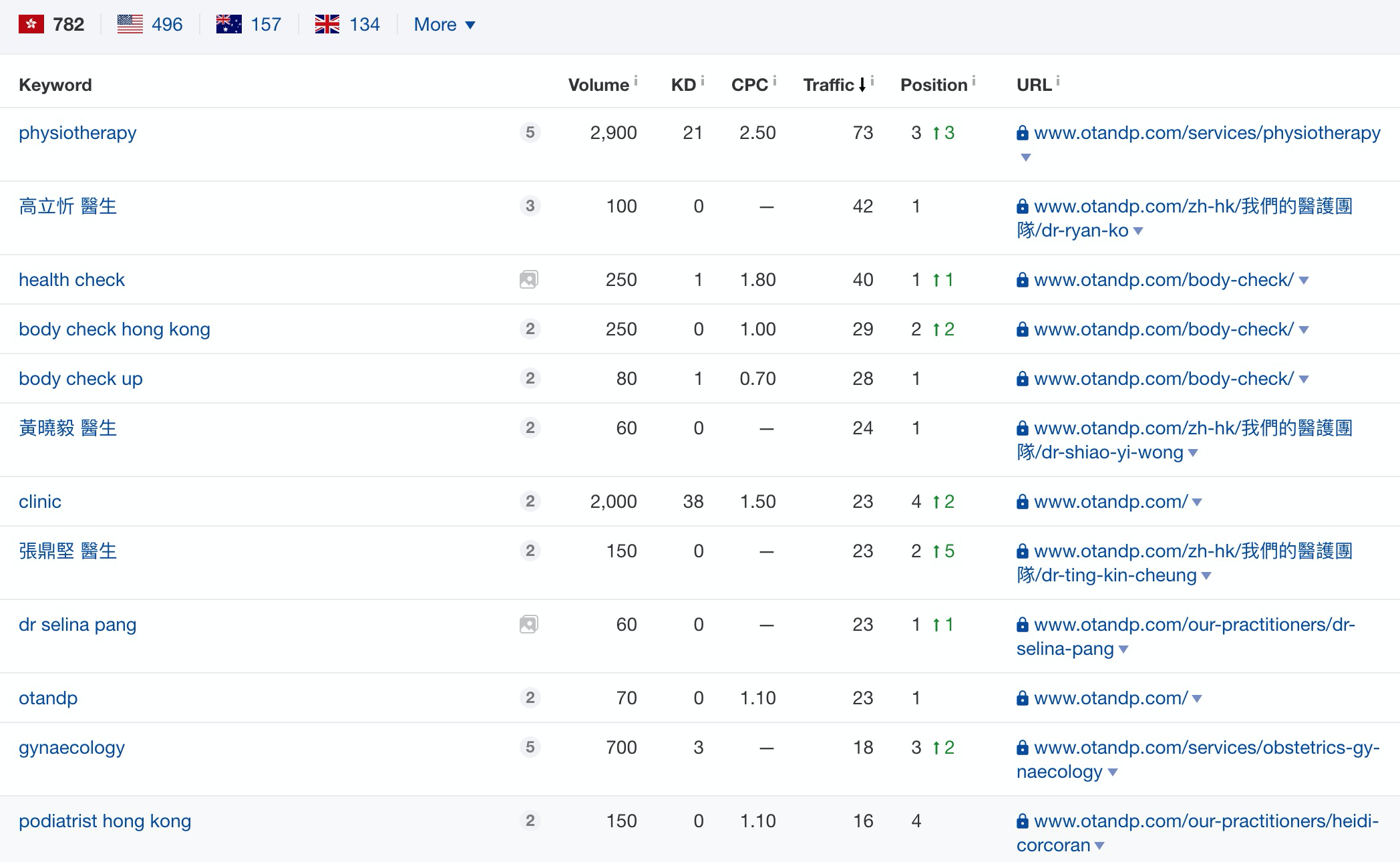 Better Rankings in "body check" Keywords
Previously, OT&P did not rank for any "body check" queries on Google, but within two months of launching, the website shot up to the first two pages for several "body check" keywords and have maintained their spot as of December 2019.

Below: OT&P's current performance for "body check" queries. They're currently ranking between positions 1 and 18 across 8 main keywords, with 5 of them being on the first page of SERPs.


Below: The position history for a high-intent, localised keyword.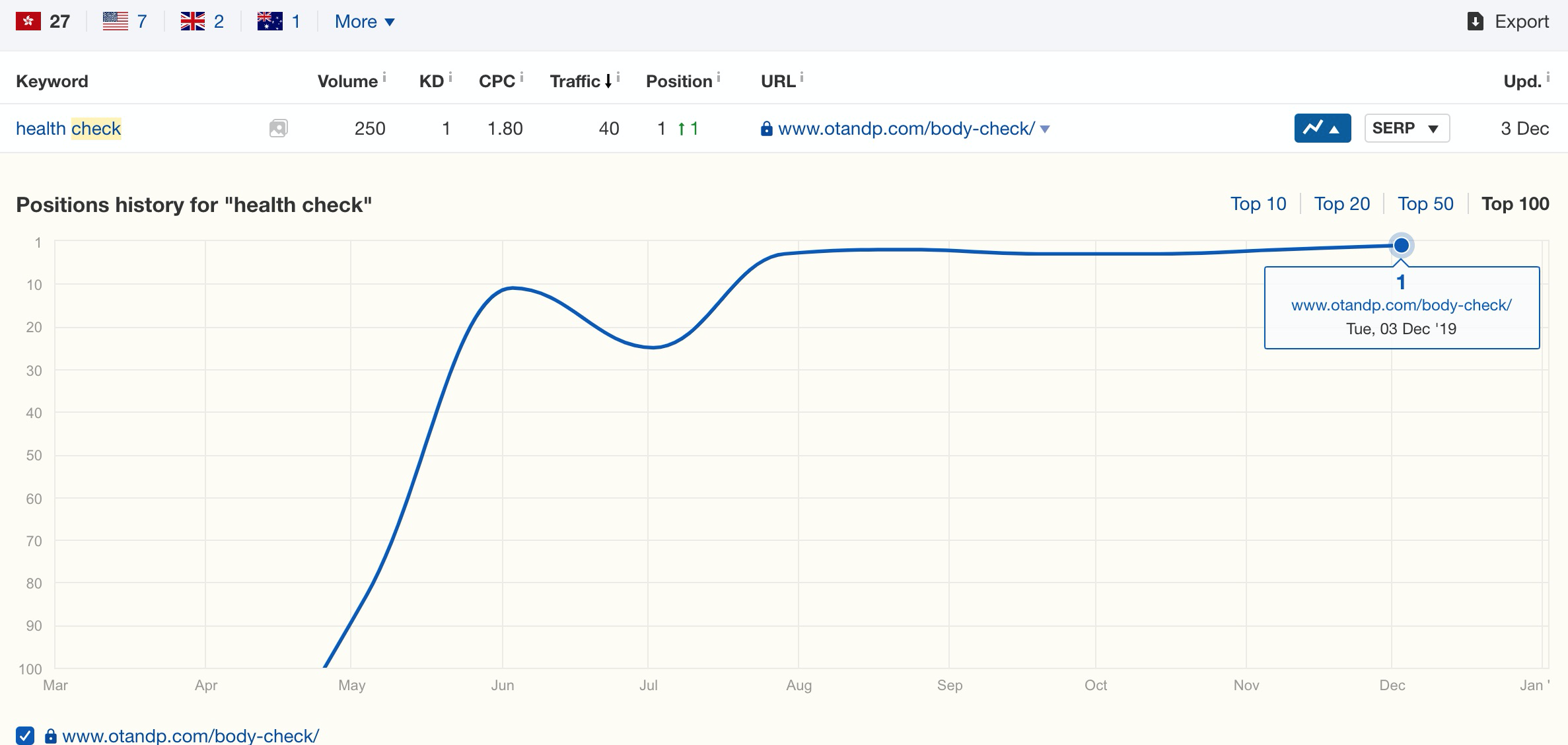 Before the launch of the new website we built, OT&P appeared past page 5 of the SERPs and would lose its position after a few months. Now, their rank has skyrocketed to the first two pages and continues to maintain its position there.
The Impact

"Inbound marketing has definitely helped us to get to the top of Google – where we previously weren't ranking (at all) before".

Celina Wong – Marketing Manager, OT&P
A constant source of body check bookings
OT&P now have a constant source of high-quality organic traffic and many bookings through the new package listings on the website. Many new patients are also finding OT&P through these introductory services and will go onto use other services at OT&P as they have been so happy with the quality of care and service. The administrative staff at OT&P also no longer spend as much time explaining body check packages to patients in-person or by the phone –a task which usually took 5-15 minutes per person. Patients can now browse the website to get all the information they need instead of calling or speaking to staff members directly. As a result, staff spend less on promoting these packages, yet still consistently manage to get more bookings than they ever did before.
Expansion of package pages
After the success of the body check package pages, we've since created maternity package pages for OT&P, following a similar campaign structure of having multiple pages, a content offer and blog posts. Before the end of 2019, we will be wrapping up our efforts here and exploring new package pages to create in 2020.
The future of marketing with OT&P
Thanks to the impact of our inbound marketing, OT&P have managed to achieve their goals online and will continue to work with Oxygen in 2020 to achieve new goals. We're excited to launch new chatbot functionality, knowledge-base and even a ticketing and NPS system for OT&P in 2020 which we hope will continue to improve their digital presence online and help to cement their position as the best in class for patient care as a medical service provider in Hong Kong.
"Our success with OT&P has been largely thanks to the excellent team at OT&P who not only have provided us with all of the medical information we needed but also were open to our suggestions and took our advice seriously. It has been a pleasure to work with OT&P – the level of care they provide their patients definitely inspired us to make sure they had a quality campaign deserving of the brand name.

– Laurent Ross, COO, Oxygen
Could your company do with a new website? Speak with one of marketing experts to find out how we can help.