Overview
The digital story of OT&P really goes to show what can be achieved when time and expertise are applied to re-designing a website that today not only ranks at the very top of Google but also converts visitors into patients effectively.
Project Plan
Client Location
Hong Kong
Services Provided
Content Creation, Website Design, Website Development, HubSpot Integrations
Related Sector
Healthcare, Medical Provider
Languages Supported
English, Mandarin, Cantonese
The Challenge
OT&P Healthcare, established in 1994 by Dr Tim Trodd & Dr David Owens, is a highly respected provider of medical services to ex-pat and local communities in Hong Kong. The clinic has grown to be one of the most successful private medical clinic groups in Hong Kong and is the only clinic group in the country to achieve international accreditation by the ACHS.
While the growth of OT&P had been impressive, in 2018 they were at a crucial stage in their development where 'going digital' had finally become a priority. The website, which was hosted on Wordpress and not linked with a CRM or any marketing automation software, wasn't ranking for hardly any keywords and had a higher than normal bounce rate. The old website had very little content, no inbound marketing and no detailed information about their medical packages.
Discoverability
Many patients that were searching for doctors (especially in Cantonese) at OT&P weren't actually finding the OT&P website first and were instead going to medical listing websites which were essentially poaching a large portion of traffic which should have belonged to OT&P. Patients searching for any of OT&P's core services were instead finding competitors as OT&P weren't listing enough information on each of their services to rank well organically.
Online Bookings
The old website saw just 26% of new visitors eventually returning to the site and only a very few booking requests daily through the web form which routed to an email. The large majority of bookings traditionally were coming from call-ins which had become a bottleneck for administrative staff who needed to spend 5-10 minutes with each caller providing them with information on the clinic and asking the same questions.
OT&P + Oxygen
As part of their website revamp, they wanted not only a new modern look to the website, but also to see an increase in appointment bookings across the board. OT&P needed help from a marketing agency with prior success in web development who could commit to partnering long-term to help them through their digital transformation and continue to provide outstanding patient medical care in Hong Kong. Oxygen was selected to build the OT&P website and begin a marketing retainer late 2018.

In 2018 they embarked on a 'digital transformation' starting with a website re-design. The re-design process was long and complex, as we went through extensive research of all top medical and hospital websites globally to see what good user experience and design would look like in the medical sector, as well weeks of buyer persona research to understand how we could make life easier for new and existing patients to find information and book online..
One of the key factors we had to consider during the buyer persona research was that many of OT&P's patients were older and found booking online to be difficult, so we needed to make the buttons a little larger and as user friendly as possible. We also had to ensure the website was fully mobile optimised as more than half of all visitors in 2018 were using a mobile device (which we expected to increase).
In the process of re-designing the website, we looked over the images used on the older website and decided we would need to come up with another solution photo-wise. The new website was modern and highly professional, and it required images that were compatible with that look and the look of the clinics which had recently been redesigned. So, Oxygen provided its digital photography services to capture high quality images of OT&P's clinic. The photos turned out excellent and were used not only on OT&P's new website but also on their socials later on.
Below: The new OT&P Aesthetics & Wellness clinic and the General Practice clinic.

OT&P immediately moved to the HubSpot CMS and marketing platform and Oxygen utilised its web development services to design a website that looked aesthetically pleasing while also being easy to use, especially on mobile. Oxygen's content team worked closely with the OT&P team and doctors in Hong Kong to gain as much knowledge and information on medical topics and created blog content that was aligned with keywords patients were using to search for medical services in Hong Kong. Through our close collaboration and comprehensive content marketing services we were able to create enough insightful content to build organic traffic and dramatically grow OT&P's overall Google ranking.
The modern and aesthetically pleasing design and sleek user experience has been optimised by our team to focus the visitor's attention on blue CTA's at the top of the page, which direct visitors into the right areas, i.e. 'Book an Appointment', 'Patient Services'.
From our performance audits on the old website we knew that the bulk of the traffic was split between two interests, either more information on doctors or a specific service. Pages for each doctor and each service were created using the HubSpot DB to create an optimal experience that can fully utilise the search function and multiple features. This took a lot of time and thinking 'outside of the box' from our development team to create something custom which worked perfectly on both desktop and mobile – but after a few months we finally were able to finish and launch successfully.
The Results
OT&P's new website highlights its credentials, experience and trustworthiness by using real images of their clinics and employees throughout the whole site. Many doctors and patients have commented that the new OT&P website is the 'best looking and most user friendly' clinic website they have ever seen.
Campaign Metrics to Date
504
Keywords Ranked #1-3 in Organic Search
OT&P's doctors have received the new website very well, they really really enjoyed the new update look. Our patients have also found it to be more user friendly than our previous website.
Celina Wong
Marketing Manager, OT&P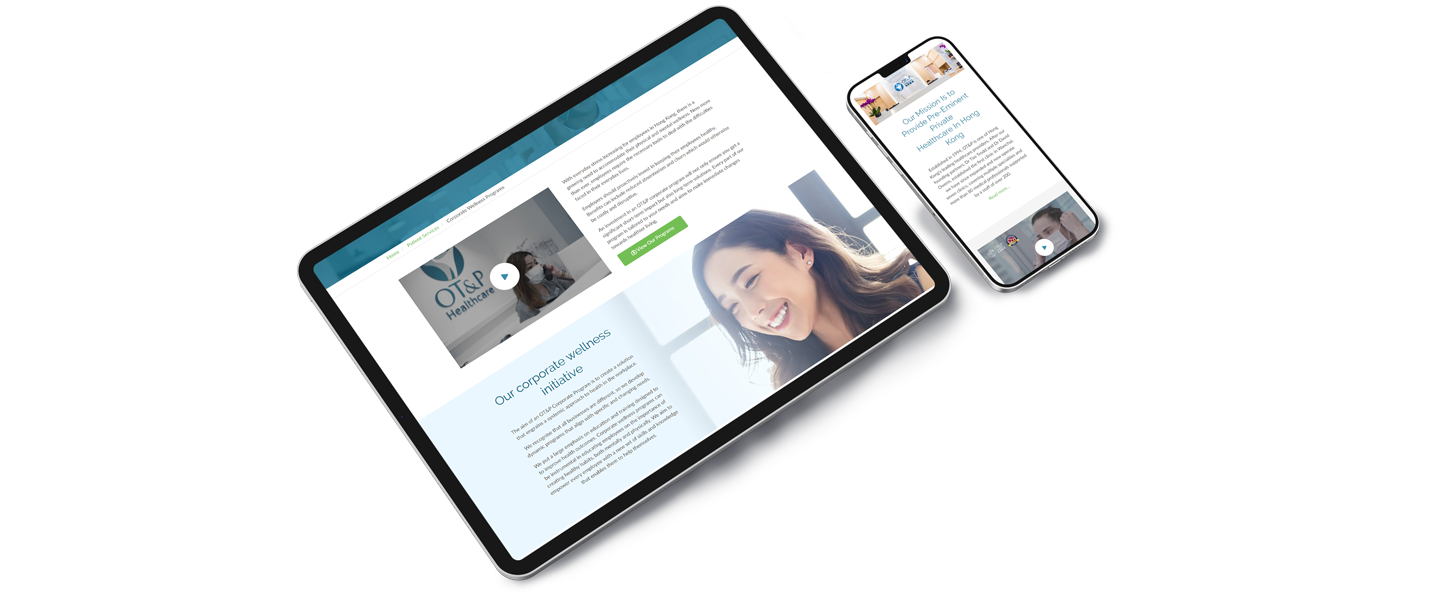 More visitors, more bookings
Since the launch of the new website, not only have OT&P's keywords increased by four times in one year, they have also seen an exponential increase in online bookings. This increase can be almost entirely attributed to the new website design as the content of the form (questions etc) had not changed with the launch of the website, only the design and styling.
Below: New contacts through online booking after the launch of the new website.

Performance of the new website
OT&P is now the proud owner of many top spots on Google including a number of competitive keywords related to their core service offering such as 'body check hong kong' and 'international doctors hong kong'. This increase in organic reach is making OT&P a popular choice within its target market in Hong Kong.
The Impact
The new OT&P website has improved our branding significantly and it has become more aligned with the professional care that we're providing in the new clinics.
Celina Wong
Marketing Manager, OT&P
OT&P underwent a major refurbishment of their central clinics in 2019 and it was important that their digital presence matched the new look and feel. By using as many real images of the clinics as possible instead of stock imagery we were able to effectively showcase the new clinics through the website. As one of the leading private medical clinics in Hong Kong – OT&P now has a website that is undoubtedly best in class for aesthetics, UX, performance and search-ability.
Doctors profiles now rank highly on Google in both English and Cantonese which means OT&P now no longer needs to rely on third party listing websites to show up online. Each of the medical services are slowly being updated to include more information and link to blogs which are taking OT&P to first place on Google, massively improving brand awareness, especially on new services.
With expanded doctor and services information patients no longer need to call to find out more about their doctor or the service they are requesting. The new UX allows for easy bookings online from desktop and mobile which has allowed OT&P to process more bookings each day instead of being bottlenecked by how many calls they could take at the same time. The patients that do call in now are usually better educated or can be referred to the website for more information which saves time for both parties.
Below: the new practitioner (doctors) selection page.

The Future of OT&P
To ensure OT&P continues to deliver high quality and informative medical services to its patients in Hong Kong, we will be designing and launching more services pages to expand on their SEO value. Furthermore, to maintain OT&P's #1 positions on Google and provide more value to their patients we will be creating an extensive knowledge base powered with listicles & videos.
Our success with OT&P has been largely thanks to the excellent team at OT&P who not only have provided us with all of the medical information we needed but also were open to our suggestions and took our advice seriously. It has been a pleasure to work with OT&P – the level of care they provide their patients definitely inspired us to make sure they had a quality campaign deserving of the brand name.

Some Of The Work We've Done
Website Development Services
Award-winning design, content, development & optimisation