Case study: How Inbound Marketing helped a niche Chinese business to increase sales by 200%
Case study: How Inbound Marketing helped a niche Chinese business to increase sales by 200%
Starting from scratch with a niche B2B company with no previous marketing experience can be a major deterrent for many agencies. Overcoming the initial SEO hurdles and the expense of content creation and website building can also be a huge barrier for smaller companies struggling to find a marketing budget. PEL is a great example of a small company that decided to finally invest in marketing and have done so well they are now the top of Google and the envy of all of their much bigger competitors.
The Challenge
First established in 2004, PEL is an eyewear quality control and inspection service company operating out of Shenzhen, China. PEL assist most Western businesses, with the daunting task of ensuring quality and industry standard compliance for eyewear produced in China. Third-party inspection is very important in China where factories often pay-off inspectors to pass low-quality products and impartial third-party testing companies with integrity are a rare commodity.
One of the first main challenges with creating content for PEL is that we weren't able to find any related stock imagery online. Initially, we thought about using vectors but eventually realised that this would have a negative impact on the 'trust factor' of the website. We decided to travel to China with camera equipment and spend a day in the factory taking photos with the client so that we would have a library of media to use for the website and future marketing campaigns (without extra charge to the client). This proved to be immeasurably useful for creating marketing materials and content on the website – after all it would be less-than-ideal to be writing blogs on eyewear inspection and not have any relevant photos!
Below: Photograph from the shoot at the PEL laboratory with Oxygen.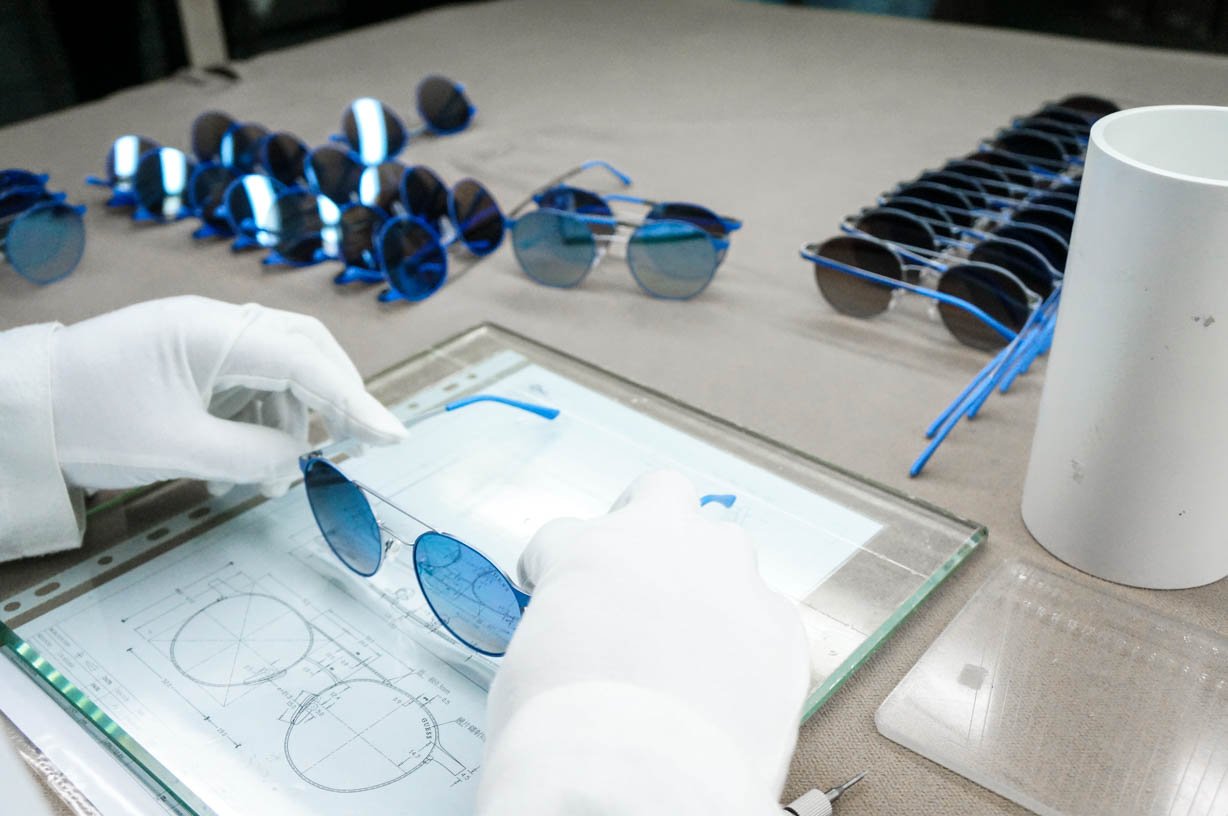 PEL's previous website and marketing materials were out-dated and had very little information about the kinds of services and tests they offered. Organic traffic was nearly non-existent and it was clear that there needed to be a huge focus on creating content in order to get the website performing well enough to compete with their competitors. When we began researching PEL's services and looking at the technical documentation we quickly realised that even our native Mandarin-speaking staff wouldn't be able to make accurate translations due to the difficulty of the technical Chinese characters. Instead, we would spend weeks interviewing Zenobia and learning about their processes, start to finish, to ensure that our English information was educational and correct.
Below: The old PEL website.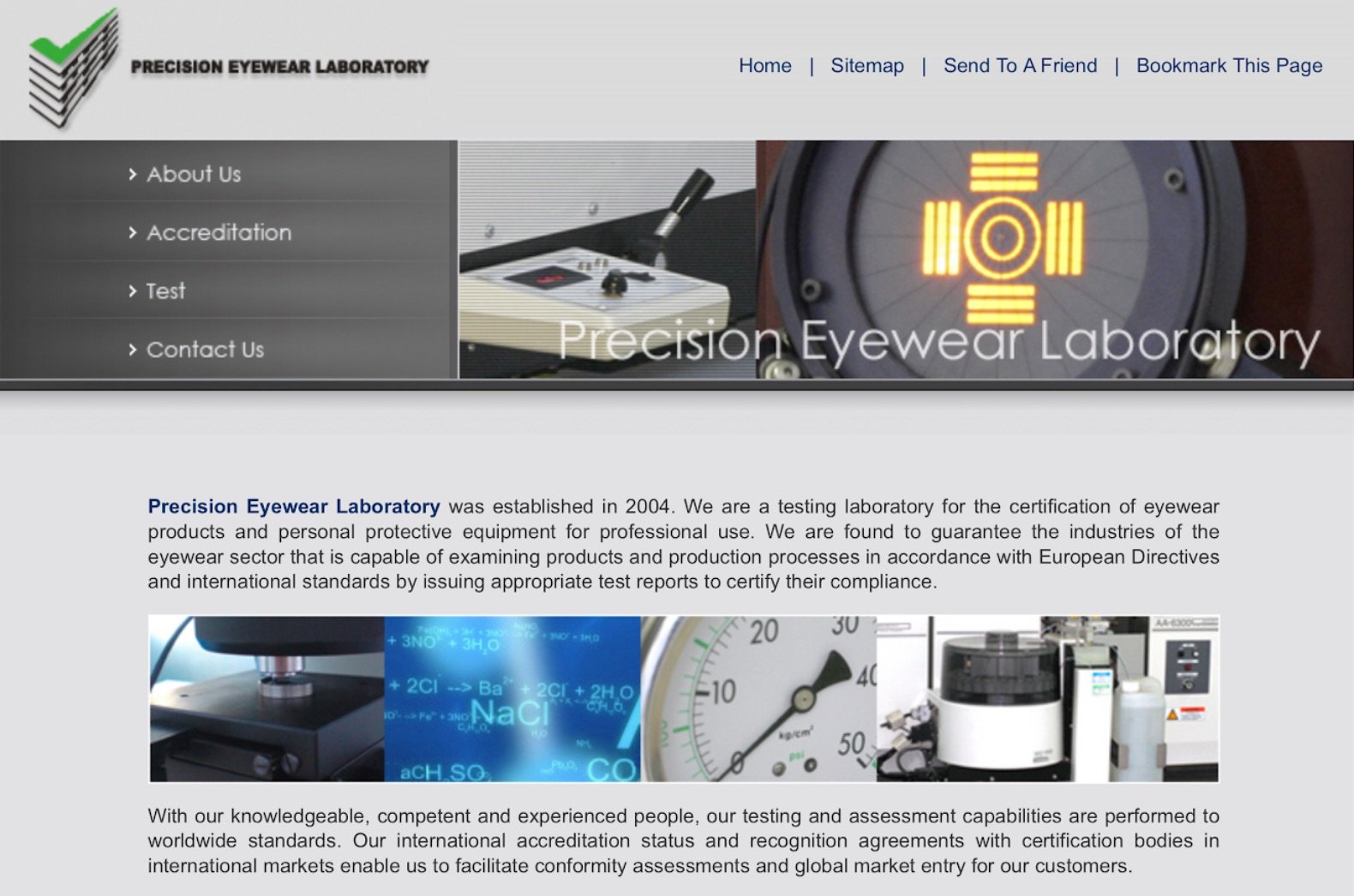 PEL was looking to finally become competitive online, generate more leads and hopefully become an industry leader for information about eyewear inspection and quality control. The challenge was high, PEL's competitors included huge (and very well digital-established) companies such as Intertek and InTouch which offer eyewear inspection as an ancillary service, therefore, have much higher domain ratings due to the power of their other content.
PEL was in desperate need of a local partner who could interface with their staff in-person while also being able to handle the challenge of such a niche B2B topic independently as PEL would not be able to spend much time on marketing. After seeing Oxygen's success for other B2B manufacturing and quality control related clients in the area PEL decided to sign for a one-year marketing retainer in 2017 (which still continues to this day).
"Before, not many people knew of us except from trade shows. But now, through all the digital marketing, website and social media a lot of people send us enquiries." - Zenobia Chan, GM
The Solution
Rebranding: a new professional image for PEL
Our first obstacle to overcome was to create a professional image for PEL that made them stand out over the competition who were all using stock image pictures. Photographing the laboratory and the PEL employees at work was instrumental in helping to create a professional and trustworthy image for a niche Chinese company that has a long consultative sales process.
We modernised the company logo, fonts and colours, which immediately elevated the brand and gave us a strong design base to work from. To learn more about the design work we did for PEL and the success of the new website, please see this case study.
Buyer Persona Research
Understanding each of the buyer personas for PEL was crucial to be able to create relevant and educational content for C-level leads who are decision makers at their companies. It was easy to find 'shallow' content on eyewear inspection online but nothing in-depth, especially about manufacturing specifically in China. Through interviewing PEL management and existing clients we were able to divide buyer personas into three main groups: eyewear startup, eyewear production manager and eyewear OEM salesman.
Online Visibility
To start, we immediately expanded the descriptions of all of PEL's services and 'fleshed out' content wherever we could on the website after translating PEL's internal Chinese documentation. After doing significant keyword research with AHREF's we were able to identify key areas in which we could start building content around. Through the strict use of the HubSpot inbound methodology, we were able to create content at the awareness, consideration and decision stages on topics that our buyer personas were actively searching for. We had to think outside the box, by diving into areas that were slightly un-related to PEL's core service offering that had a lot of traffic, such as "eyewear sourcing in China", which we successfully created high-traffic blogs on to boost the website's domain rating.
Lead Nurturing
After writing successful blogs and generating loads of leads through the ebook offers, it was time to start the lead nurturing process. Our monthly blog emails, new offers and our automated system outreach caused leads to interact with more and more content until eventually converting into MQL/SQL's.
ABM Marketing
Starting from scratch meant that waiting for keywords to trend organically and running some ancillary ads would not be enough to get leads flowing in the first year. In order to get our content and offers in front of the people who matter we embarked on an aggressive ABM strategy with our client's assistance on LinkedIn. By sourcing industry related contacts and relevant groups for our client, they were then able to add these contacts and participate in these groups. By promoting blogs and offers on LinkedIn and taking a very active approach to replying to comments on forums and Reddit, we were able to spike our engagement and collect quality leads via the HubSpot forms on the website. The HubSpot social tool played an important part here in allowing us to easily collect questions and comments from leads and followers to pass onto management at PEL when the questions were too technical for our team to handle.
"Especially recently, my LinkedIn has grown to more than a 1,000 contacts which are from the eyewear industry – which is amazing. People on LinkedIn feel like they personally know me, through our content. If I go to a trade show I might only be able to get 100-200 business cards." - Zenobia Chan, GM
The Results
Organic Growth
PEL has become a digital 'expert' around all things eyewear quality control or inspection related. Organic traffic has seen excellent growth and large spikes during periods which were able to create content on trending topics such as 'blue light blocking lenses' before the topic became hugely popular online (you can see the correlation in the spikes below).
Below: Organic traffic growth for the PEL website.

Below: Traffic for the blog "The Case for and Against Blue Light Blocking Glasses".

Keyword Growth
Getting to the top of Google was not an easy feat, but through regular blogging, keyword research and most importantly, updating the blogs frequently based on performance, we were able to reach our client's goals. PEL now ranks for over 679 keywords related to eyewear quality control and inspection with many being in the top-10 on Google.
Below: Top current keyword ranking in Google in the United States.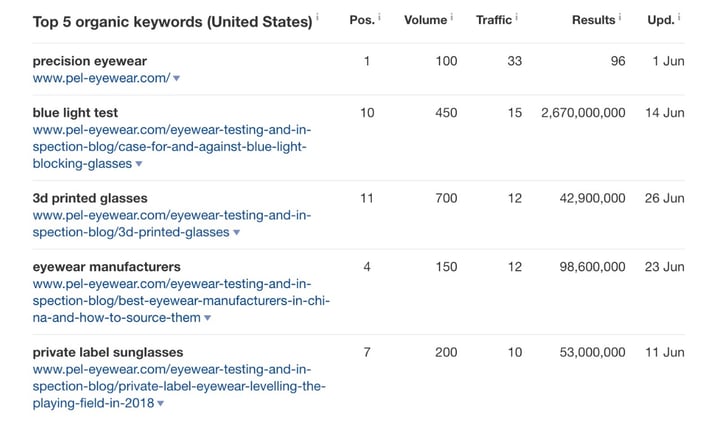 Below: Keyword ranking for "eyewear china" (a highly important keyword for our client).

Lead Generation
As with any new website, content on PEL's website performed slowly at first, but eventually gained a lot of traction through our ABM efforts on social media. Since the launch of the new HubSpot website and content, PEL has generated over 931 leads, including 259 MQL/SQL's. This is an estimated 16.6X more leads than PEL would have otherwise generated given the performance of their previous website and marketing efforts.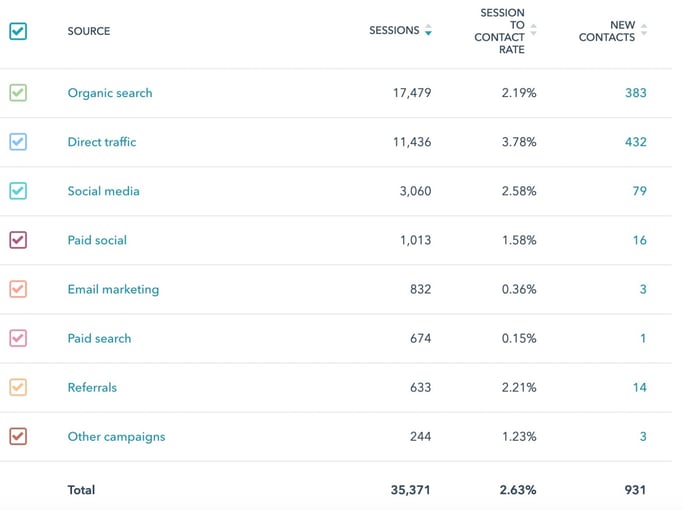 Creative Lead Nurturing
After months of collecting leads and nurturing them with content and offers, leads began to automatically qualify themselves as MQL's through continuous interaction and matching pre-defined requirements. Through offering options to convert, such as free consultations at eyewear trade shows, we were successfully building trust and convert loyal subscribers and leads into customers. In the example below, a single lead visited the website 10 times, 52 different pages and interacted with multiple automated email outreaches before eventually booking a consultation at a trade show with PEL's CEO and converted into a customer.
Example: The 10-month journey of a visitor from lead to customer.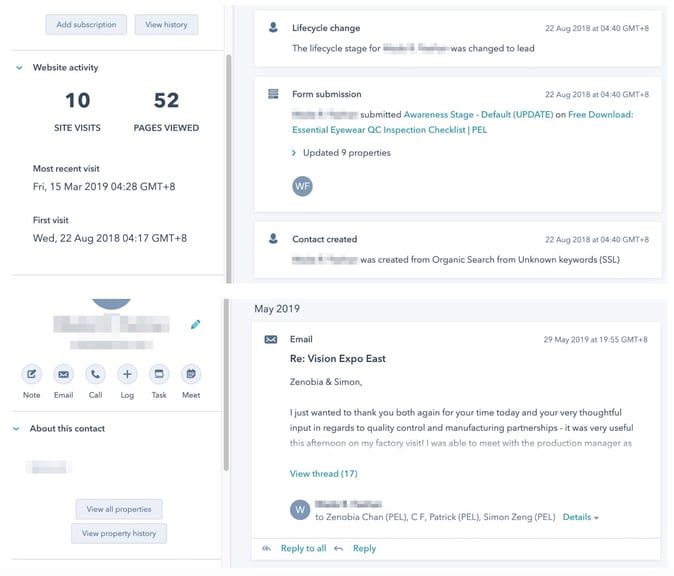 The Impact
"For our inspection services, we have grown over 200% since starting with Oxygen. It's been really tremendous growth. Because we have more of a digital presence they know us not only as a Chinese company but they know us really professionally in the industry. I think that is something immeasurable, not only in terms of revenue, but also our reputation." - Zenobia Chan, GM
A constant source of leads
Now that the marketing machine is up and running, keeping the momentum and growing PEL's online presence is less of an uphill battle. By updating content, staying active on social media, and running new campaigns for new events and offers, we'll be able to continue delivering success for PEL.
Future of marketing with PEL
As PEL has evolved to become an online leader for content, so competitors have stepped up their marketing efforts in order to compete with us. Many of the blogs are now slowing losing position against bigger companies who are now also competing for those keywords. In order to stay on top, we have both monthly and quarterly keyword reviews to ensure that we are updating the content required to hold our position.
In order to diversify our marketing efforts, we are adding new features to the PEL website and marketing plan in Q3 this year. A new ABM strategy, new video, video advertising, an advanced chatbot and a new automatic quotation system integrated with PandaDoc are just some of the new ways we will be helping PEL achieve success in 2019.
Want to follow PEL's success on LinkedIn? You can follow the company here, or their knowledgeable GM, Zenobia Chan, here.
Could your company do with a new website? Speak with one of marketing experts to find out how we can help.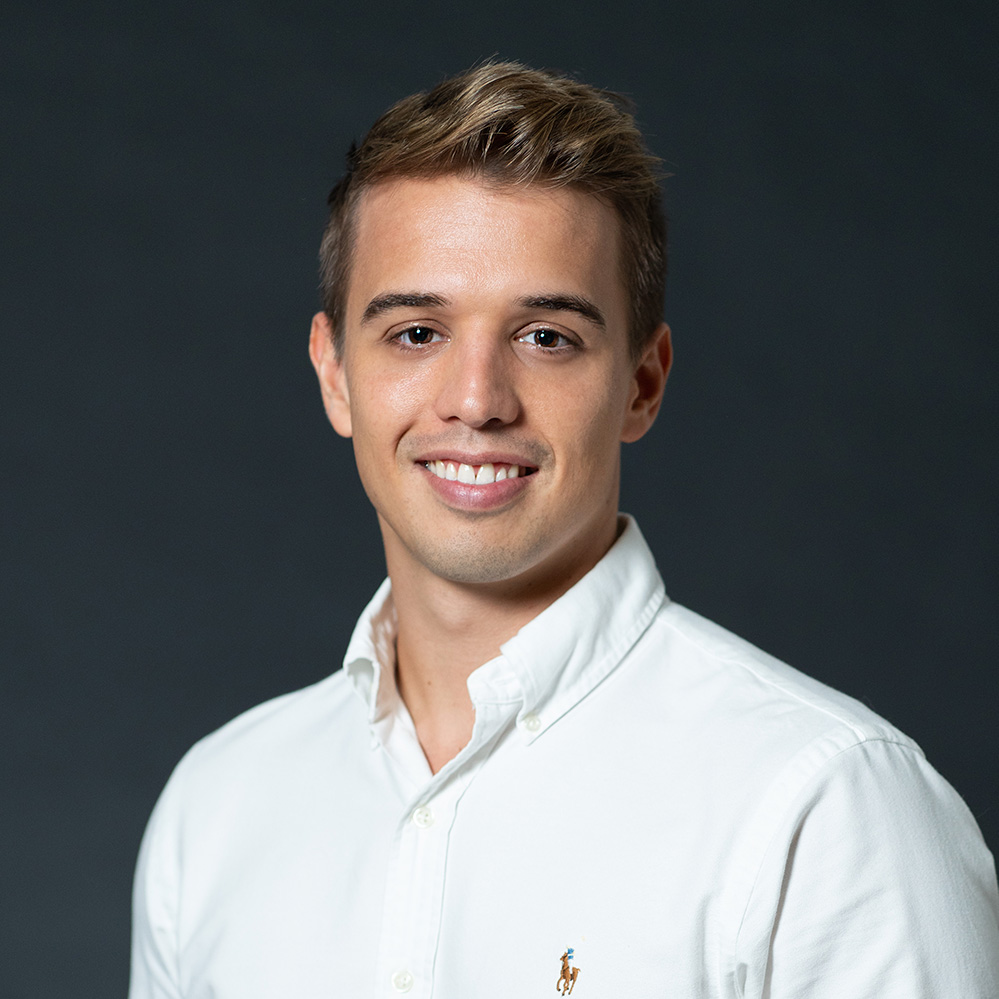 About the Author
Laurent Ross
11+ years of work in client and project management in China, Hong Kong, Singapore and Thailand - Laurent is uniquely qualified to manage campaigns which require a deep knowledge of both Western and Chinese digital systems.