Digital tools and integrations are evolving faster than ever, so fast that most businesses and business leaders rarely are up to date with the latest possibilities and don't even know what 'optimal' looks like. Digital proposal and signage tools like DocuSign, Pandadocs and Jotform are now so advanced and have so many integrations to sales and CRM tools that a business of any size can provide a world-class and completely frictionless sales service to leads and clients.
The future is already here, and the businesses that embrace it are setting the standard for user experience and spending significantly less manpower on each sale, meaning more sales in less time.
So what does the future of B2B sales look like?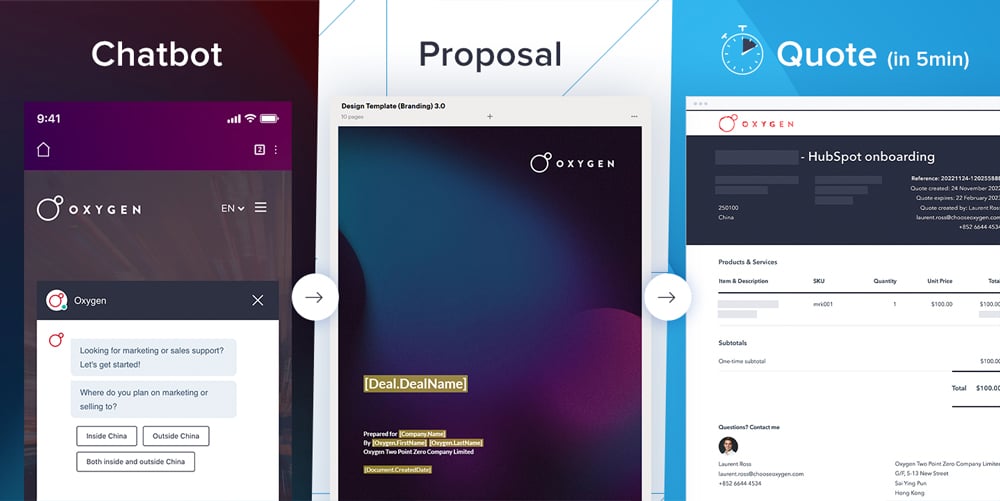 While we can't cover all of the best tips and software in one article, here's a quick list of the most impactful changes a business leader can make when digitising their sales processes:
1. Automated Lead Qualification
Traditional Approach

Modern Approach

Visitor fills in a generic website contact us form
Waits 24-48 hours for an email response
Often has already reached out to competitors before getting a response for sales
A salesperson must manually qualify the lead

A visitor is given MULTIPLE contact options; form, chatbot, WhatsApp etc
A lead is quickly qualified by chatbot/marketing automation asking for basic details
If criteria are met, branch logic to provide the best possible experience
Example below: Chatbot pre-qualifies leads before allowing a direct 1:1 sales conversation with a real person. This provides the 'best of both worlds' experience.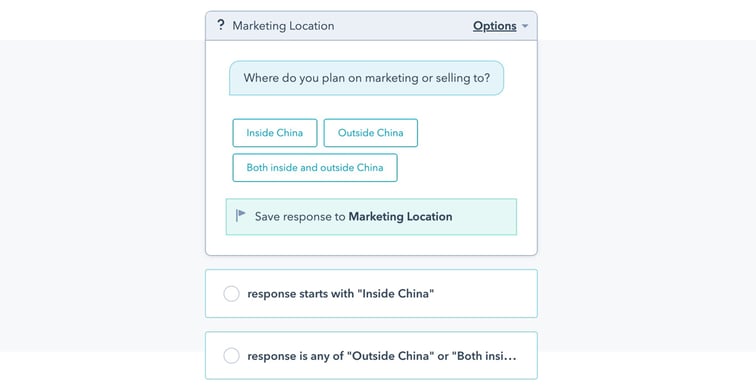 2. Automated Instant Responses
Traditional Approach

Modern Approach

Waits 24-48 hours for an email response
Responses often lack context, and a lot of back and forth is required for the sales team to take action
Sales teams have a low response rate to proposed meeting times or sales questions

The lead gets instant automated replies that are relevant and contain educational information (sales brochures etc.)
The sales team can quickly and effortlessly engage in conversations where context is created before the conversation starts
Example below: After meeting pre-qualification criteria, the lead is given multiple options to contact someone on the sales team.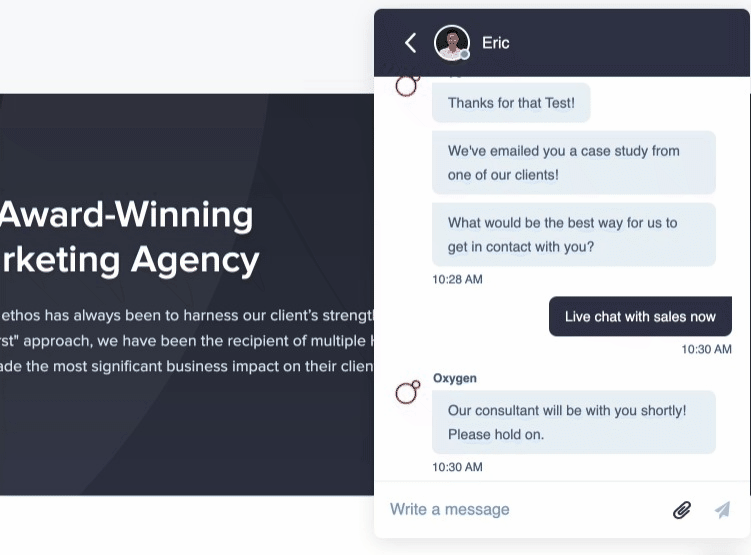 3. Streamlining Sales Conversations
Traditional Approach

Modern Approach

Many conversations between sales and the lead before meetings can be booked, or deals are signed (high friction, high dropoff)
Prone to human error with sales forgetting to follow up with leads promptly
Significant sales time spent on repeating menial conversations and emails
Example below: Booking a meeting through digital tools is much more efficient than the back and forth of asking for availability. This method allows you to propose several time slots for your lead in their timezone and send an automatic zoom meeting link/calendar invite.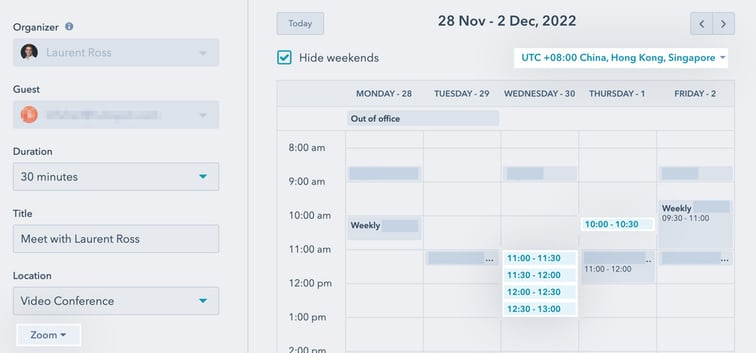 4. Automated Proposal Generation
Traditional Approach

Modern Approach

After several back-and-forth conversations with a lead, sales generate an Excel or Word proposal from a template
Depending on the complexity of the proposal, this might take hours to days of time
Proposals are full of human errors and final calculations must always be checked by senior management

Proposals are either automatically generated when the right criteria are entered through the CRM, or sales can instantly generate proposals from templates that autofill prospect information from the CRM
Proposals feel customized and offer comprehensive product/service information
Time per proposal is drastically reduced, and the quality of proposals is improved
Example below: The sales team have access to a wealth of pre-made digital proposal templates that automatically pull lead information and product/service requirements into the proposal (no need for hours of editing!).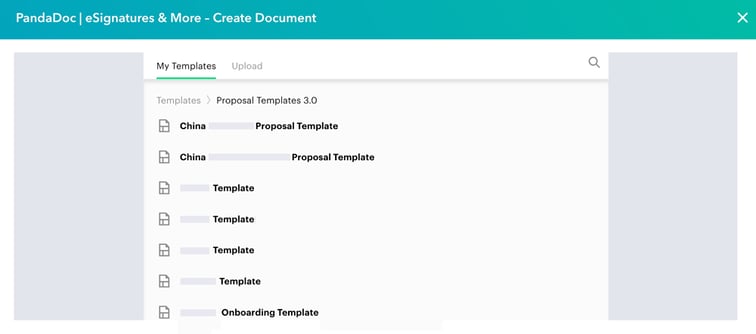 5. Integration Between Proposal Systems and CRM for Advanced Sales Analytics
Traditional Approach

Modern Approach

Managers must ask sales reps to manually report on the reasons for closed won/lost deals
No data on lead engagement
Difficult to tell if a lost deal was the fault of a rep or just a bad-fit lead

Managers have full transparency over the status of proposals and get live updates when things progress
Digital documents and emails with engagement tracking
Transparency on what went wrong in a lost deal
Example below: Document status metrics are available both in the CRM and digital signage tool. When documents are viewed or signed, sales and managers can automatically notify by email.

6. Sales Pipeline Automation
Traditional Approach

Modern Approach

The sales team uses excel sheets to keep track of deals
Sales must manually report to management on the deal status every week/month
Management rarely knows how much is in the pipeline unless they are micromanaging
Below: Complete live transparency of all current deals at different stages of the sales process with weighted estimates on likely revenue based on historical close rates.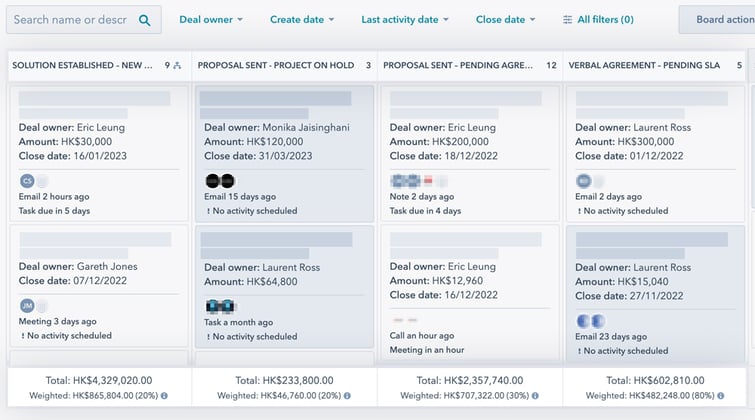 7. Invoicing Automation
Traditional Approach

Modern Approach

The sales team must make a manual request to the billing team to issue an invoice, and documents must be shared
The sales/management team have no visibility of the payment status
The finance team must remind themselves to follow up with payment reminders

Digital invoicing tools (Xero, Quickbooks etc.) connected to CRM for instant invoice generation
Automatic invoice status update within your CRM per deal or contact
Complete visibility of which accounts are overdue and automation or templates to follow up with these accounts.
Example below: Xero integration with HubSpot allows for seeing invoice status within contact records. This can be linked to automation that creates tasks or automatically follows up with each customer.

What tools do you need to succeed digitally?
Modern CRM for data centralisation: This should be your central point of truth and automatically collect and log all engagements with your marketing and sales efforts.

We recommend HubSpot.

Sales tools: Email templating, meeting link automation, deal pipelines, engagement logging, reporting and WhatsApp/WeChat integrations. We recommend both HubSpot Sales Hub & Sleekflow.
Proposal/quote automation tools: For simple quotations, we recommend HubSpot Sales Hub. For advanced proposals and customisation, we recommend Pandadoc.
This list above isn't a complete or exhaustive list of the latest sales automation techniques and software. However, it's a good start for businesses still using traditional methods and are haemorrhaging customers to more agile, modern competitors. To understand which strategies might be best for your business, it's worth speaking to an external consultant who can review your existing processes and make recommendations on how to modernise and optimize so that you can provide an industry-leading experience.
At Oxygen, we build industry leaders and love speaking with businesses with the drive to modernise and utilise technology to provide the best possible experience. If this is something that you need support with, follow the meeting link or shoot me a message on Linkedin; someone from our team of experts can provide a free 15-minute consultation call to see what we can recommend for your situation.