B2B website design, especially in Asia, is challenging to get right. Finding the right balance between engaging, informative and being conversion-focused (often for multiple local markets) are some of the main challenges. Most new B2B websites in Asia launch simply as a new digital facade to the business with little thought into how to attract and convert leads. However, when done right, your website can be your best salesperson - not to mention generating a positive ROI!
At Oxygen, we understand how to build an effective B2B website design and we have been featured in the 2020 Best Web Design Companies ranking by DesignRush. Here is a roundup of the ten website designs that have successfully adhered to some of the top principles for building a high-performance B2B website for the Asian market in 2020.
10. JOS
JOS is a trusted partner for businesses in Asia who are committed to capitalising on emerging technologies. Their B2B website's straight-forward user experience creates a seamless experience and users are able find the pages they need quicker. JOS have invested in content with lots of downloadable content, news updates and information on each of their services. Thanks to these efforts JOS ranks at the top of Google in their region for some of their most important keywords.
9. uParcel
Clear, concise and straightforward; uParcel is an excellent example of these values. On the homepage they immediately showcase precisely what they have to offer, and clearly provide all the relevant information that visitors are most interested in. uParcel's B2B website is an excellent example of delivering great customer service through its number of support channels from their in-depth FAQ page to a live chat window and even a 'how it works' page which explains their full process in detail.
8. Additive3D Asia
Getting bogged down with technical details and a lot of industrial jargon can turn away many leads who really just want to know "what is it going to cost me?". Additive3D Asia is a good example of a 3D printing company website that solves this problem very well. While technical details in 3D printing can be complex, Additive3D Asia keeps the jargon on its website to a minimum and instead focuses on their instant quotation system and 3D printer booking service.
7. DJI
As the market leader and household name in easy-to-fly drones, DJI's website lets their products speak for themselves. Their list of high-quality images, video demonstrations and animations on their website showcases their successful range of top-quality products and services on offer. Their clean user experience really increases customer engagement on their website. DJI also understands the importance of localising their content for local audiences with a huge list of supported language options.
6. Tricor Global Group
Tricor Group (Tricor) are the leading business expansion specialists in Asia, providing professional guidance and support for companies interested in expanding their business across the Asia market. Their website understands the importance of good, inbound focused content, which has helped to establish Tricor online as a trusted source of information. Tricor has content for almost anyone with webinars, case studies, news insights and much more. One of the critical factors that set them apart is their strategic use of gated content which has helped them to attract high-quality visitors and convert them into leads and customers.
5. Hongda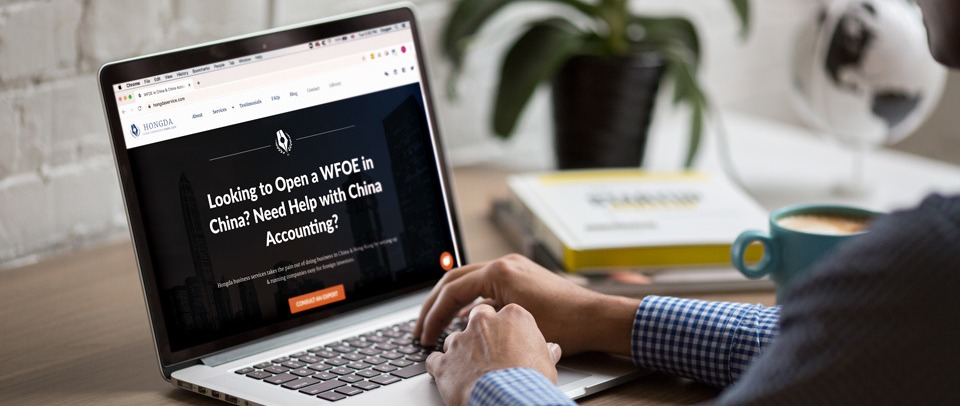 Hongda specialises in business service in China for foreign companies looking to get set up and require expert assistance in auditing and accounting, taxes, registration procedures and legal processes. Their B2B website design demonstrates their overall perceived professionalism of the company and their clean design and user experience optimised by our Oxygen team has made an aesthetically pleasing website for visitors.
By building content around specific keywords related to their core services or specifically addressing standard solutions to customer problems, Hongda has many #1 spots on Google for coveted keywords. In turn, they were able to build organic traffic and have grown their business steadily for the past few years. For an in-depth analysis of how the redesign of Hongda's website managed to gain new leads, click here.
4. Kubes
Kubes is an example of a B2B website design that utilises several great design tools on their website. In this case, "long-scrolling" on Kubes website highlights qualities and attributes of their services in a story form, making it engaging and fun interaction for users. Kubes have focused the website on their impressive portfolio which is easy to navigate and features plenty of great images.
3. PEL

PEL is an eyewear quality control and inspection service company operating out of Shenzhen, China. While the website design is on the plainer and technical side, it is also very content and inbound focused. By creating high-traffic blogs and offers, not only was PEL able to boost the website's domain rating but was able to build a lot of credibility and respect in their industry by showcasing industry-related knowledge. For an in-depth analysis of how the redesign of PEL's website managed to gain new leads, click here.
2. C'monde
Your visitors should be able to instantly identify what exactly your company does and your unique-selling-point. Upon entering C' monde's site, their value proposition is clear and concise. Their use of small statements like 'Strategic Design & Innovation' and 'We work user-centric' make for a bold, impactful impression for visitors. Not to mention, their engaging visuals, consistent branding and plenty of white space throughout the website make it easy for users to navigate around the page to find exactly what they are looking for and increase readability. A really great design, and it works perfectly on mobile!
1. OT&P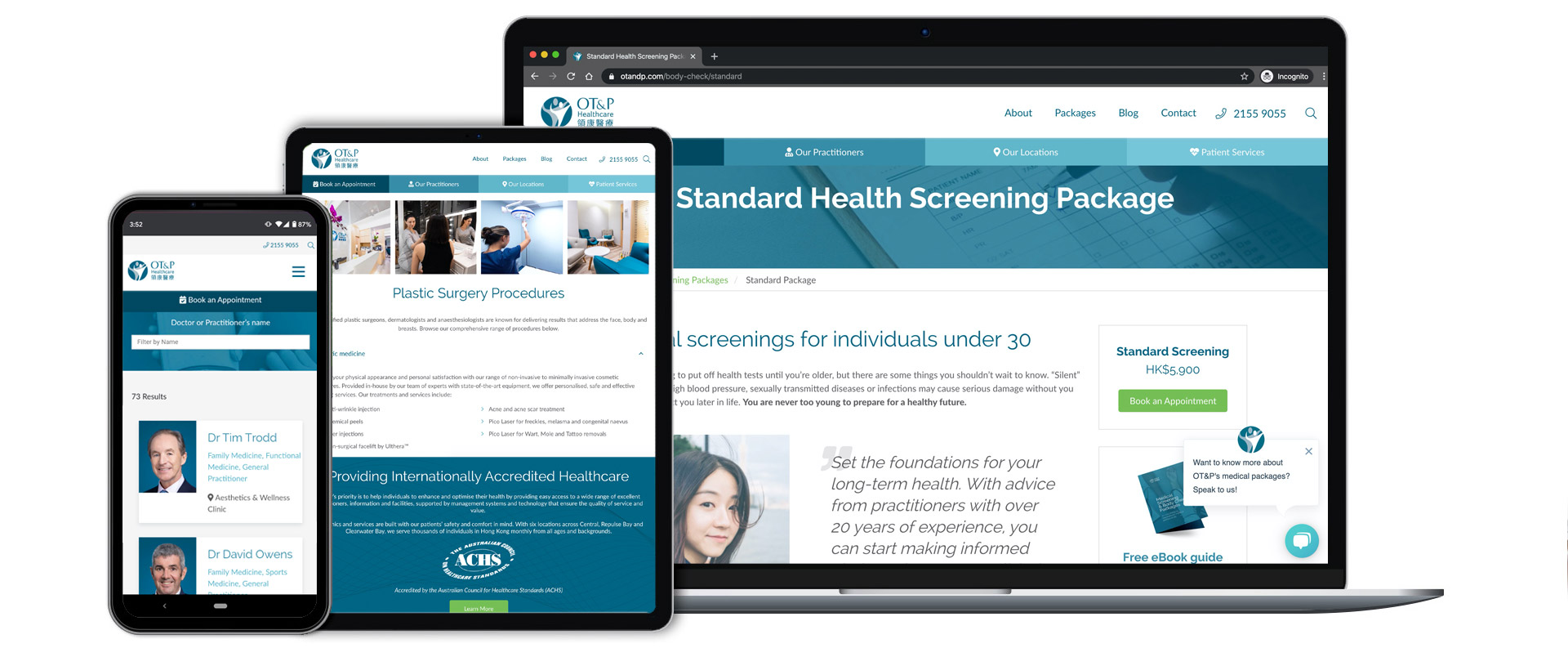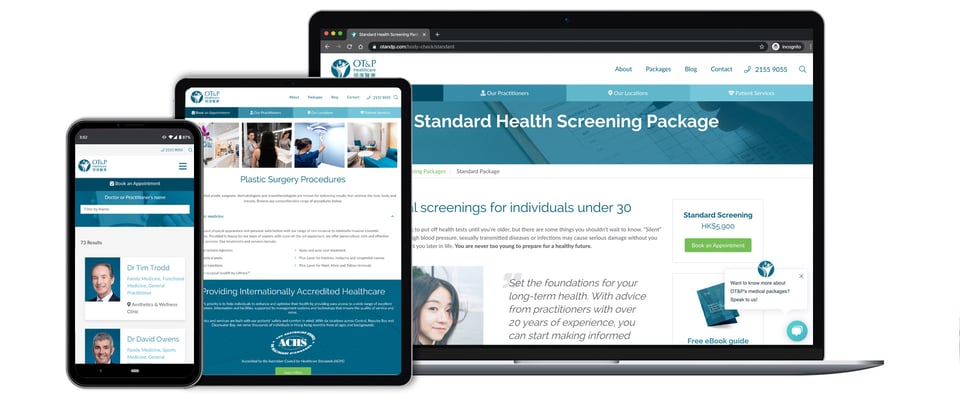 OT&P (technically B2C but similar to B2B in that inbound works extremely well) comes in at #1 for top-performance website design has incorporated everything from great aesthetics, UX, performance and inbound marketing through quality content and SEO. OT&P's website redesign by Oxygen goes to show what can be achieved when time and expertise are applied to redesigning a website, leading to their Hubspot Impact Award of 2019 for website design.
OT&P understands the impact of providing informative and educational content on their website. The focus on creating high-quality content has boosted the website's domain rating, and pushed them to the top position for specific keywords on Google. As a matter of fact, since the launch of their new website design, OT&P's number of ranking organic keywords has quadrupled, dramatically increasing the chances of brand exposure.
Looking for an experienced partner for website design in Asia? Speak with one of marketing experts to find out.