Overview
OT&P Healthcare is a respected provider of medical services to both expat and local communities in Hong Kong. Since opening in 1994, the clinic has become one of the most successful private medical clinic groups in Hong Kong, and is the only clinic group in the country to achieve international accreditation by the Australian Council on Healthcare Standards (ACHS).
As a client of ours since late-2018, we helped them redesign their website and launched it through HubSpot Marketing and CMS Hub in early-2019 using the full range of features available in both suites.
Project Plan
Client Location
Hong Kong SAR
Services Provided
Content Creation, Website Design, Website Development, HubSpot Integrations
Related Sector
Healthcare, Medical Provider
Languages Supported
English, Mandarin, Cantonese
The Challenge
Thanks to our award-winning marketing efforts in 2019, OT&P now had an established online presence, setting the foundations of success for their brand. However, 2020 introduced a new set of challenges for the healthcare provider, as the COVID-19 pandemic finally reached Hong Kong and the rest of the world.
OT&P now had to navigate and respond to citywide lockdowns, sudden changes to government policies, the spread of healthcare misinformation online, and a very concerned Hong Kong population. Though uncertainty hung in the air, OT&P had already invested much into the expansion of their services and needed to continue on their projected path of growth despite the change in circumstances.
With the success of 2019 behind them and increasing digital competition, we had to find new, unique ways to differentiate OT&P as a brand and thought leader online.
Increased Reliance on Online Efforts
With their teams working remotely and lockdowns preventing patients from visiting in-person, OT&P now needed their website and social media accounts more than ever to promote their services and send service announcements to patients.
Building Thought Leadership
The pandemic brought new opportunities for OT&P to share its expertise and bring healthcare education to more communities in Hong Kong. To succeed, they needed to reach a broad audience of different generations in both English and Chinese. However, creating medical content is a challenge within itself given that all content must be medically accurate and peer-reviewed by multiple doctors.
Responding to Growing Competition
Like OT&P, many competitors in the local healthcare industry increased their investments in online marketing in 2019. As a result, we saw more of them ranking in high-value keywords and posting more online ads.

With buyer persona research already done, we understood how to design the website to maximise the user experience. However, the main challenge of attracting users to the website still remained. Through extensive and ongoing keyword research we were able to outline exactly which topics we needed to focus on in both English and Cantonese. This was critical to the success of the content as we noticed that the difference between keyword difficulty in each language often meant different content was required for each language and translating content would not be efficient. We found that our English strategy had to be very localised, niche and use long-tail keywords in order to perform. Whereas the Cantonese content could be as broad as we wanted as there is little competition online currently.
Creating blog content for the medical community is probably one of the most challenging types of content to write as all content must be medically accurate and peer-reviewed by multiple doctors. To achieve this, we created a content creation process to collaborate with the doctors at OT&P which would save their team the hassle of writing most of the content and allow us to create medically accurate content through doctor peer review. Using the ticketing system of HubSpot Customer Service we also created a form and ticket review system so that doctors can submit their own content and review existing content on the website without needing to speak with someone on the marketing team.
Below: The new OT&P Content Submission/Feedback Form (plus ticketing system)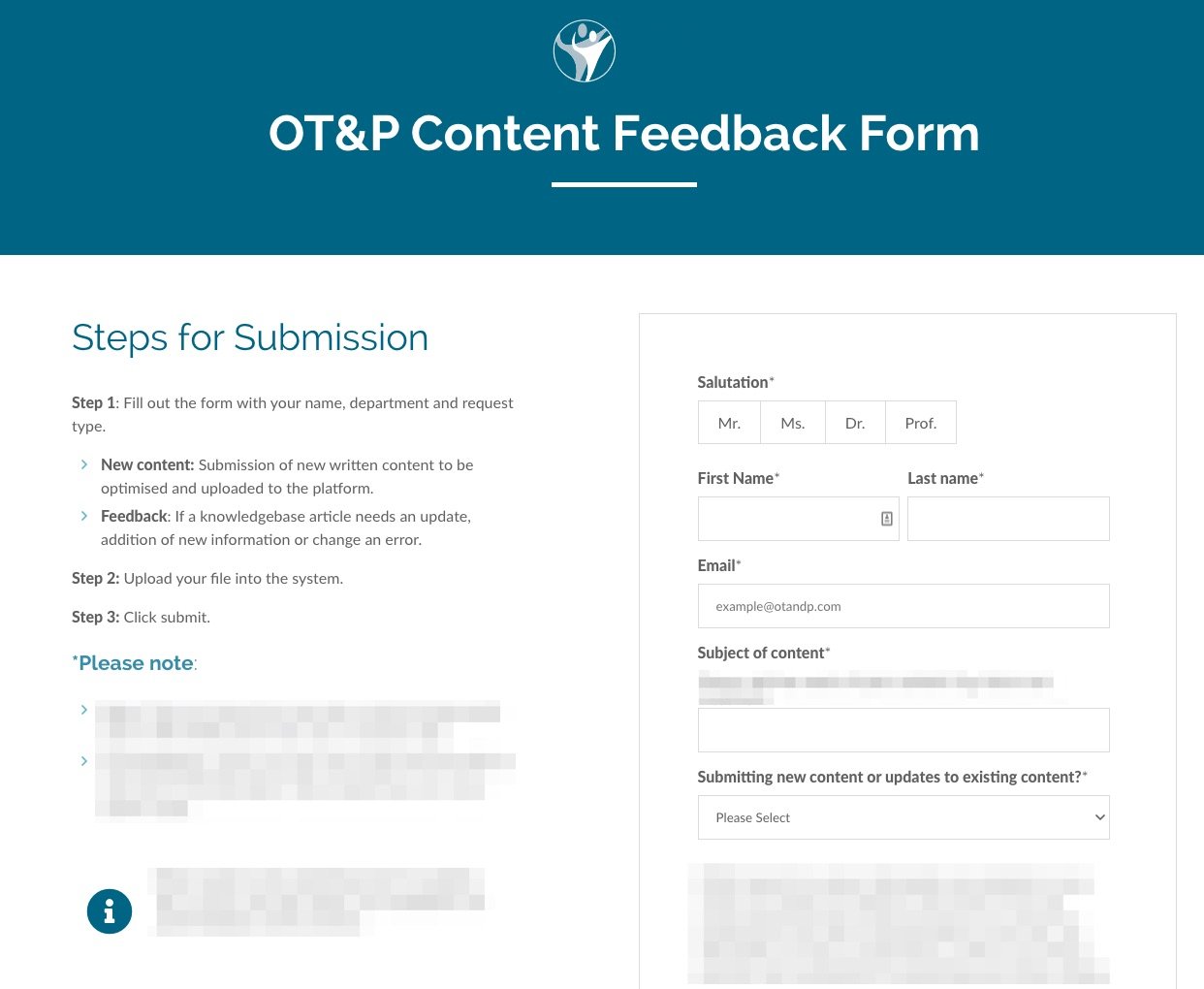 OT&P have a lot of services and a huge team of doctors in multiple locations. To get as many services to the top of Google as possible, we broke down each service into its own page and made sure that the content on each page was comprehensive enough for both Google and potential patients who were looking for more information online. Our goal was to create enough trust with patients on every service page that they could make an informed decision without needing to call and ask for more information.

Below: An example of 'going above and beyond' with service pages to create interactive and SEO-friendly content.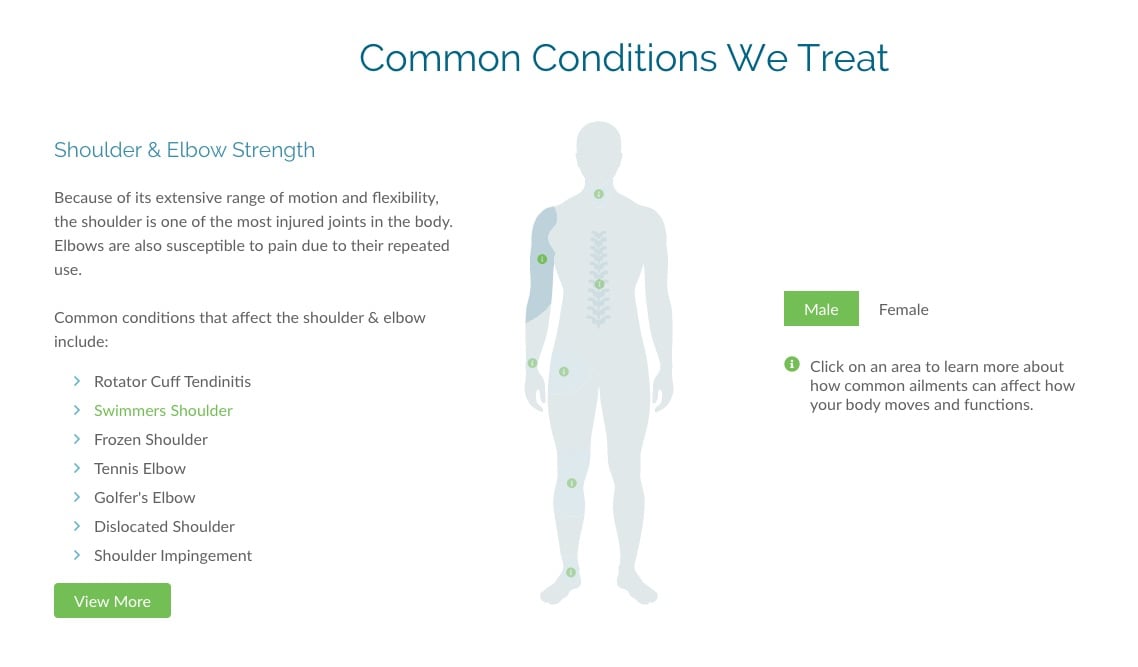 Generating traffic through medical blogs and articles is one challenge, but taking this further and offering something bespoke that provides educational information based on a website visitors health information is something that we noticed none of OT&P's competitors had done.
The OT&P Hong Kong vaccine calculator is an amazing example of our collaboration with the medical experts at OT&P and our development team to build something that provides bespoke health advice to patients based on the inputs.

Below: An example of the feedback given from the vaccine calculator built with HubSpot CMS.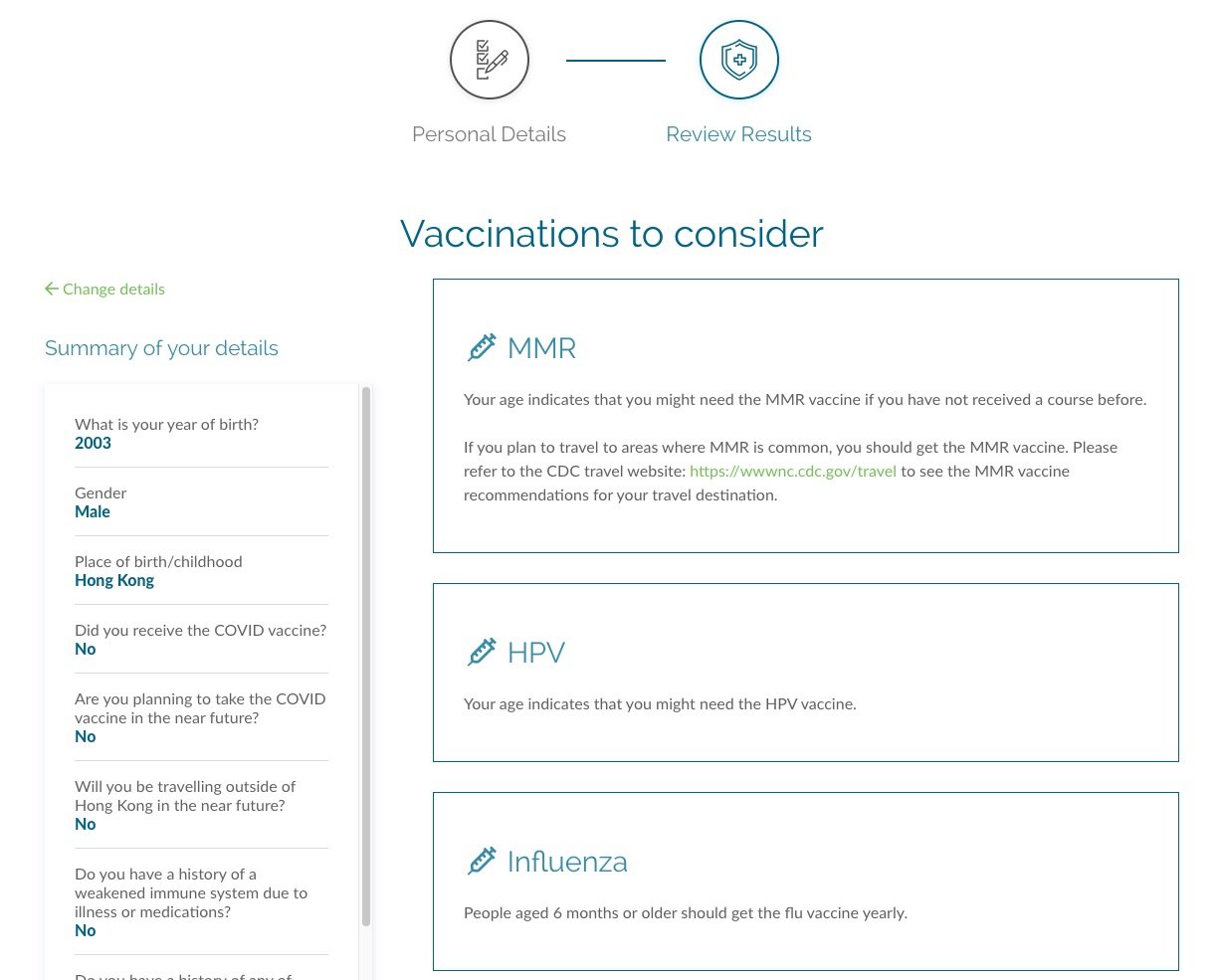 The Results
OT&P have done better than any competitor in Hong Kong in terms of website traffic growth in the past few years. The volume of traffic has increased from around 2,000 monthly visits to over 500,000 monthly visits in August 2021. Cantonese traffic on the website which initially was nonexistent, now accounts for the majority of website traffic meaning that OT&P are now a top performer in a 'new' digital market.
Campaign Metrics to Date
933
Keywords Ranked #1-3 in Organic Search

"One of our key challenges was to balance our content between providing information on the pandemic and to continue our campaign on our evergreen services. This means employing the correct SEO & content marketing approach. Oxygen has helped us to achieve this by ensuring that our digital presence stays relevant by providing key strategic insights and advice. As a result, our website has ranked consistently at the top of Google."
Celina Wong
Marketing Manager, OT&P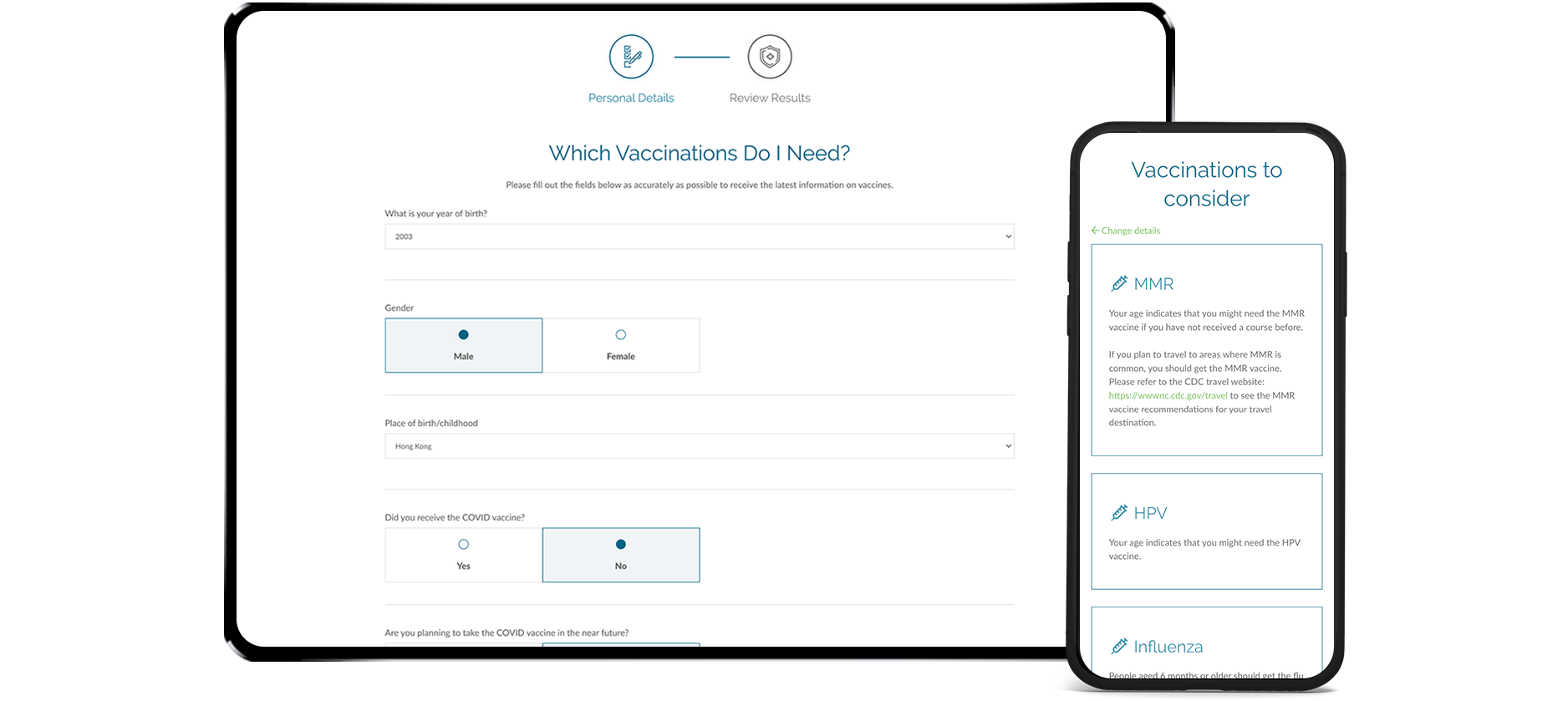 Greatly increased International digital exposure
Going from relatively zero Cantonese traffic initially, OT&P are now digital leaders in the Cantonese medical content space with many blogs, articles, service pages and doctors at the top of Google search. OT&P are also the top of Google for searches related to vaccine information and COVID which is notoriously difficult to rank for.
Below: Actual keyword and organic traffic growth according to AHREFs (publically available).


Local digital leaders in the Cantonese content space
As the ex-pat market in Hong Kong continues to shrink, the importance of generating content for the local Cantonese-speaking audience continues to grow. Through our extensive research, we realised the potential that Cantonese content held and used our in-house team of content creation experts to build content with the review and approval of the doctors at OT&P. By co-creating blogs, knowledgebase articles, and website pages with a team of medical experts and ensure that the content is optimised for SEO by our team of expert local marketers, OT&P's content has the best of both world's.
Below: Top keywords and ranking by OT&P in Hong Kong (majority are in Cantonese)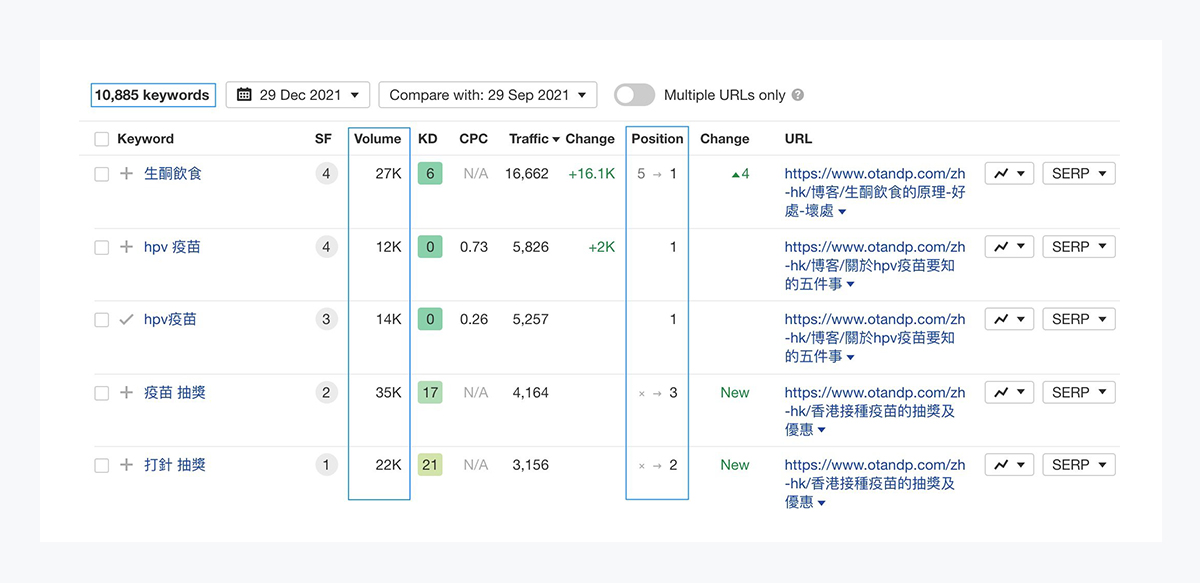 The Impact

"We're very proud of what we have achieved in 2021 with Oxygen and are very excited to see what 2022 will bring!"
Celina Wong
Marketing Manager, OT&P
OT&P's business has expanded nearly as rapidly as the digital growth of the website. With multiple new clinics opening in the past two years and many new doctors added to the team, the growth of the business has been necessary to keep up with the demand created. Attribution reporting (through the HubSpot attribution tool) findings have also shown an exponential return on investment for digital activities.

The Future of OT&P
OT&P continue to expand and so do our digital plans. With the recent launch of the new OT&P BodyWorX clinic, we are currently in the planning stages of launching more clinics, new services, interactive pages and, of course, content in the near future.
Navigating the pandemic with OT&P was challenging but incredibly rewarding. It is only with the support and thought leadership of the doctors at OT&P would we have been able to achieve such great results. I'm very grateful for their support in this campaign and looking forward to what we will achieve next together.

Some Of The Work We've Done
Website Development Services
Award-winning design, content, development & optimisation