Overview
Optimising sales processes can be a major challenge for most companies and Chinese companies are no exception to this. In China, sales teams use their personal WeChat accounts to manage leads and leverage their relationships. CRM software, or even spreadsheets, are infrequently or improperly used.
This is not compatible with the way in which most non-Chinese prospects want to communicate professionally, and in which all companies would prefer their reps to behave. Sales teams need to actively engage leads the way that leads want to be engaged – and in the case of our client Hongda, it was quick responses through email or chat in English.
Project Plan
Client Location
Shenzhen, China
Services Provided
Content Creation, Sales Hiring, Chatbot Lead Qualification Set Up, HubSpot CMS, HubSpot Marketing, HubSpot Training, HubSpot Integrations
Related Sector
Business Services in China for Foreign Companies
Languages Supported
English, Mandarin

The Challenge
Founded in 2007, Hongda specialises in business services in China for foreign companies.
Prior to meeting Oxygen in 2015, Hongda had a basic website that listed some of their services. They had a hotline to call, and an info@ email for enquiries.
It was clear that in order to grow, Hongda needed a different approach to getting more sales. In order to get more sales, Hongda needed more qualified leads – leads that were better educated in order to speed up the sales process and improve customer conversion rates.
Enter Oxygen.
Hongda originally heard about Oxygen through a mutual friend and was eventually sold on the concept of using inbound to attract and educate their leads.
No Dedicated Marketing or Sales
Used outsourced local Chinese and Indian teams with no success.
Manual Lead Qualification Not Scalable
Many of the same questions were asked repetitively to assess the quality and fit of leads. 2-3 leads came in per month and were only reached out to once.
Very Little Reliable Information in English Available Online
The Chinese government did not have an English website to explain company setup, account or legal procedures clearly.

The Solution
The first step was to move Hongda to the HubSpot CMS and marketing platform through our HubSpot onboarding service so that they could reap the benefits of inbound content and lead nurturing.
Through inbound content and an automated lead nurturing workflow, we were able to generate more qualified and better-educated leads. In fact, new "good" problems arose because Angel and Bobby simply didn't have the time to handle the increase in enquiries that came in!
In response, Oxygen hired 2 new salespeople for Hongda and held further training sessions to ensure the sales team was able to sell well using HubSpot.
By utilising HubSpot's blog tool and Hongda's insider knowledge on Chinese legal practises, Oxygen was able to create quality content on key topics that many foreign investors were searching for on Google. As evident from the image below, the outcome of Oxygen's content creation services generated a sharp increase in organic traffic and keyword ranking for Hongda.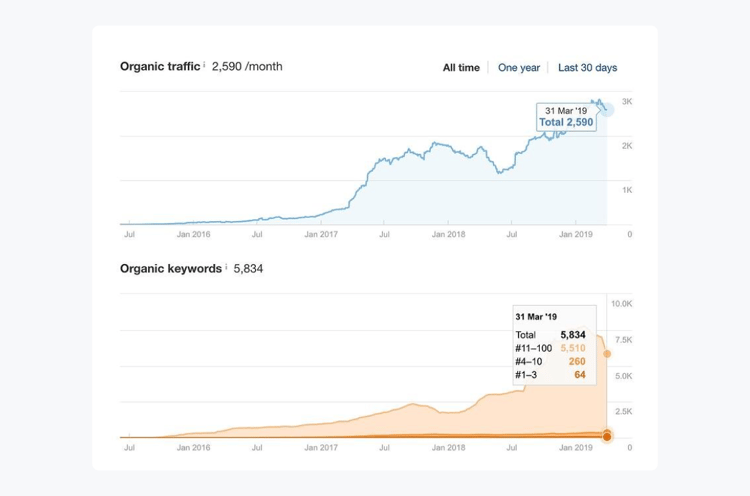 With Oxygen's help in writing the job description, placing job ads and conducting interviews, Hongda was able to hire two full-time sales staff to handle the influx of leads that were coming in. This improved the level of customer service online, accelerated sales and allowed Angel and Bobby to create a scalable business.
As part of our sales enablement services, we conducted rigorous sales training sessions with the Hongda team, and frequently offered WeChat support and communication in between. Our onboarding and training sessions were vital to the Hongda team due to HubSpot's lack of language support for Mandarin. As a result, Hongda's Chinese sales team learned how to use HubSpot and its complementary mobile app. This allowed the Hongda sales team to get notifications which improved lead response time. This was one of the most effective deliverables in getting sales engaged and active.
Using our web development expertise, we moved the entire Hongda website to HubSpot, ensuring that the domain was connected properly and that 301 redirects were created, so the impact to their SEO and direct traffic would be minimal once the website was launched.
Since the website required multiple animated elements, we had to be extra careful with page load times and image scaling across multiple devices. Our choice to use LottieFiles helped thanks to its lightweight nature and scalability. We also implemented lazy loading across all pages, and optimized image sizes to work across various screen sizes.
Given the benefits of using chatbots to streamline the sales process, we implemented the HubSpot chatbot feature to better manage and qualify leads through online chat.
The best part of all this was that the China sales team actually loved interacting via chat and with the mobile app and due to the SMS notifications are now responding on average within a few minutes down from several hours to a few days previously.
The Results
The chatbot now accounts for over 51% of all new contacts on the new website and has overtaken all other methods implemented on the website for lead conversion and engagement.
The sales team also enjoys using this tool the most as it's the most responsive and gets the best results. Through Databox integrations it was also possible to measure the performance of the chatbot and how each person was answering different questions.


Campaign Metrics to Date
> 51%
New Chatbot Contacts
At first, we were completely unfamiliar with using HubSpot. Oxygen provided very clear training for us involving our sales team. Also, we get regularly updated on the latest HubSpot features. When we are lagging behind in following up with online leads, Oxygen will remind us when we have prospects with strong intentions, and that we should contact them. Oxygen also sends regular reports on online marketing from HubSpot telling us how to follow up, where we can improve, what information or blogs to share and more. I think Oxygen is doing an excellent job.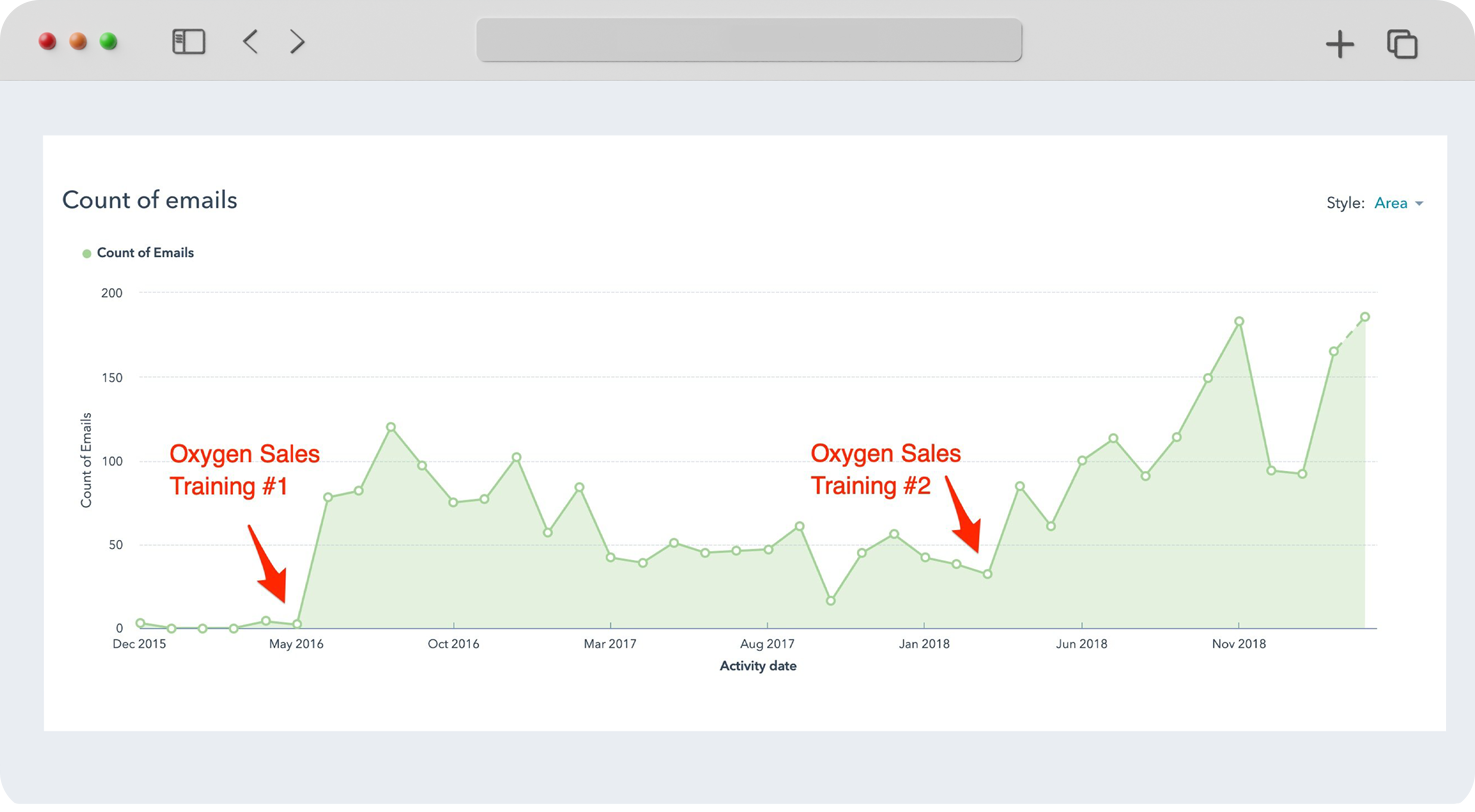 The Impact
Currently, over 35% of Hongda's new business and monthly revenue can be directly attributed to online traffic, 85% of which have come from organic content.
Inbound has taken Hongda from a founder-driven sales company to a scalable sales machine with two full-time sales reps to manage all of the online enquiries. Today, Hongda outperforms and outranks most of its larger competitors online and continues to grow at a steady pace.

Hongda's CEO, Angel, also explained that since launching her inbound campaign, she often speaks to new prospects who have previously read Hongda's content or subscribes to their blog. She attributes much more than 35% of business growth to the marketing and sales enablement strategies that Oxygen has helped put in place.
Hongda spends absolutely nothing on advertising each month and has better lead generation outcomes than its competitors. This is done through solving for their customers, embracing inbound and the HubSpot sales methodology.
The sales team is now able to focus on closing leads who are now more educated on their services and quickly answer basic enquiries through the chatbot with minimal effort.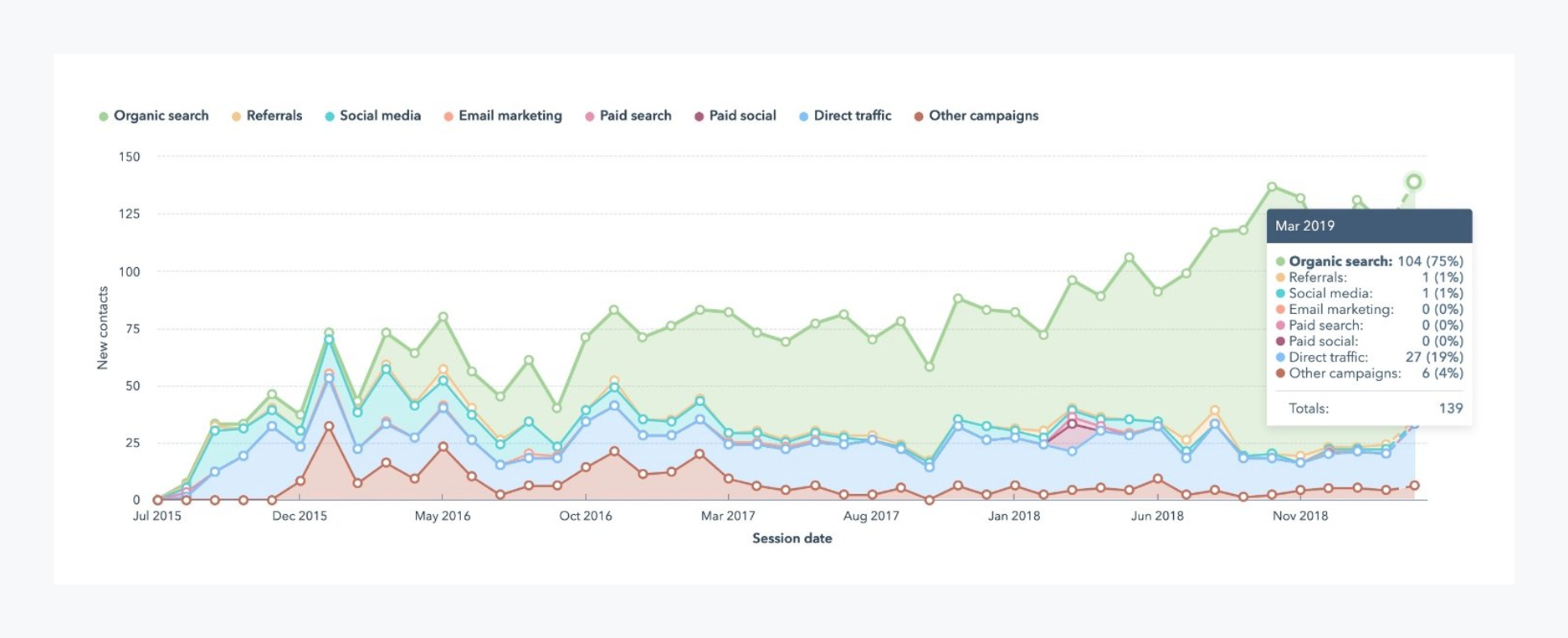 Does your company need assistance with inbound training and support? Speak with one of our sales enablement experts to find out how we can help.

Some Of The Work We've Done
Building a website using the HubSpot CMS?
Speak with our team of web design experts today