There's no doubt that HubSpot integrations are becoming more and more popular among marketers with a little over 150 000 companies in 120 countries using the CRM integrations. After all, who wouldn't want to take advantage of a super-charged version of the powerful CRM? The HubSpot integrations allow marketers to connect their HubSpot CRM with existing tools and platforms and other HubSpot products like the HubSpot CMS Hub, making it easier to manage their data and workflows in one central place.
HubSpot integrations offer massive rewards that marketers can't afford to ignore, so if you're not already taking advantage of them, now is the time to start.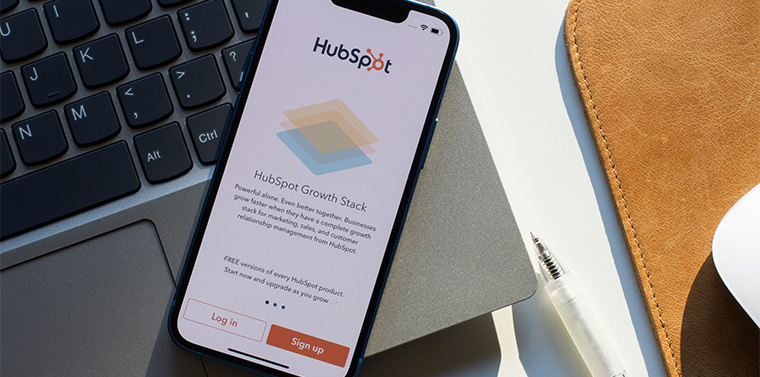 How Do HubSpot Integrations Boost Marketing and Sales?
HubSpot integrations help marketers provide the most customised and targeted experience possible. By offering a variety of integrations, HubSpot can ensure that users have everything they need to achieve their specific marketing goals. For instance, if you want to improve your website's SEO, you can integrate HubSpot with the Google Search Console. Or, if you're looking to create strategically crafted proposals, you can use HubSpot's integration with Proposify.
In this blog post, we'll be looking at the best integrations for B2B sales conversions and how they can benefit your business.
Top 5 Valuable HubSpot Integrations
1. PandaDoc
The HubSpot Pandadoc integration streamlines your sales process by allowing you to quickly and easily create and send documents with an eSignature functionality within HubSpot. PandaDoc has a 60% close rate which means you can spend less time on administrative tasks, and more time selling. In addition, the integration provides a complete view of your sales process, so you can see which documents are being created and sent, and when they are being signed.
2. LeadFeeder
The HubSpot LeadFeeder integration automatically captures leads from your website and tracks their activity. By providing valuable insights into the leads that are visiting your website, the integration can help you better understand your leads and what they are interested in, so that you can more effectively target your sales efforts. You can also segment your leads through lead automation with the HubSpot filters and customise CRM fields for creating lists, workflows and reports.
3. WhatsApp
Research shows that 1 in 3 people would like businesses to contact them via sms or WhatsApp, putting a spotlight on the need for businesses to implement WhatsApp in their communications. WhatsApp integrated with HubSpot can help businesses better manage their customer relationships by tracking customer engagement and activity, automate customer communications and follow ups - improving customer satisfaction and loyalty. The integration can also help businesses to provide better customer service and support, and to resolve customer issues more quickly. These are just a few of the use cases of the WhatsApp HubSpot integration proving that the integration of these two platforms can bring significant value to businesses.
4. Proposify
The HubSpot Proposify integration supports marketing and sales in several ways. First, it can automate the process of creating and sending proposals, which can save time and increase efficiency. It also provides data and insights that can help improve the quality of proposals and increase the likelihood of winning new business. Finally, the integration streamlines the sales process by providing a single platform for managing proposals, contracts, and customer information.
5. HubSpot Chatbot
The HubSpot Native Chatbot integration is great for sales conversion as it allows you to connect with your prospects and customers in a more personal way. By using the chatbot, you can engage with your prospects and customers instantly in a more natural way, which can lead to more sales. Additionally, the chatbot can help you collect data about your prospects and customers, which can be used to improve your sales strategy
Bottom Line
If you're already using HubSpot for your marketing and sales, the HubSpot integrations will unlock the full potential of the HubSpot CRM by streamlining your marketing automation and processes even further. Additionally, these integrations provide a more holistic view of the customer, which allows for more targeted marketing for improved sales and customer retention.