As with most big tech companies in China, Baidu is constantly pushing out updates to their search and advertising engines. Changing government regulations and tightening tech regulations mean that these changes often happen quickly and without warning. The latest Baidu updates are designed to offer more device scalability with their landing page engine "Jimuyu'' while also preventing businesses from using redirects on website URLs once the website has been approved for an ICP license and by Baidu.
Baidu Landing Page 'desktop' version now available
Previously, new Baidu advertising account users were only allowed to create a mobile version (H5) landing page using the Jimuyu tool. This was less than optimal for the user experience of PC users in China who were being forwarded to mobile-formatted landing pages through Baidu ads.

Now, desktop landing pages can be developed using Jimuyu alongside mobile versions. No ICP or China business registration is required. However, your company will have to submit the usual supporting documents to Baidu for approval before you're allowed to open a Baidu advertising account.
Baidu ads will no longer link to external websites
Starting April 12, 2021, based on the Chinese government's commercial risk control policy, users who sign up for a Baidu advertising account can only advertise their business on the Baidu search engine after the website URL has been reviewed and approved. This new policy is likely government-influenced but also due to the large number of businesses trying to cheat the censors by setting up redirects for their website URL after the original website had been approved for advertising use.

If you don't have or aren't willing to open a company in China, you can register a Baidu account as an international company. However, in order to use a Baidu ad as a landing page, you need to send the website URL for review. In this case, we recommend using Baidu landing pages as your website won't load fast enough in China without a local hosting solution.

Businesses that already have a Baidu account set up and linked to an external website will not be impacted by this change and can continue doing lead generation as usual.
Exception: Whitelisted Companies
Companies that meet one of the following criteria can still advertise on Baidu with their own website after April 12, 2021:


Fortune Global 500 companies
Government Organizations
Baidu reserves the right to change these terms and conditions at any time without prior notice.
What can be done with the Baidu LP "Jimuyu" tool?
Cross-platform Landing Page Support (mobile H5, Mini-Program, and desktop)
Jimuyu supports building landing pages for mobile, desktop and Baidu Smart Mini-Program formats. Pre-built landing page designs available on Jimuyu include single-page, multi-page, article page, product page (supports payment), Q&A page, etc.
Wide range of templates tailored to your needs
There is a wide range of pre-built design templates within Jimuyu. Design templates are divided into three categories:
Industries that are not under government commercial risk control policy
Industries under government commercial risk control policy
Marketing service industry for the consideration of government policy compliance. Industry-tailored templates can be chosen under each category, for instance, the education industry, medical industry, financial industry, etc.
Example below: Some of the ready-made Jimuyu landing page designs you can choose from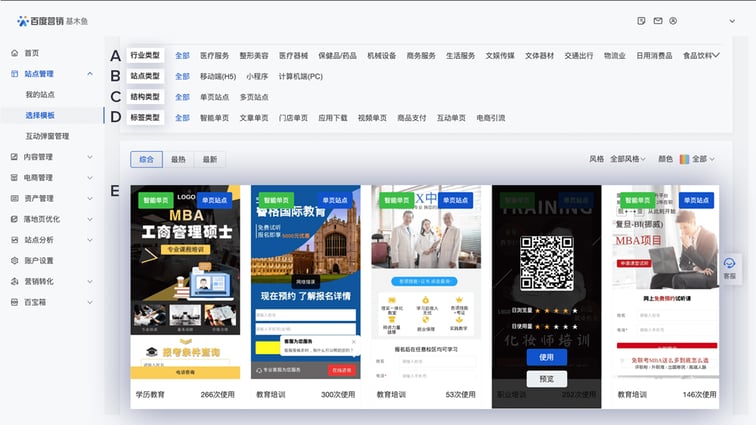 The variety of options of the industry your landing page designed for.
The platform options (H5, Baidu Smart Mini-Program, and Desktop site) that the landing page created to be published.
Shows the structures of the landing page (single-page site and multi-page site).
The different purpose options of the landing page; smart single page, article page, online shop single page, app download page, etc.
The previews of landing page templates to choose from for different industries and purposes, users can further modify the page after choosing it.
Developer tools and dynamic modules
With Jimuyu, you can include different dynamic modules filled with your own content to make a unique landing page. Pre-built modules support a comprehensive range of widely used functions like click to download, click to call, contact customer service, registration form, lucky draw, embedded video, map, countdown, etc. Also, Jimuyu supports customized modules via .psd file uploads, so as to fulfill your specific needs.
Channel data monitoring and conversion data
Jimuyu does have a standard data monitoring backend, which includes functions like data screening, page data, and conversion data. These functions allow users to review the effectiveness of page design, marketing, and sales performance, so as to pursue continuous growth and boost performance. However, these features are only in Mandarin and there is no English interface.

Lead information will be stored in the Baidu system and cannot be passed to an external system using an API. This means whoever is managing leads will need to be able to log into Baidu, use the interface and engage with leads. One way to avoid manually checking the system for leads is to direct leads to your WeChat or WeCom channel using a QR code on the Baidu landing page.
Do I still need a website in China?
Creating and hosting a website or microsite in China to use as your landing page was previously the best solution for businesses looking for customers in China. However, with the recent updates, if you don't currently have a Baidu account your website will no longer be part of your Baidu lead-generation funnel.

It is still best practice to have a website or microsite in China for search engine visibility (organic traffic) and your website can still be linked-to in your WeChat, Zhihu, or other China social media accounts. If you are a smaller business or starting with a smaller marketing campaign, it's recommended to start with Baidu and a Baidu landing page for lead generation, and once you start seeing results and scale your campaign create a real website hosted in China using an ICP license.
Want to speak to an expert on marketing in China? Book a free 15-min consultation with a China marketing strategists to learn more.