Marketing Technology or MarTech has become a crucial tool for the growth and development of countless healthcare organisations worldwide. In fact, a recent survey covering over 90 healthcare organisations cited developing a MarTech stack as being an organisational priority. However, many medical practices in Hong Kong are failing to keep up with their international counterparts, struggling to meet the rising demands of tech-savvy consumers who expect immediate engagement and personalisation.
While adopting various MarTech solutions may appear intimidating, the advantages of utilising such technology for your medical practice can increase patient numbers, boost discoverability and offer your healthcare organisation in Hong Kong a point of differentiation.
This article showcases four vital MarTech solutions that every healthcare organisation should adopt in order to meet and surpass your patients' needs in 2021.
MarTech for Healthcare Reputation Management
For medical practices in Hong Kong and throughout the world, a good reputation is imperative in driving more patients to your facility. This has become even more significant in the digital age as patients and general consumers alike look towards online reviews in order to assess a company's reputation and trustworthiness. In fact, research suggests that 94% of healthcare patients engage in online research about a medical practice before directly reaching out. This is why it is crucial to implement a reputation management system backed by MarTech.
Solution: ReviewTrackers
Price: Custom depending on your organisation's size and needs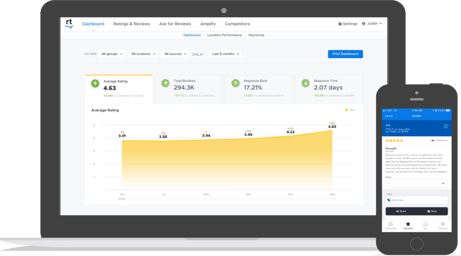 ReviewTrackers is a review management software that collects and consolidates reviews from over 100 third party sites such as Yelp, Google and Facebook. It immediately notifies you of any new customer feedback, allowing your medical practice to address patient queries and comments swiftly. This has become a rising concern for most organisations as over 55% of consumers now expect a business to reply to a review within 1 day.
ReviewTrackers offers a comprehensive suite of features such as competitor tracking, customer experience analytics and social platform monitoring to support a holistic and fully integrative reputation management strategy.
MarTech for Improving your Medical SEO Strategy
For any healthcare organisation wanting to increase discoverability or acquire more patients, SEO is still the most integral component of any medical marketing strategy. Recent studies conducted with Google found that search drives nearly three times as many visitors to hospital sites compared to non search visitors, emphasising the importance of maintaining a strong ranking on Google searches. Fortunately, this is achievable for your medical practice thanks to the array of MarTech solutions for improving your healthcare SEO position.
Solution: Ahrefs
Price: Custom depending on your organisation's size and needs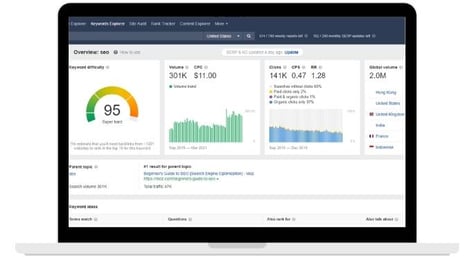 While there are numerous MarTech SEO platforms on the market, Ahrefs is considered the leading MarTech SEO solution. Ahrefs is a user-friendly SEO platform that allows users to search and identify relevant local keywords that can help optimise your medical practice's site to rank higher on Google, generate relevant and conversion-boosting content and unearth current keyword trends and patterns.
MarTech for Optimising your Healthcare Scheduling Software
Expectations for a seamless and positive patient journey has never been higher. A recent study by Salesforce found that 80% of consumers say the experience a company provides is as important as its products and services. A specific touchpoint that healthcare organisation's should allocate resources to is the booking procedure. In a market where 43% of patients prefer to make bookings online and where 40% of all bookings occur after business hours, it is vital for your healthcare team to implement a 24/7 appointment healthcare scheduling system to prevent the loss of conversions or potential patients.
Solution: MyTime
Price: Plans range from $129 USD Monthly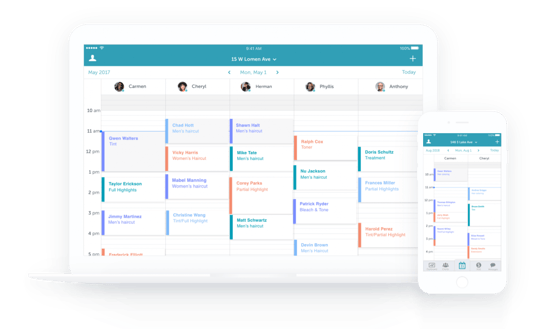 MyTime offers various MarTech scheduling solutions for your healthcare organisation's needs. Along with a scheduling platform, MyTime boasts social bookings and 2-way messaging, allowing your medical practice to engage with potential patients on a variety of platforms and within their preferred channels of communication to boost conversions.
MarTech for Healthcare CRM
A fully integrative CRM system is the heart of any competent medical marketing strategy. It stores and allows you to leverage patient data, giving your healthcare organisation the ability to interact and engage with your patients in a meaningful and personalised manner. Utilising CRM correctly can offer enormous benefits to your patient journey experience by giving your healthcare organisation the data to personalise each touchpoint of your patient's experience.
This could come in the form of offering content bespoke to their interests, communicating via their preferred channels and/or connecting them with suitable programs that meet their health needs. Ultimately, this allows you to connect with patients on a personalised level that fosters customer loyalty, a significant opportunity in a market where 40% of customers are not loyal to a provider or health system.
Solution: HubSpot
Price: HubSpot CRM is free for its basic package
HubSpot CRM's easy-to-use software and automation advantages have made it a staple among leading healthcare organisations. Using HubSpot promises centralised data, improved communication, simplified management and sustainable growth; all essential components to grow and manage your medical practice in Hong Kong.
The Bottom Line
Adopting the aforementioned MarTech solutions to create a tech-stack that meets the needs of your medical practice won't only improve conversions, patient loyalty and patient numbers, but will equip your healthcare organisation with the necessary tools to meet the ever-increasing demands and expectations of 21st century patients.
However, we understand that using and familiarising yourself with so many new technologies can be both challenging and intimidating. That's why at Oxygen, we offer onboarding services that can help accelerate the learning curve for your medical practice while setting up the most integral foundations of your new tech stack.